Hot Mulligan touches on sexual assault, break ups, loneliness in new album
'you'll be fine' raises the bar for underground musicians
Recently, Spotify's algorithm has recommended me to listen to bands like The Story So Far, The Wonder Years and Hot Mulligan. From there, I was hooked on to the variety of pop punk available that I had no idea existed.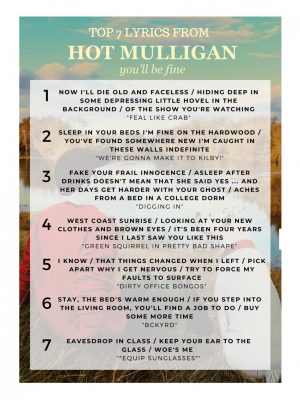 Hot Mulligan really stood out to me  because of their weird band name, along with the quirky album and song titles — such as songs named "Feal Like Crab," "I Hate the Gooey Disk" and "How Do You Know It's Not Armadillo Shells" — and the similar feel of their music to other legendary musicians like All Time Low and Nothing, Nowhere. 
Hot Mulligan is an underground group — the band only has 185,923 monthly listeners, compared to  bands like All Time Low, My Chemical Romance, Blink-182 and The Offspring receive, according to Spotify. 
The pop-punk/rock band released their sophomore album "You'll Be Fine" on March 6, 2020. 
The album is spectacular from my perspective as a musician. The rhythmic and infectious drum and guitar combinations create a strangely comforting mood. I could feel the emotion poured into the lyrics and composition. The emo screams also reminded me of the bands My Chemical Romance, Sleeping with Sirens and State Champs. 
Hot Mulligan's songs each have a nostalgic, reminiscent and beautiful melody. Some may be put off by the incorporation of screaming in the music, but I encourage everyone to be open to listening to different kinds of music. 
However, I do wish there was more variety in the sound of different songs. I think if the band had added more acoustic songs, the album would feel complete. "The Song Formerly Known As Intro" starts with an acoustic beginning, but I wish there were more songs like it. 
Overall, I am glad I started listening to Hot Mulligan. Their music is powerful, and I guarantee that the upcoming music will be just as good as their previous songs, if not better.
Rating: 5 stars