COVID-19 impacts future city, hospital, school operations
COVID-19 has led to disruptions and struggles for various facilities, from hospitals to school districts. As a result, the Bay Area community has taken several measures to ensure the welfare of its citizens.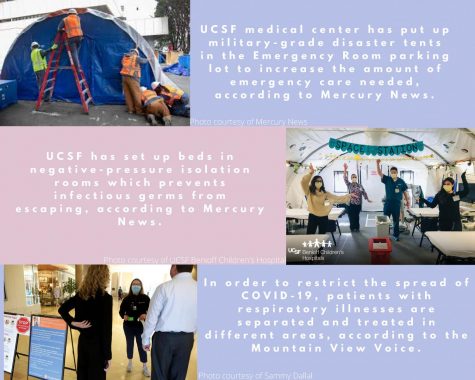 Hospitals implement preventative measures 
According to the Centers for Disease Control and Prevention, it's critical for hospitals to have the necessary resources to stop the spread of respiratory illnesses during this time. 
Hospitals in the Bay Area have taken various preventative measures to protect patients from being infected by COVID-19, according to Mercury News. Some of these measures include keeping patients affected to a high degree in protected rooms and taking care to separate patients with varied degrees of respiratory illnesses. 
For example, Stanford Hospital has implemented separate entrances for individuals who have had exposure to the virus or who have traveled to highly infected countries to minimize contact with other patients, according to Mercury News. 
Likewise, patients at UCSF with a respiratory illness — including those with a common cold — are diagnosed and treated in a different section of the hospital from the rest of the patients. Severely ill patients are treated in negative-pressure rooms or intensive care units where infectious germs will not be able to escape.
Santa Clara County COVID-19 cases decrease, criteria to be met to reopen community
Overall, the cases of COVID-19 in Santa Clara County have decreased in recent days. According to an update from the Public Health Office, 37 new cases and four deaths were reported on April 17. While most of the state has seen an increase in hospitalizations of COVID-19 related cases, Santa Clara County reports a decrease from 197 to 195 cases in a two day period, according to Mercury News. 
Santa Clara County officials are looking at reopening the community. According to ABC7 news, Santa Clara County Public Health Director Dr. Sara Cody said there are three criteria that need to be met before possibly reopening Santa Clara County. 
These criteria include ensuring hospitals have enough space and supplies such as beds, staff and protective equipment to treat the virus, implementing more widespread testing and implementing contact testing.
Despite talks of removing the shelter-in-place order, Cody said there is no clear timeline and it all depends on whether the number of cases continues to decline. 
Cities form block action teams, redistribute staff, ensure safety of seniors during pandemic
Many cities have taken to forming block action teams (BATs), which consist of a small group of neighbors who exchange contact information so they can check up on each other during an emergency.
"It would be great if we [could] have action teams on every street in the city," Los Altos mayor Jan Pepper said in a phone interview, "so that everyone's part of one."
Cities have also been focusing on redistributing staff from programs that might have been shut down. Since libraries, senior centers and, even, city halls have been shut down, many city workers are out of work.
Cities like Sunnyvale have been moving these workers to help with emergency services, Sunnyvale mayor Larry Klein said in a phone interview.
Since seniors have been especially affected by the pandemic, city officials have taken different approaches to ensure the safety of their senior citizens. 
"So, we reached out … we sent emails to all members of our senior center," Klein said. "Just to see that [they are okay], and then set up convenient delivery of meals, picking up their groceries, picking up their medication and redistributing that to them."
In addition, cities have also given grants to food banks and other services that help people in need. Klein said the Sunnyvale City Council gave a $250,000 grant to Sunnyvale Community Services a few weeks ago.
For more information on how Sunnyvale is combating COVID-19 visit: sunnyvale.ca.gov/virus.
For more information about Los Altos' COVID-19 response visit the Los Altos COVID-19 Resource Page.
FUHSD focuses on teaching essential skills, informing community of educational changes
Although the schedule for distance learning only has two classes four days a week, students will still have the resources to be prepared for next year, FUHSD coordinator of communications Rachel Zlotziver said in a phone interview. 
"We really asked teachers to home in on the essential skills … for students to be successful in the following year in a following course in a sequence," Zlotziver said. 
Zlotziver also said during the following school year, teachers will be mindful that students might not have learned all the material in the curriculum.  
FUHSD is additionally working to ensure the needs of all students are met and to inform the community about any educational changes, Zlotziver said. 
"There's sometimes frustration with maybe the pace of communication or things like that," Zlotziver said. "It's not because we're just all sitting around delaying messaging, but it really is that we're coordinating with public health … We're trying to make decisions as much as we can as a group, so that one district next to us isn't making one decision [and] we're making another."