COVID-19 testing site updated to enhance accessibility
Additional languages, hours added
To increase testing opportunities and accessibility for those wanting to get tested for COVID-19, the online testing portal now offers sign-up pages in Chinese and Vietnamese in addition to Spanish; hours have been expanded at pop-up sites in San José and Gilroy. 
For those with health insurance, healthcare systems such as Kaiser Permanente, Sutter Health and Palo Alto Medical Foundation, are required to offer free testing to symptomatic persons, persons whose exposure has been confirmed, and all "essential workers," including teachers, healthcare workers and grocery store clerks. 
According to the U.S Department of Health and Human Services, there is no up-front cost for testing at select pharmacies, health centers or additional pop-up sites in your area.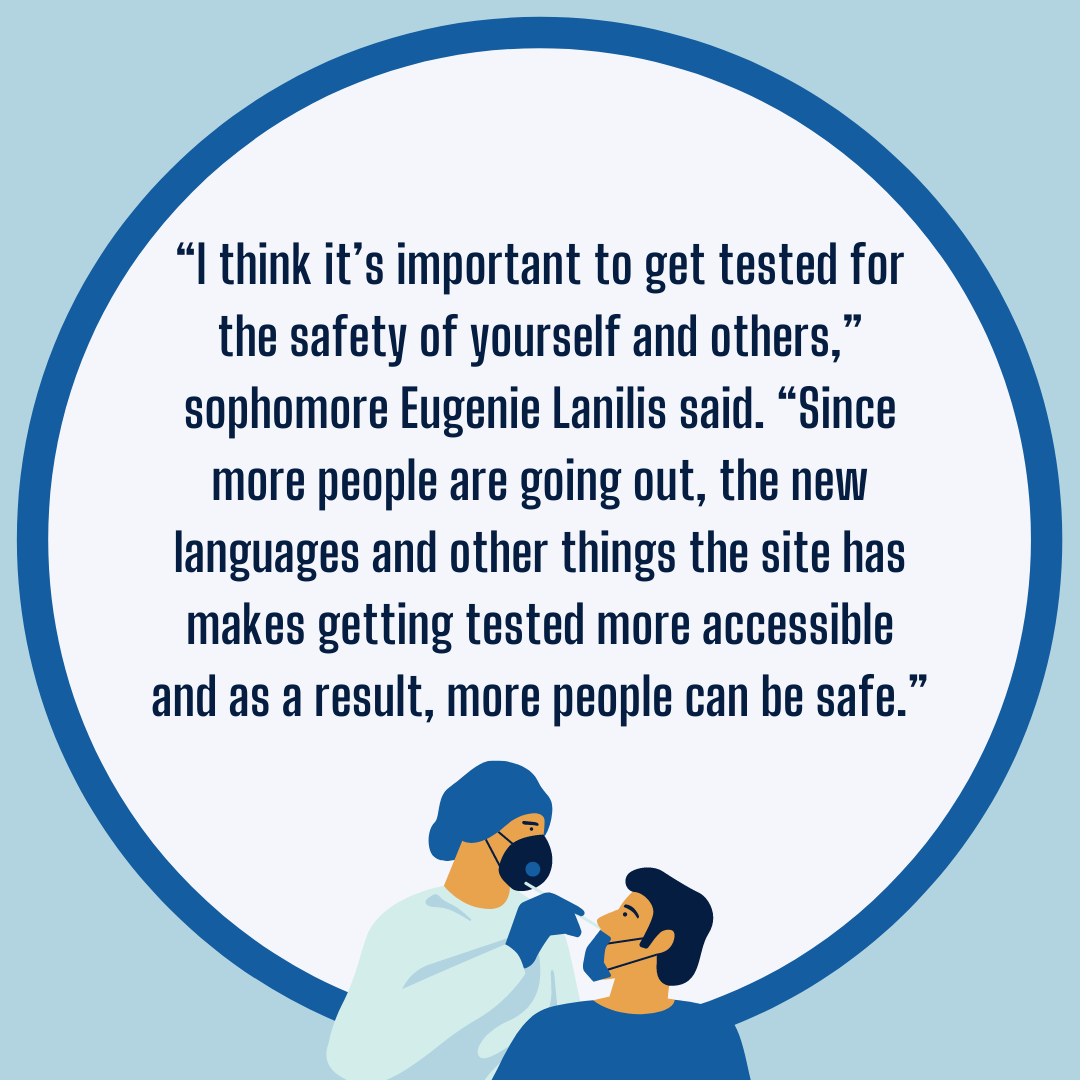 No medical insurance is required, although if you have health insurance you will be asked to use it. A co-pay may be charged for your visit but there is no out-of-pocket fee.
Junior Goni Hutt said she got tested at a pop-up site in Cupertino and described the simple process.
"I didn't have to sign up, it was a walk in testing location," Hutt said in an email. "I got to the testing place an hour early, and I was the second one in line. Then a nurse took me into a room and took a q-tip and inserted it into each nostril, and then I was done."
Appointment-based testing is available at rotating sites in Sunnyvale, Saratoga, Santa Clara and Los Altos Hills. Slots can be reserved seven days in advance of the testing date. 
Pop-up, free and no-appointment necessary testing continues to be conducted in San José and Gilroy. In addition, capacity at the Fairgrounds site has been increased to 1,600 on Tuesdays – the most popular day. 
"We offer numerous options for testing that are convenient for many schedules," Dr. Marty Fenstersheib, COVID-19 testing officer for the County of Santa Clara, said. "But we still have room for plenty more people – our capacity for pop-up, City-sites and drive-thrus is over 18,000 a day and we're only using about 60 percent of that."
The process itself is safe and no doctor's note is required. Sites also offer services for people with disabilities or other functional needs. 
"I like how the testing grounds offer additional services for people who need them," sophomore Eugenie Lanilis said over Zoom. "By taking extra steps to accommodate people, more people will consider getting tested."
Before and after getting tested, patients should follow the updated home isolation and quarantine guidelines to prevent spread ahead of time. 
Sophomore Brevin Reed said he got tested for COVID-19 at a pop-up testing site at Cupertino with a parent, because minors must be accompanied by an adult. Beforehand, he filled out a short questionnaire about why he was getting tested and signed a confidentiality form.
"They first took my blood pressure, and gave me the flu shot because I had also signed up for that," Reed said in an email. "After that, they took a q-tip and stuck it up my nose and swabbed each nostril. It was pretty uncomfortable, but it was over quick. Then, they put the q-tip in a bag and told me I could look up my results online after 2-3 business days." 
Hutt said she had a similar experience when she was tested.
"The process was not painful at all, because at my testing location they didn't use the long testing stick they used a regular q-tip," Hutt said. "It took about a week to get results back, which was a little annoying, but their lab was very busy at the time."
The Revised Risk Reduction Order, issued on Oct. 5, went into effect on Oct. 14, when the county moved into Tier 3, the orange tier on Oct. 13. This has allowed many additional activities and business operations to resume, including indoor dining and indoor gatherings. 
It is, however, crucial to remember that COVID-19 still poses a severe risk to residents, who should continue to take precautions. Getting tested for the virus before interacting with others is a good safety measure. 
"It's very important to get tested, for the safety of yourself and others," Lanilis said. "Since more people are going out to gatherings and dining, the new languages and other things the site has makes getting tested more accessible and, as a result, more people can be safe."
Click here for more information about COVID-19 testing.