'30': mature heartbreak, separation, delicate love
Adele's new album represents the pain, change she has endured through the past few years
Listening to Adele was my childhood. I remember playing her CDs in our minivan and singing along to her albums during long road trips. As I have grown older my perspective on Adele has changed and matured; I now listen and appreciate her music for how it perfectly encapsulates each moment of her life. Adele's highly anticipated album "30" was released on Nov. 19 and represents a new take on her music. The album follows her emotions as she navigates divorce, motherhood and growing older. With all said, here are my top 5 tracks from the album: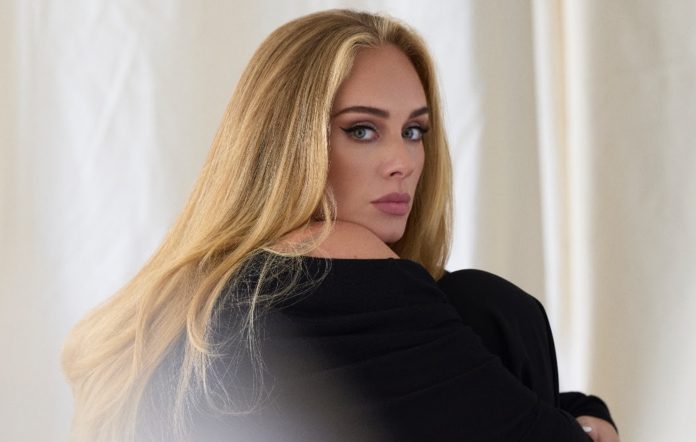 "My Little Love"
The third track on "30" is most simply a song for Adele's 9-year-old son Angelo. While it is not very relatable for teenagers, it is still beautiful and well-written. The song feels like an apology, but also an explanation for her son, as he goes through his parents' divorce. My favorite lyrics from this song are "When you lay on me, can you hear the way my heart breaks?" These lyrics are my favorite because they convey intimacy, which is something I really appreciate from artists. It is the type of fragility that is not part of a romantic relationship and for me this applies to friendship.
"Cry Your Heart Out"
This fourth track is one of the more upbeat songs on the album. The song conveys a message of being overwhelmed and not yourself, and how it is valid to feel those things. Adele sings of her own uncertainty, as some lyrics also hint to her personal turmoil and depression. My favorite lyrics from this song are in the chorus when Adele sings "Cry your heart out, it'll clean your face." These lyrics are my favorite because oftentimes it is hard to just cry and to feel whatever emotions happening in your life, but Adele puts spin on how people view crying and encourages it. Crying has always felt very taboo for me because of how closely it is associated with being emotional or dramatic, but this song will hopefully be a positive reminder that crying is a healthy and valid expression of emotion. 
"Oh My God"
Track number five captures the internal conflict that comes with a new relationship. While "30" still has many of the signature emotional ballads that Adele has become known for, "Oh My God" is more pop and R&B like. My favorite line from the song is, "Teetering on the edge of Heaven and Hell" because of how playful it is. There are many things in life that are on the fence, and the song in general just makes the feeling of not knowing what to do fun. I am someone who can be uptight in the unknown, so this feeling is particularly refreshing.
"All Night Parking" 
It feels unfitting to have a sweet love song on "30," but track number eight called "All Night Parking" is exactly that. The song conveys a new, exciting and comfortable love that differs greatly from the surplus of heartbreak numbers Adele has sung. The late night vibes of this song are my favorite part and the light-hearted beat makes it enjoyable to listen to. My favorite lyrics from this song are "Maybe it's the way you remind me of where I come from." I love how relatable these lyrics are, as they describe when someone reminds you of past times and it is a very nostalgic and wholesome feeling. It is always the small things that make me feel like I am connecting to someone. 
"To Be Loved"
Simply put, "To Be Loved" is a therapy session. Listening to this song made me emotional sitting in the library doing my math homework. The song conveys a mature level of heartbreak and a relationship that just is not working out. I enjoy (and almost dislike) how the song makes you reflect on yourself and think about how you can relate to it. My favorite lyrics from this song are "Painting walls with all my secret tears, filling rooms with all my hopes and fears." The kind of pain that is shown through these lyrics, when it feels like someone takes all your weaknesses or fears and uses them against you, is so raw and beautifully put.
Adele's newest album "30" is beautiful, heartbreaking and intimate amongst many things. The messages it sends and the emotions presented may be the most personal to come from Adele, and will for sure invoke emotions in the listener. My final rating for her album is a 7/10. This album has beautiful lyrics, is something different than past Adele albums and somehow provides the same powerful ballads listeners have become accustomed to. However, the album may not be as relatable for teenagers, and is one that a listener has to take time to fully appreciate.