SRO contract must be terminated
Police presence on campus ineffective, could harm various student groups
Recently, the FUHSD board has been trying to renew and expand the school resource officer contract. SRO's are police officers who patrol schools and under the new district-proposed contract, these officers would have a permanent presence on FUHSD campuses. This contract is dangerous and should be terminated. Cops should have no permanent place on FUHSD campuses as they pose a threat to various student groups.
For years, the district's Board of Trustees has repeatedly postponed the decision facing the renewal and expansion of the School Resource Officer contract with the Santa Clara County Sheriff's Department and the city of Cupertino. After safety incidents, FUHSD has brought police onto campuses for an undecided period of time. It almost seems like an attempt to use these incidents as a way to sneak the passage of the SRO contract without garnering the public's attention.
This sets a dangerous precedent, one which ignores the very real threat police have been shown to exhibit, specifically for students of color. Many incidents of excessive use of force between SROs and students have occurred at schools across the country. In 2019, an SRO was caught on security cameras slamming an 11-year-old student to the ground. Another SRO was arrested after being caught throwing a teen to the ground by her throat. Additionally, an SRO was found to have used excessive force against a middle school student who he accuses took more milk cartons than she was allowed from the cafeteria. Traumatic experiences like these, which were all perpetrated by police officers on school campuses, illustrate the dangers of SROs in schools. Many of these and other incidents did not warrant any force and could have been solved by trained professionals, such as school counselors. In order to prevent incidents like these from occurring, FUHSD should not pass the new SRO contract. 
Moreover, the SRO contract would be a costly expense. The SRO contract states the district covers $14,000 of the contract for the city of Cupertino. The district also agrees to spend $10,000 a year on Sunnyvale's program. Additionally, the City of Sunnyvale and Cupertino spend a collective $1.95 million on the SRO program by covering the costs of SRO salaries rather than giving that money to FUHSD directly.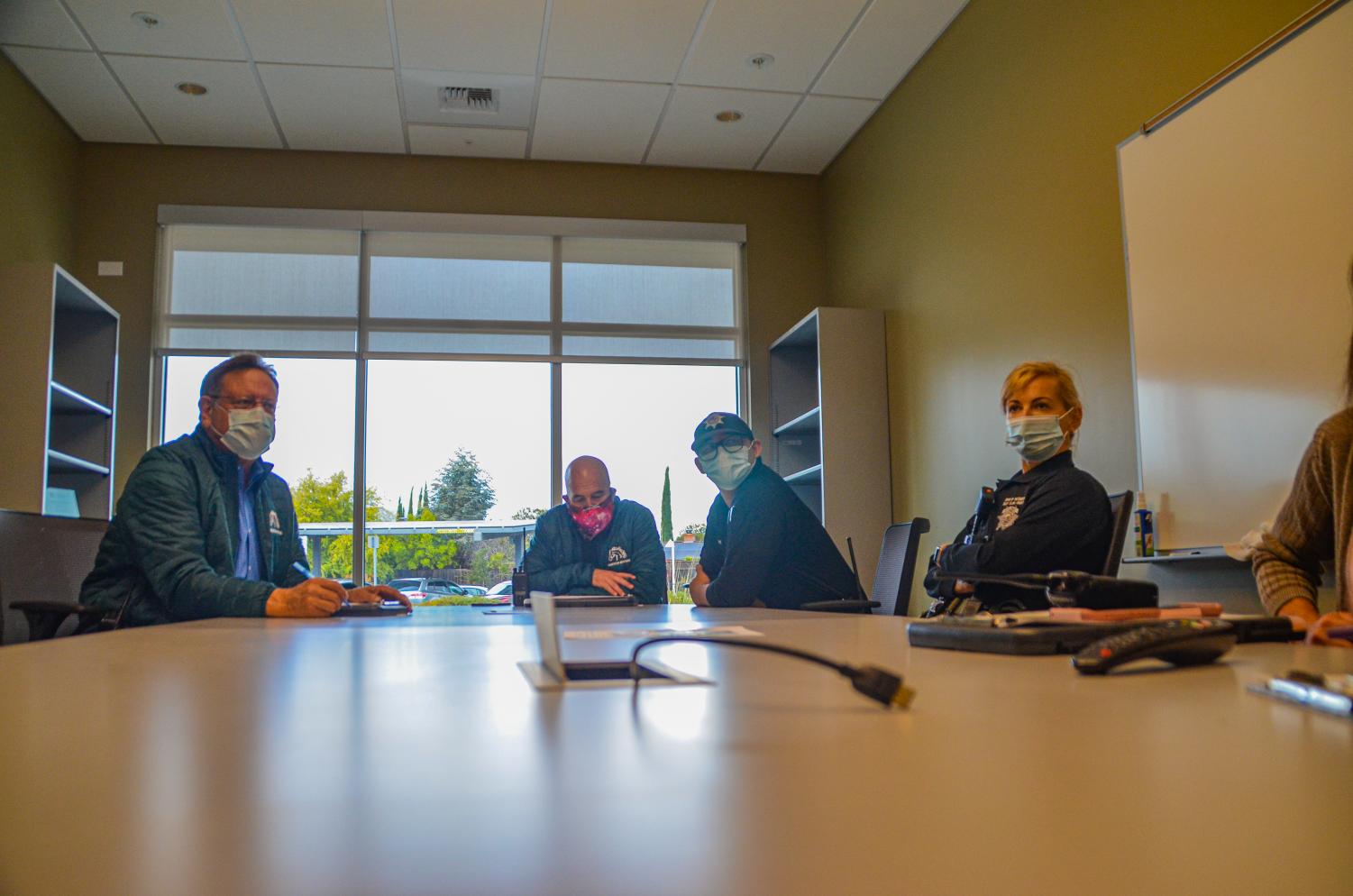 While FUHSD may not be directly responsible for these costs, they could put these funds to better use. For example, the small amount of funds the district may potentially use on the SRO contract could be put towards hiring more mental health professionals. More counselors on campuses has been shown to reduce the number of suspensions and school absences. Even though the district is not responsible for the majority of the funds for the SRO contract, that does not excuse them for this dangerous waste of money. However, the fact that the cities of Sunnyvale and Cupertino far outspend FUHSD on the SRO contract points to their responsibility in this matter.
A presentation given on Oct. 19 about the SRO program at a district study session also makes the point that the district supposedly far outspends policing via its other support programs, such as counseling, Saturday schooling and drug interventions. In reality, one in six dollars the district and cities spend on "Intervention and Safety Programs" within our schools goes to police budgets. This is money that could be put to other programs that do not pose a risk to the safety of student groups.
Furthermore, if this contract were to be passed, it is probable that FUHSD's record of over-policing Black and Latino students would carry over to police actions against those specific groups. According to data collected by the FUHSD, Black and Latino students were suspended at a rate over 3.5 times higher than white students during the 2018-2019 school year. Additionally, the majority of expulsions in FUHSD have been made up of mostly Latino students. It is even more telling of FUHSD's bias in policing and behavior enforcement by the fact that Fremont High School, the only Latino-majority school in the district, consistently suspends more students than any other school in the district, according to district suspension data.
After establishing that people of color are unfairly represented in district behavioral data, it becomes clear why having a police presence on campus is a large issue – it further reinforces a system which already overpolices Black and Latino students, replacing administrators with more police officers. The trend of "over policing" Black and Latino students could easily become more literal with the introduction of police on campus.
Additionally, SROs operate under little federal oversight and have limited training courses for implicit bias, school safety and adolescent psychology. However, mental health and guidance counselors receive years of training and would be much more qualified to help manage the behavior of students, while simultaneously fostering a sense of community and collaboration on FUHSD campuses. 
Moreover, SROs have not been shown to increase school safety in the U.S., and thus are rarely effective. In 197 incidents of gun violence in U.S. schools since 1999, SROs only successfully intervened in three incidents. 
Instead, evidence shows the presence of police on campus fuels the school-to-prison pipeline and poses a threat to students of color. According to data showing the number of arrests in California public schools, Black and Latino students are disproportionately arrested by police and SROs. In one study, it was found that students who were suspended or expelled once were three times more likely to enter the juvenile justice system within the next year.
 Overall, the SRO contract is a dangerous, and ultimately unavailing program whose funds could be put to better use such as hiring more mental health professionals who could better cater to the needs of students. It is at this moment that the Fremont Union High School District must make a decision – to remain complacent in the systemic racism that plagues the school, police and justice system, or to join the growing number of schools across the country who have terminated their SRO contracts in a step towards progress and equity.