STEMtrum encourages female, non-binary students to explore STEM
Event creates inclusive, welcoming environment for students to learn about STEM fields
Eight STEM and diversity clubs across campus took part in HHS's  first STEMtrum on Friday, Jan. 10. to encourage more female and nonbinary students to explore STEM fields through the many different STEM clubs offered at HHS, girls who code co-president Radhika Agarwal said. 
The event was meant to replicate a club fair event in which each STEM club at HHS created their own booth and talked with students about the club's STEM topic as well as important women and non-binary people in that field.
The event was organized by girls who code, a branch of the programming club focused on involving girls and non-binary students in programming. The club came up with the idea for STEMtrum after being unable to find any 'women in STEM' events outside of school, junior Agarwal said.
While initially led by girls who code, eight clubs participated in the event with the shared goal as girls who code. 
"We can see the lack of gender diversity in a lot of STEM clubs, so we thought, 'let's hold a school wide event where all kinds of STEM clubs [can contribute]," Agarwal said. "We wanted to really focus on gender diversity so that females and non-binary students can learn more about the clubs in a comfortable and inclusive environment."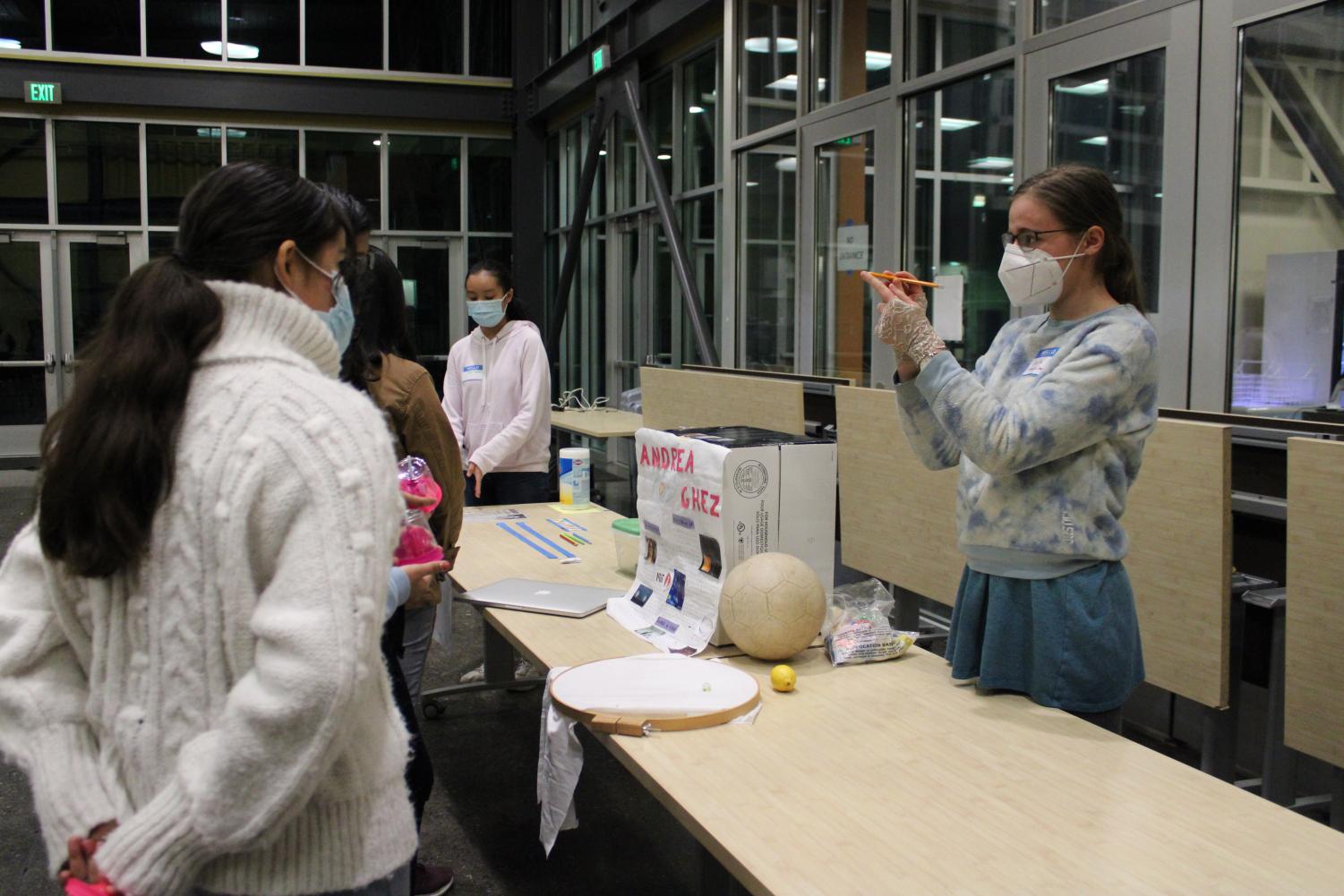 Ensuring the setting was open to everyone was a major focus in planning the event, junior and co-president of Girls Who Code Katia Bravo said.
"We wanted to make sure that the people leading the booths would be majority female or nonbinary," Bravo. "We focused on the environment and making sure that people who are just getting into STEM would feel more comfortable and open and say, 'hey, there's a lot of people who look like me, and I think that's what will help me get into STEM.'"
The aerospace club was one of the clubs who participated in STEMtrum. Junior Sarah Sabaa, president of the aerospace club, said the club hoped to foster a welcoming environment for participants who were interested in learning more about STEM. 
"Oftentimes, girls and nonbinary people are discouraged from getting involved in STEM because it is a very male-dominated field," Sabaa, a junior, said. "So we wanted to encourage people, specifically women and non-binary people, to go into STEM."
Bravo said the main challenge in hosting the event was communication with other participating clubs.
"At the beginning, we just weren't sure how many clubs would be interested," Bravo said. "Working with the other clubs, communicating with them and coordinating everything was a big struggle. We actually had to postpone the event because of it."
Publicizing and drawing attention to the event was an aspect that could have been improved, engineering club treasurer, junior Sage Russell said.
"I don't think it was the outcome that we wanted as far as attendees," Russell said. "There weren't as many as I thought there were gonna be. I think it was mainly because we didn't really get the word out about the event."
Sabaa said the club officers chose to participate in the event because the goals were personal to them.
"As a non-binary person, I think that encouraging others who are non-binary like me or are women who might not have confidence in STEM fields to get involved is really important," Sabaa said. 
The science national honors society also participated in STEMtrum. The club felt a responsibility to support the event's topic, junior and president of SNHS Lela Hanson said.
"As one of the biggest STEM clubs on campus, we think that it's so important that everybody has access to this fascinating field," Hanson said. "The opportunity to help make a difference in our community is always something that our club has been dedicated to taking, and this event was a great way to do some good for our local community and Homestead."
Hansen said she hopes STEMtrum will become a yearly event at HHS.
"[gender diversity in STEM] is a wide topic that requires a consistent campaign in order to enact positive change," Hansen said. "Making STEMtrum a yearly event is a great way to make that impact on the HHS community."