Bitter + Sweet café produces unique, creative coffees served in an eco-friendly environment
Rich, bittersweet truffle cake paired with the milky taste of a red velvet latté featuring hints of a sweet chocolate flavor is the perfect way to start off my Saturday morning. I have been looking for a café that has a unique menu with a beautiful presentation of coffee and cakes, while providing a relaxing, customer friendly environment to peacefully study in, so I was overjoyed when I finally discovered Bitter + Sweet cafe.
Bitter + Sweet is a coffee shop and dessert bar located in Villagio near the Cupertino library. It is the perfect place to go study after school, catch-up with your friends or just enjoy the atmosphere on your own.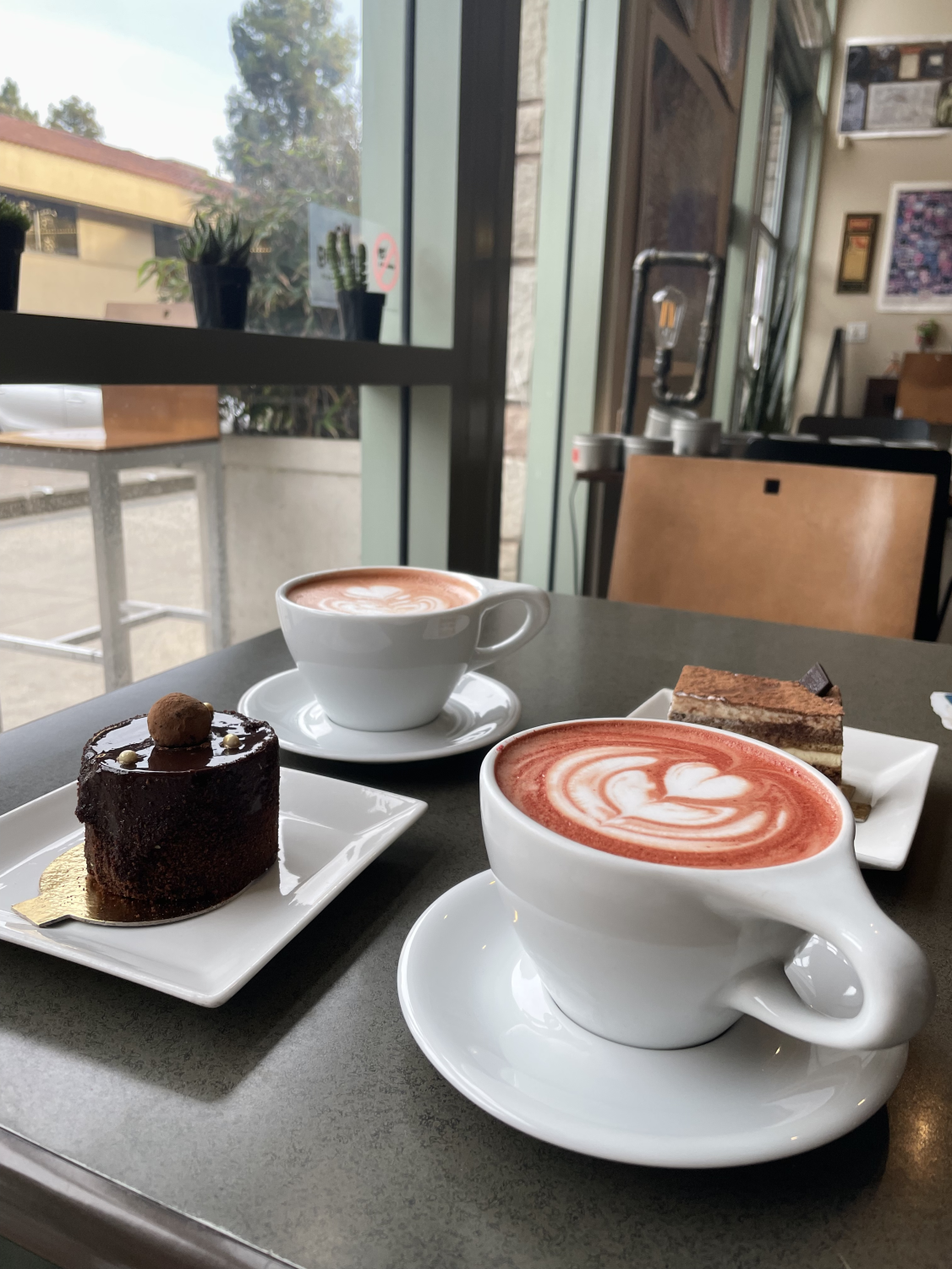 When I walked through the doors, I was welcomed with plants surrounding me and dark wooden counters and shelves, with collectibles such as stuffed animals, figurines and mugs lining the shelves. The cafe was very clean and customary-friendly, providing board and arcade games to play as well as books to read. The sole employee working there was very friendly and efficient; I only had to wait 5 minutes to get my drinks and food.
One thing that stood out to me was that the cafe was very eco-friendly; they did not print out any receipts, there was only one menu that customers would look at when they walked in and all mugs and plates were reusable. It made the whole cafe feel very green.
As for the food, the menu is extensively large for a cafe. In addition to their coffees, espressos and cakes, they serve breakfast foods and paninis, as well as a large variety of teas,  wine and cheese. However, I stuck to trying the coffees and cakes.
I ordered their famed red velvet latté as well as the rose latté to drink (both $5.50). The milk in both lattés was steamed to perfection and they had the perfect amount of foam that melted in my mouth. The latté art was an exquisite heart tulip, presented beautifully by the barista. The red velvet flavor added just the right sweetness to the bitterness of the espresso, creating the perfect latté.
In contrast, the rose latté was a disappointment. The rose flavoring overpowered the other flavors, and it tasted like I was drinking sweet, rose milk. It was not for me.
I also bought a tiramisu and truffle cake (both $6.25) from their cake menu. The soft, sweet, creamy tiramisu melted in mouth, and the rich truffle cake was perfectly mixed with just the right amount of cake and dark chocolate ganache. 
My favorite pairing was the red velvet latté with the truffle cake as their sweetness and bitterness contrasted with each other, creating an explosion of delightful flavors in my mouth. 
For the quality and presentation of the coffee and cakes, they are definitely worth the price. 
Overall, I was impressed by what Bitter + Sweet had to offer. Their coffees and cakes were exquisite, the atmosphere was very relaxing and unique and the café was eco-friendly and customer friendly.