Senior varsity swimmer breaks school record
Aiden Leone breaks his previous record for 100 freestyle
Varsity swimmer Aiden Leone unintentionally broke the school record in the 100-yard freestyle event with a time of 46.35 seconds at CCS in Hollister, as a byproduct of the tremendous amount of time he has put into perfecting his technique. 
"I wasn't really thinking about breaking the 100 freestyle record," Leone said. "I was more focused on the 50 freestyle, because that's my main race. So when I broke it, I was pretty shocked and surprised, but still super excited that I broke it."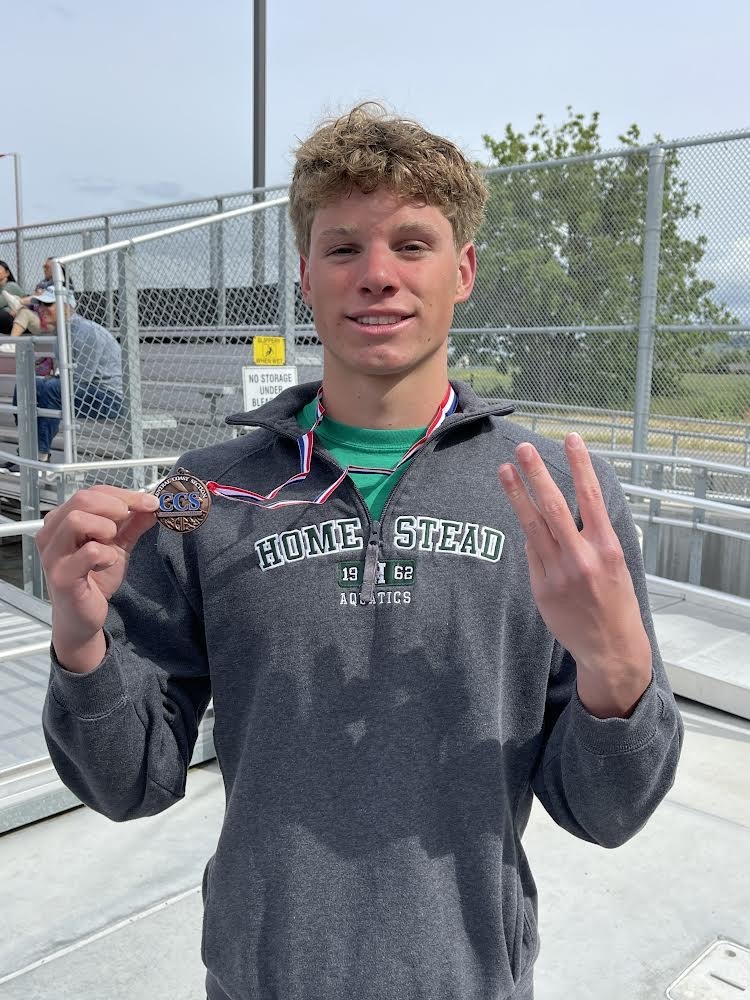 The previous record of 46.73 was also set by Leone, he said. 
Last year, Leone rejoined his swim club where he trained eight times a week for an entire year, putting in two to four hours a day of training.
"Training is broken into warm-ups, drill work and a main set [as the main workout]," Leone said.  "[The main set being the] hardest because we really focus all of our energy and effort into it."
While Leone understood the time investment that came with swimming competitively, he said he continued to push himself to improve. Leone said he never thought twice about his commitment to his craft, and after enduring this routine, he finally saw results as his hard work paid off.
As the school season came to a close, Leone earned the opportunity to continue competing as he managed to qualify for states. There, he will be swimming the 50 free, 100 free, 200 medley relay and 200 free relay.
After states, his high school career will come to an end, but Leone said he plans to swim at the University of Utah for a club, not the school team.
Although making states is already a major feat, Leone said he strives for greater success, hoping to qualify for the finals by finishing in the top 16. 
"Right now in the 50 freestyle, I'm seeded 18 in the state," Leone said. "If I can drop a little bit of time [on my 50 and 100 freestyle], I should be able to [qualify] for the finals."
To help Leone excel during the race, Leone said he does a pre-race routine to energize himself for the competition. 
"Light work baby," Leone said. "I like to scream it before my races to hype myself up before a race."