Excitement washes over students as the doors to the highly anticipated Homecoming game open. The cheer team steps out into the spotlight to perform the annual halftime show on Friday, Oct. 13.
Senior back spot Leila Matta said the cheer team has been rehearsing various aspects in preparation for the Homecoming game, including walking for the parade as well as stunts for the football game sidelines.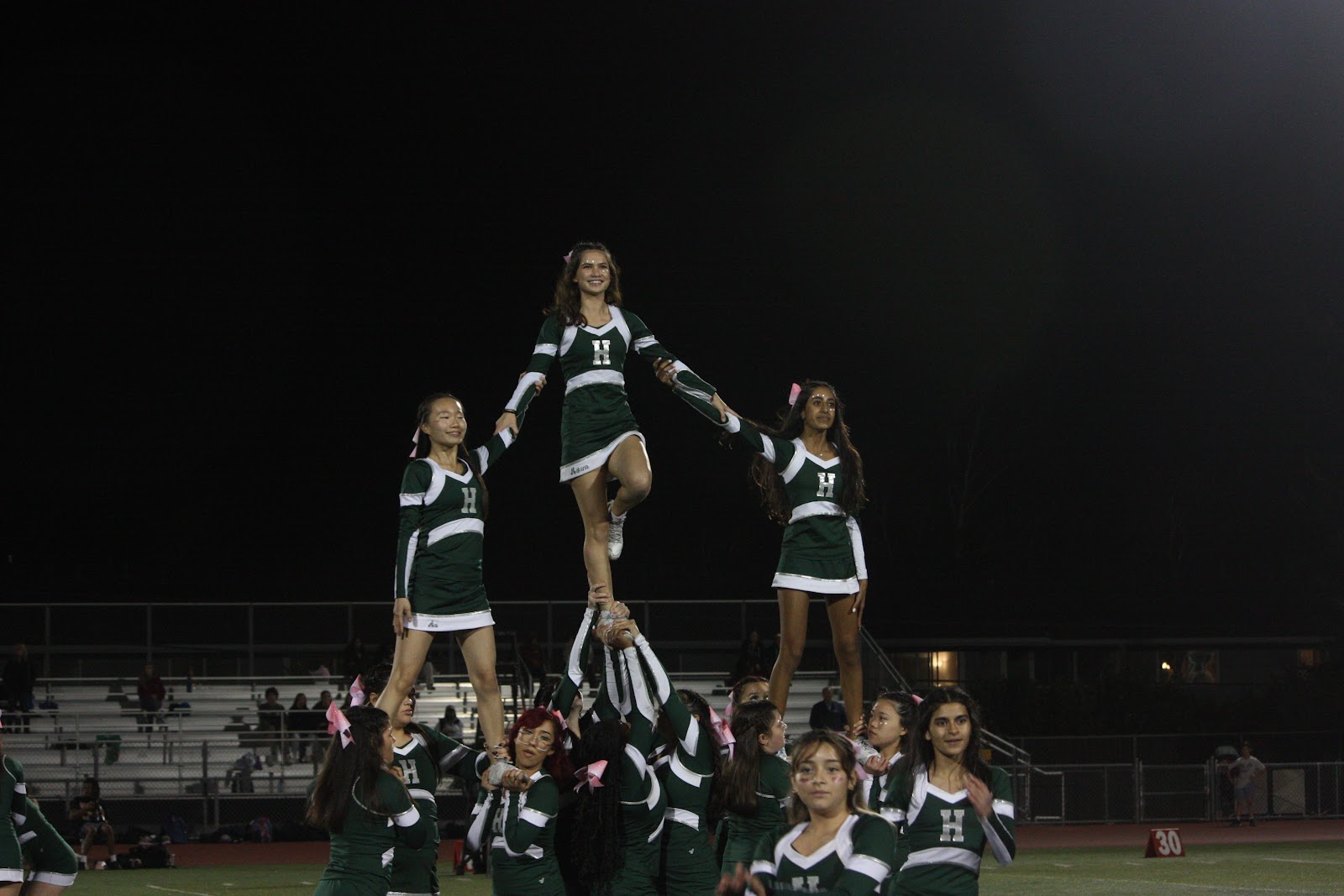 "I'm most looking forward to seeing the whole student section and the energy that Homecoming evokes from the crowd," Matta said. "I feel like [the Homecoming game] is the best out of all the games that we have throughout the year, and I love watching the band and dance perform as well. I just want to have fun for my last Homecoming [rally]."
While preparing for the Homecoming game is exciting, it can also be stressful to balance all the routines, senior Diana Commissariat said. 
Despite undergoing tiring practices, Matta hopes the crowds can bring energy to her last Homecoming game. She said cheerleaders are a pivotal connection between the football players and the crowd, allowing them to fully involve everyone in the game.
"As cheerleaders, we play a pretty important role because you don't really get to see a lot of the football players' emotions," Matta said. "We give the crowd [a sense] of what's going on, so we can really bring up the energy and make everyone feel included."
As a new member of the team, tumbler, junior Saydee Blandini said she has gotten lots of support from her fellow cheerleaders.
"Although [the new cheer members] were nervous because it was the first rally," Blandini said. "The returning [cheer members] helped us by telling us that it was okay, and we worked together really well."
As her first-ever half-time show, Blandini said it was fun to perform through the cold in the night with her cheer team.
"We were all freezing cold," Blandini said. "I just wanted to go out there to get warm. It was fun because we already did the routine in the rally earlier but this time, in the half-time show." 
Despite the loss of the football game, Commissariat said she feels the spirit and support from everyone helped push the football team to try harder. 
"[The cheer team] was definitely really loud and enjoyed [the crowds] company," Commissariat said. "Every time the team scored a touchdown it was also super heartwarming because the cheer team and the people in the stands got excited."