New historical retelling gets audiences "Loving" it
An independent take on America's most famous couple turns into success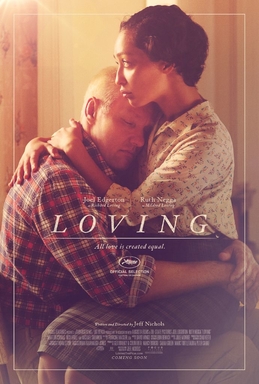 The soft-spoken nature of "Loving" grants watchers a digestible historical movie. Director and writer Jeff Nichols opted for the focus to be cinematography, rather than creating a film filled with choppy facts in each scene. With a holistic view of the South in the 1960s, the movie flows smoothly from its scenery and delivers a paramount message to society in today's tumultuous times: we cannot regress.
Set in the rural region of Virginia, two lovers of different cultural backgrounds, Richard and Mildred Loving, come together to challenge racism deeply-rooted in their home and country.
A particular detail about this movie is its invitation to open-ended questions. Instead of holding back on muddled information, Nichols clearly confronts these issues and allows the audience to participate in their own Mad-Libz version of history. Rather than making his own guess about who it was that turned in the Loving couple to the police for violating Virginia's anti-miscegenation statute, Nichols drops a trail of breadcrumbs for the audience to make their own conclusion as to who was guilty. This unique relationship Nichols develops with the audience only attests to the alternative structure of this movie.
Due to casting director Francine Maisler, "Loving's" cast of characters is also a great aspect of the movie. Australian-native Joel Edgerton brilliantly shapes into the role of Richard Loving, a quiet man in love with the land around him and his wife. In the role of Mildred Loving, Ethiopian-born Ruth Negga outstandingly plays the role of the shy woman who pushes forth the case that changed the constitution of America. Working together, Edgerton and Negga paint the country's most controversial love story in a splendid manner. In the supporting role of the Loving's lawyer, Nick Kroll trades in his funny lines for a more serious character. He does a mediocre job in fulfilling his sincere part and leaves the audience wanting less Kroll-ness from him.
Dialogue is simple and pleasant in the movie, without holding an overbearing role over the characters. Nichols uses his cinematography over superfluous dialogue that tends to follow the historical movie trope. Southern scenery serves as a character of its own, speaking of the contrast of ugliness of society in such a beautiful place.
Nichols' touching movie speaks to the confrontation of difficult historical events by directors. Informing audiences across America and beyond, Nichols simultaneously has us falling in love with the couple while also proving that this whirlwind romance is bigger than just two people.
4/5