The second can be as bad as the first
Tyler Perry's new halloween movie does not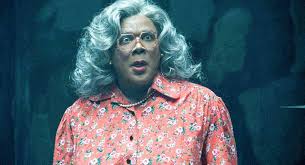 Tyler Perry's "Boo 2! A Madea Halloween" is the second installment in the Madea Halloween movies.
The movie focuses on how recurring Madea character Tiffany is going to a halloween party that her dad doesn't want her to go.
It was generally very funny. Perry played the role of as three characters himself: Madea, her brother Joe and Joe's son Brian. Because Perry was three characters, the camera men did not show his body, only his face, to keep the audience from knowing he was all three.
The setting was at a lake where murders have taken place before. And the people who supposedly done the murders were thought to be dead.
The movie portrayed the cliche creepy lake: abandoned and people have been killed there before. Madea hears that Tiffany's mom is letting her go to the party and tells Brian put his foot down on his ex wife.
Madea goes to get Tiffany from the lake. Conveniently, the party dies down and it's only Tiffany and her friends. That's when the "murders" start to pick off them by couples.
It usually just uses the typical type of teenager Halloween specials. The kids got scared and started to run and hide, while the same thing happened to Madea and her friends who were just trying to help Tiffany. They finally run into each other while running away from the "murderers," and try to escape.
In the end they all find out that Brian and his friend were pranking all of them, to teach Tiffany and her friends the lesson of listening to your parents and not lying to them as well.
This movie can be compared to a "Scooby-Doo" episode, because the people who come and try to help the people who are getting scared, then get scared themselves. At the end they all find out it was someone they knew who was trying to teach the people a lesson.