'Everyday is Christmas' cheerfully kicks off the holiday season
Sia's new Christmas album provides refreshing, festive music you didn't know you needed
Although I enjoy turning on the radio in December and singing along to the classic Christmas carols as much as, if not more than, the next person, I must confess I get tired of hearing the same played-out covers my grandparents likely listened to in the 1940s. By late December every year, my reaction is the same: if I hear one more sappy remix of "Baby it's Cold Outside," I will scream.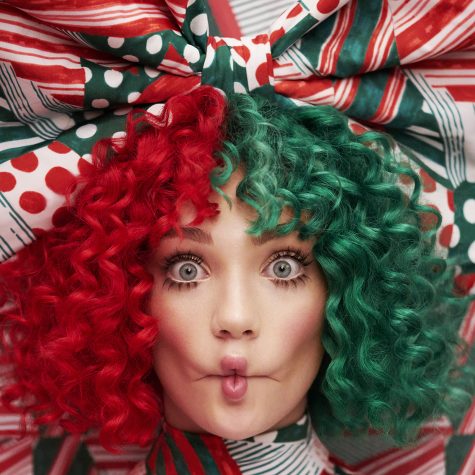 Amid a genre prone to unoriginality, Australian singer Sia's new album "Everyday is Christmas" shines like a string of holiday lights. Released Nov. 17, the album contains ten tracks, ranging from ballads like "Snowman" to the cheerful, bouncy "Candy Cane Lane."
The album begins with the instant hit "Santa's Coming For Us." Though the title sounds more fitting for a Christmas-themed horror film rather than a song, I enjoyed its joyful tone and reggae-style beat. Though I could only understand around two-thirds of the lyrics — as Sia is not known for enunciation — I still found it catchy and fun to listen to.
However, not every song featured on this album deserves to be added to your Christmas playlist. I especially could have done without "Puppies are Forever." Despite its important message, the song's repetitiveness gets old quickly, and its serious subject matter contrasts sharply with its peppy melody.
At times, the album seemed to be a veritable grab-bag of seasonal cliches, brimming with snowflakes, snowmen and candy canes. There is also a glaring, almost lazy tendency of repetition that is hard to write off. For example, "Snowflake" and "Snowman" both reflect on temporary love, and two of the songs are titled "Underneath the Mistletoe" and "Underneath the Christmas Lights."
Overall, Sia deserves credit for not simply churning out another cookie-cutter Christmas album. Her vocals are undeniably excellent, and she managed to create ten holiday themed songs that still sound very much her own with a little festive twinkle. If you are a fan of Sia's powerful, unconventional style, you will likely enjoy these songs just as much as the Christmas classics.
Release Date: Nov. 17, 2017
iTunes Price: $9.99
Length: 33:07
Rating: 3 stars