A maniacal fall out of flavor
Fall Out Boy disappoints audience in new album
W hen I was in middle school, Fall Out Boy played constantly on the radio, making it almost impossible not to hear one song a day. I was more than okay with that. Songs like "Centuries" and "Uma Thurman" filled my earbuds and I loved listening to rock music, which contrasted my usual Taylor Swift or Miley Cyrus songs.
As the years went by, Fall Out Boy faded from my playlists and I forgot about them. Then came "Mania."
Before Fall Out Boy's new album was released on Jan. 19, I had high expectations for Fall Out Boy's new album. I expected an alternative vibe which was the reason they appealed to so many fans and what had made me listen to them all those years ago. Imagine my distaste when I found the album was nothing I thought it would be.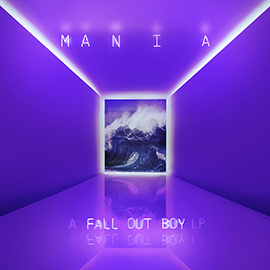 In their new album, Fall Out Boy blindly follows the new norm of giving an electronic background to their songs instead of using classic rock instruments. For example, in the first single of the album, "Young and Menace," there was an extremely long interlude showing off the electronic backbone of the song. The large instrumental portion seemed overly long, and I found myself bored waiting for the vocals to appear. Overall, it didn't fit the style that rock music normally portrays.
Instrumental is not the only problem in "Mania." "Heaven's Gate," a song that focuses on a religiously sinful type of love, tried to mimic a soulful vibe like Hozier's "Take Me to Church," but falls short of the 2014 single. This was partly due to lead singer Patrick Stump's voice, which gave no depth to the song, and therefore, no soul.
The songs melted into each other as I was listening, creating a whirlwind of unmemorable and identical tunes. "Wilson (Expensive Mistakes)" and "HOLD ME TIGHT OR DON'T" have the same snapping beat, and "Stay Frosty Royal Milk Tea" is not actually about the popular tea drink.
The only great song to come out of this album is the second single: "Champions." "Champions" is the closest song to the original rock that Fall Out Boy is known for, and it delivers on all the aspects the band became famous for.
In the song, Stump sings, "If I can live through this, I can do anything," inspiring listeners to keep on going and find where their strength comes from. The song mirrors the same hard hitting, inspirational energy Survivor's "Eye of the Tiger" gave. "Champions" goes back to Fall Out Boy's alternative roots rather than displaying the electronic music present in all the other songs, and delivers a perfect message for this day and age.
As someone who was way too excited for Fall Out Boy's new music, I would suggest listening to the previously released singles before deciding to purchase the full length album. It'll give a small sample to the album and then one can decide for themselves whether or not "Mania" is worth it.
Artist: Fall Out Boy

Release date: Jan. 19

Genre: Alternative

Price: $11.99

Stars: 3.5