Cardi B does it for the culture
L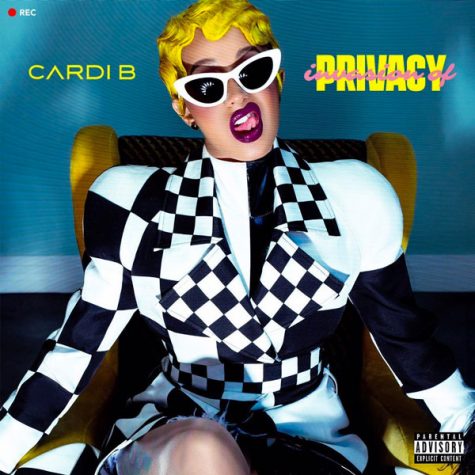 ess than a year after her rise to rap stardom with single, "Bodak Yellow," Cardi B, the Bronx MC, released her debut album,  "Invasion of Privacy."
When she announced her album release date my excitement and anticipation for the album was unbearable.
I remember listening to the first two singles "Bodak Yellow" and "Bartier Cardi" featuring 21 savage. Both of these singles were filled with an unapologetic attitude, hard-hitting lyrics and simple yet catchy production.
I built up a lot of hype surrounding her debut album and let's just say the results were not disappointing.
The first track I listened to, which she released a week before, was "Be Careful," where she raps about being in an unfaithful relationship and warning her partner to start taking her feelings into consideration.
The storytelling and vulnerability that Cardi showcases was a pleasant surprise. I think it was a smart choice to release this song before the album because people tend to always expect the attitude-filled, intimidating raps whereas this song had a different vibe that many women could relate to if they are going through any sort if strain in a relationship with a significant other.
In this track she also shows off her vocals, which were not unique, but still something new.
Cardi showcased her capability to present raw emotions through music in multiple tracks.
"Thru Your Phone," was another more sentimental track talking about infidelity in a relationship.
Her other solo songs were also well constructed lyrically and production wise, such as the first track off the album, "Get Up 10."
Cardi raps about her struggle of going from rags to riches over a mellow, simple beat that matches her aggressive, emotion filled tone.
Cardi's ability to lyrically present situations in her life with a message to relate to her listeners is what makes her music so likeable and real.
To contrast to the more emotional songs, she still stays true to her aggressive, gangster like beats and raps that she came into the industry with.
Songs like "Money Bag" and "Bickenhead" are uplifting tracks that listeners can get down to and hype each other up.
From YG to SZA the album features some of the most well known rappers and r&b artists.
My least favorite collaboration was "Drip" featuring Migos, which just sounded like another Migos song with no lyricism or underlying message. Cardi still delivered on her part however she was overshadowed by the production and other three members of Migos.
The other collabs did redeem this disappointing track however, such as "She Bad" featuring YG,  "I Do" featuring SZA, "Best Life" featuring Chance the Rapper and "Ring" featuring Kehlani. Kehlani and SZA were perfect compliments to the album with their unique vocals and delivery.
Cardi also stays true to her latin roots through "I like it" featuring Bad Bunny and J Balvin who are some of the most popular latin music artist at the moment. The afro-caribbean beat and spanish lyrics had me dancing all throughout my living room.  
Cardi's versatility throughout this album has landed her the top spot amongst female rappers. She came into the game with a carefree vibe and it shines through her latest piece of work.
She is not worried about what everyone else is doing  nor should she be because she is setting the tone with her music.
She has a distinct sound that sets her apart from other mainstream female rappers. She does not go out of her way to try impress instead she goes into the studio, raps about what she wants to while staying true to her character and the simplicity behind it all is what makes it work so well.