Mumford and sons score third No. 1 album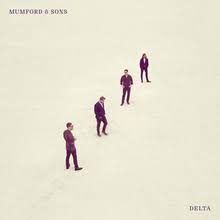 A
fter three years of waiting, Mumford and Sons has finally come out with their fourth studio album. "Delta" brings alternative rock back to the top of the charts, reaching number one on Billboard's top 200.
This album is a sharp change from their previous EP feature, Johannesburg, which featured Senegalese singer Baaba Maal, and incorporated South African pop sounds much different than their typical folk flair. This is most likely due to their collaboration with major pop producer Paul Epworth, well-known for producing Adele, Coldplay and Florence and the Machine.
The voices of the four members of Mumford and Sons can easily be recognized in "Delta," but it lacks the classic banjo and other folk noises that set them apart from other alternative bands. The band, who have called this new album "experimental," incorporate new, electronic and jazz inspired background sounds.
The band's steering away from their classic folk tone is not reason to completely disregard the album, however. The "experimental" sounds are hardly EDM or hard rock, and mesh well with their voices and lyrics in both their more mellow songs, like "The Wild" and "October Skies," or the pop-inspired songs, like the title-track "Delta."
The best part of Mumford and Sons, and this album, is their collaborative spirit. The album was recorded in sessions with friends (some were even featured on the record like singers Maggie Rogers and Gill Landry) which is apparent in the overall jubilance of the album, even though it discusses difficult topics like depression and death.
This may not have been the album that past Mumford and Sons fans were expecting, but its refreshed tone is refreshing and definitely worth a listen.