BTS documentary takes movie theaters by storm across the globe
Reading up about how fans were reacting to the premiere of "Burn the Stage," a documentary about K-pop group BTS, I was apprehensive. Videos of crazy fangirls cheering loudly during the movie and being disrespectful to other moviegoers filled my Instagram feed.
But to my surprise, the people I interacted with in the theater were extremely polite. Perhaps it was because all of them were here for the same reason: to watch their idols on the big screen.
"Burn the Stage" started out as an online series following up on the busy lives of the Korean Idol Group Bangtan Boys, consisting of 7 members: RM, Jin, Suga, J-Hope, Jimin, V, and Jungkook. Their movie was shown in select theaters across the globe.
I was pleasantly surprised by how well made this movie was. It was not overproduced or scripted, which tends to be the case for many Korean broadcasts. Instead, I was moved by how open the members were. The documentary showed the highlights of the tour, but also the many struggles they had to deal with being in the spotlight nearly all the time.
The raw character of each member showed through every scene, and despite being crowned one of the most influential groups in the world, their interactions with one another revealed they were just a rambunctious collection of boys who love to sing and dance.
This documentary is only a glimpse of the amount of hard work BTS puts into their craft. Other than performing on tour, the members always hint about creative projects in the works, whether it be a mixtape, new video or dance on social media.
As for their music, a majority of their lyrics are written by the members, specifically team leader, RM. Their songs dig around topics that are quite unique to the average pop tune. Their most recent album "Love Yourself," has the theme of learning to embrace yourself, and finding peace with who you are. The songs are a reflection of the members, and a collection of moments that led them on a path of self love and appreciation.
Burn the Stage: The Movie, perfectly captures BTS' hard working lifestyle, and a must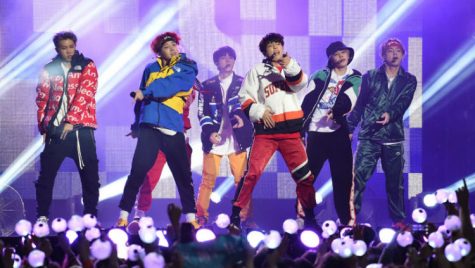 see for fans.