New to country music? Then "Start Here"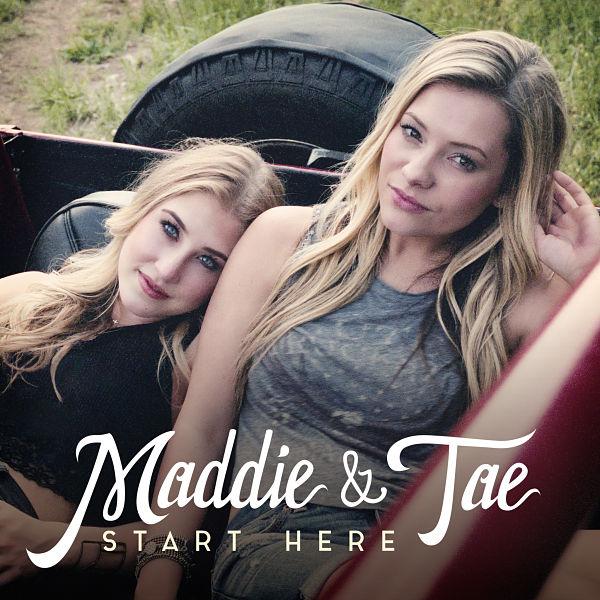 New and upcoming artist, Maddie & Tae's album "Start Here", is changing the country music world with their relatable lyrics to teenagers and the criticism of the Bro-Country trend.
Madison Marlow and Taylor Dye, American female country music duo, are both singers, songwriters and guitarists. Their  debut album "Start Here", released Aug. 28, peaked to No. 2 on the U.S. Top Country Albums on Billboard and features the No. 1 Platinum selling song "Girl In A Country Song", while redefining the definition of country songs at just 20-years-old.
Both Marlow and Dye recently turned 20, but started as a duo when they were only 17-years-old and were signed with Dot Records in 2014. At such tender age, The Rolling Stone cited them as one of "10 New Artists You Need to Know" for their spectacular skills in harmonizing and killer vocals.
Most of the songs on "Start Here" are relatable for the themes that are commonly seen in life of the listeners. The songs include themes about heartbreak ("Smoke"), bullying ("Sierra"), self-empowerment and independence (Waitin' On A Plane), perseverance ("Fly") and to not stereotype people based on appearance ("Girl In A Country Song" and "Sierra").
Out of the 11 songs on the album, "Girl In A Country Song," Maddie & Tae's first single is one of the top hits of the summer/fall for its honest constructive criticism on the "Bro-Country" trend. The trend is the style of mainstream country music in which the songs are becoming more similar to the other genres of music and are about young women, rednecks, alcohol and trucks.
Maddie & Tae, known as the new Taylor Swift of country song, has been receiving more attention in the media lately for their "Girl In A Country Song" music video. The video comically switched the gender roles in country songs, by making the male country singers wear bikini tops, short jean shorts and cowboy boots. The regularly over-sexualized female companions of male singers are dressed more conservative in the music video, with more independence, which fit with the feminist declaration theme of the song.
The purpose Maddie & Tae had for writing "Girl In A Country Song" was that they "wanted to write the songs from a girl's perspective" Dye said. "You know,  how does she feel wearing those cut-off shorts, sitting on the tailgate?". Their second single "Fly" is a heartfelt and honest ballad that supports someone's right to dream, doubt and make mistakes along the way.
Maddie & Tae's debut album "Start Here" includes 11 songs, featuring the No. 1 Platinum selling song "Girl In A Country Song" and their current hit song, "Fly".