Golf emphasizes brains over brawns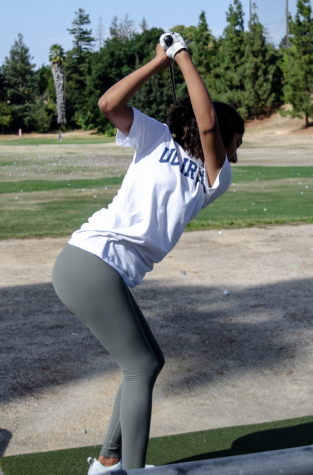 S
enior Mihika Deshmukh has been on the golf team since she was a freshman. She is greatly influenced by her father, she said, who would take her with him when he played golf. 
"I started playing because my dad played, and I played with him," Deshmukh said. "I joined the team after that."
Deshmukh said she enjoys the sport because it is both relaxing and interactive.
"Playing games with our entire team is really fun, because we get to play golf, walk around [the course]  with each other and talk at the same time," Deshmukh said.
Because Deshmukh is recovering from a broken knee, she said she is restricted from playing many other sports. Golf allows her the opportunity to participate in school athletics as it is a less physically demanding sport, she said.
Deshmukh said she enjoys  golf because, unlike other sports, golf places an emphasis and reliance on mental skills rather than just physical skills. 
"It requires a lot of mental ability that you don't realize [you have] until you actually start playing it," Deshmukh said. 
Being on the girls golf team has also given Deshmukh the valuable opportunity to create relationships and friendships with people who she wouldn't usually have the chance to talk to she said.
"[Golf allows me to] become friends with people who are not in my grade, [and] that's something I usually wouldn't be able to do," Deshmukh said.