Firebirds turn lukewarm
In the traditional Fremont v. Homestead Football game Battle of the Bell, the mustangs stampede over the firebirds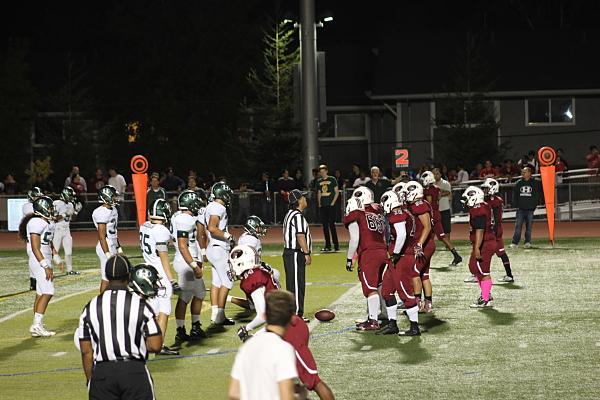 The ringing of the bell, the sound of victory, resonated throughout the crowd after the Mustangs football team defeated Fremont 27 to 7 on October 9th.
The Battle of the Bell is an annual traditional football game between rival teams, the Mustangs and the Firebirds. Each year, pride, honor and the famous red and green bell are at stake.
"[The game] looked like it could be anybody's game… Fremont was coming in tough and we already have so many key players out injured, making it hard to gauge what the final score would look like," football team assistant Julia Verbrugge said.
By halftime, the score was already 20 to 0, giving the Mustangs a strong lead into the rest of the game.
Though the team's quarterback, Jerome Holloway, is injured for the rest of the season, upcoming star player junior Rajah Ward was "tearing it up" on the field, Principal Greg Giglio said on his Twitter account.
"Rajah was one of the key players, and that night marked his 1000 yards running just for this season," Verbrugge said.
Many of the touchdowns were crucial and memorable to the game, especially for player Joey Davidson, who scored two touchdowns in his first game back.
While preparing for the game, a mischievous theory came to the attention of the football team and Coach Milo that HHS constantly loses this significant game when played at our very own stadium. To avoid this bad luck, the football team decided to wear their away jerseys and asked students to wear white, which indicated an away game.
This strategy, nicknamed "horse force," was present throughout the student section. Rows of white struck the Firebirds on the other side of the field.
"I was very impressed with our section, and a majority of them were interested in the cheers," Scream Team president Cameron Bunka said when leading the student section.
During the football game, the horse force was "filled with Mustang power," Bunka said. The student section allowed spirited Mustangs to unite and support HHS throughout the night.
The famous bell now again resides in the main office, where students, staff and parents can enjoy our wonderful night of success.