Senior Kannan Karthik's leadership through passion
The center back reflects on his final season as captain
The captain of a soccer team is assigned the difficult task of leading and controlling the ten other players on the field. Varsity soccer captain, senior Kannan Karthik opened up about his role as captain and how the season went. 
Karthik has been playing soccer since first grade, and his dad would practice with him, he said.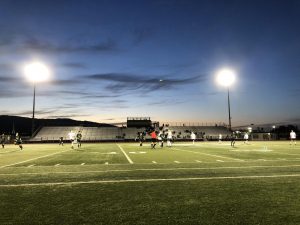 "I started taking it more seriously about third grade, playing competitively," Karthik said. "I've been playing at [HHS] for the past three years." 
Karthik didn't play for HHS his freshman year because of his commitment to his club team, he said, but decided to switch to play for HHS his sophomore season. 
Karthik was able to quickly impress the coaches with his skills, as he got pulled up from junior varsity to varsity halfway through the season, he said. 
Karthik said he has been a defender his entire career, playing either left back or center back. At HHS, Karthik has spent most of his time as a center half for the Mustang defense. 
For his senior season, Karthik was also chosen to be team captain. Junior midfielder Massimo Pastizzo said he is a great leader due to his passion for the game. 
"I could tell from day one that he had a tremendous amount of passion for soccer," Pastizzo said. 
Pastizzo added that during team film sessions, Karthik can be heard constantly directing his teammates on the field throughout the game.
Karthik said a successful team captain must take their position seriously and stay disciplined.
"You have to make sure your teammates are taking it seriously as well, or else the team won't be able to function," Karthik said. 
Karthik's teammates see these values reflected in his leadership throughout the season, Pastizzo said. 
"[Karthik] takes the game very seriously," Pastizzo said. "After we would lose a game, I wouldn't see him crack a smile during practice or a game until we won again." 
Karthik said it is essential his teammates be fully committed to the team in order to be successful. 
"This year we had some problems with players not fully buying in," Karthik said. "Some advice for my successor as captain [is that they should] make sure that your teammates don't have prior commitments and that they are able to fully commit to the team."