HHS announces it will be moving to credit/no credit for remainder of semester
HHS, along with every school in the district will be moving the final semester grading system from letter grades to a binary credit/no credit system, according to an  email and a frequently asked questions document sent to students and parents on Saturday, April 11. 
The decision came after much deliberation and two weeks of consulting with various personnel in the school system, FUHSD superintendent Polly Bove said in a phone interview.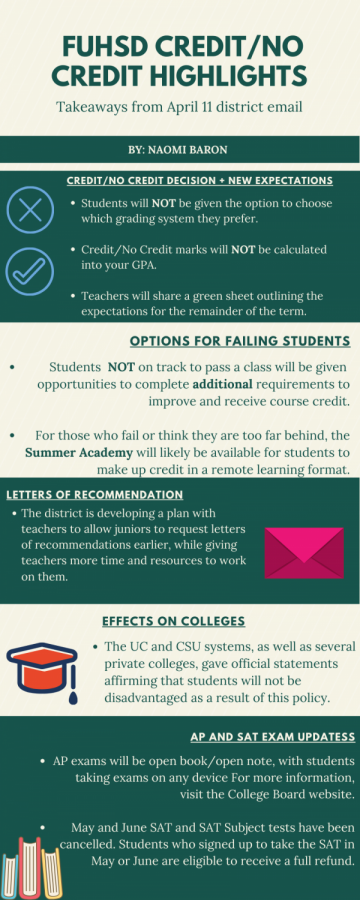 "There wasn't, like, a literal vote," Bove said. "There was more a general consensus that this was an option that seemed most fair." 
As part of the consideration, the district consulted with several colleges and universities.
"It was a very hard decision but it largely came from the fact that when the colleges and universities talk to us about this, they understand that this is a worldwide emergency," Bove said. "The conditions at home are so variable for everyone that colleges and universities know that  using course classes and grades to really determine who enters into their university or colleges is not a fair system." 
During district meetings, administrators wanted to listen to as many opinions and sides as possible, Bove said. They spoke with  several students enrolled in multiple AP and honors classes. Bove said these students unanimously agreed with the credit/no credit switch.
"Equity is key when it comes to high school and college admissions," junior Samrudh Shenoy said in an email. "A letter grade scale simply isn't feasible as it would be a misrepresentation of ability for many students. Yes, of course, credit/no credit puts kids at a disadvantage, but not as extreme as the letter grade system due to the fact that the majority of the school of our demographic are taking the same steps as us and thus, the playing field is far more level than most may believe it is."
Junior Aditya Senthilvel is also in favor of the credit/no credit decision and said he believes the traditional grading does not fit the distance learning model. Specifically, he said, not being able to administer tests poses a major problem.
"Many classes have tests as a significant portion of the class grade," Senthilvel said in an email. "Since teachers have no way of administering tests, a significant portion of the grade is gone. Students who currently have low grades under the traditional system may not be able to raise their grades because there are no more tests." 
While some teachers have altered their grading to give students a fair chance at a higher grade, he said, not every teacher has or is willing to do that.
"The credit/no credit system allows students with low grades to have a higher chance to redeem themselves," Senthilvel said.
Erin Ronan, AP Calculus AB and Algebra 1 teacher, said she would personally prefer to continue with letter grades, noting that students have already earned letter grades for a significant portion of the second semester.
"I understand the rationale behind the decision to have credit/no credit for the spring semester," she said in a response to an online questionnaire distributed by the Epitaph, " [but] I am not comfortable with all students who pass earning the same grade. Teachers have already put a lot of work into lesson plans that include how to continue traditional grading through distance learning."
Junior Zachary Gabrielson said he does not agree with the decision to move to credit/no credit, citing a likely decrease in motivation for both teachers and students as the main problem.
"Teachers will not feel the need to give as much feedback on work and students will be focused on doing the least amount of work possible, even if it is low quality," Gabrielson said in an email. "It will give people a false sense of how they are doing in their classes, especially in classes that are prerequisites. The difference between an A and a C would be the difference between taking a more challenging follow up course the next year, but they are both passing grades."
Sophomore Sophia Zhang also expressed her disappointment with the decision to move to a credit/no credit grading system. 
"A lot of students have been working very hard the first half of the semester thinking it was going to be included into their GPA," Zhang said. "Now that it's changed to credit/no credit, it feels like we wasted a lot of time and effort to get a certain letter grade."
Dawn Bussey, the mother of sophomore Anabelle Bussey said she also disapproves of the new grading system, and would have preferred that the school give students an choice.
"Students should have an option between credit/no credit grading and actual grades," Bussey said. "That way it is suitable for those who need it for college transcripts, as well as offers a solution to those who have difficult learning circumstances during this pandemic."
Bove said both she and her staff are taking every response to the new decision seriously. 
"We're going to answer every concern," Bove said. "We're going to talk about ways we can help individual kids with situations, so that we do our best to make sure kids are not disadvantaged." 
To further help students, Bove said the district will be encouraging staff to help students by writing more letters of recommendation, even if colleges have not historically required them. 
Bove said that based on her conversations with college representatives, more and more colleges indicated they would be open to receiving more letters of recommendation given the unique grading circumstances. 
"I'm still conflicted. We're all conflicted," Bove said. "I mean how do you not stay conflicted about something where there's essentially no right answer? You have to just do something that appears to be most fair."