Robotics club: still thriving during distance learning
With most club activities being held virtually, robotics team still managing to hold workshops, train new members
In a typical year, the robotics team would have held business and mechanical programming workshops as well as a recap competition in the first semester, while in the second semester they would begin the process of building robots, senior Shreya Ganti, the executive VP, said in a Zoom interview. 
Many members of the robotics team are continuing to participate and enjoy the club even through distance learning, sophomore Elise Vambenepe, the safety and pit boss, said.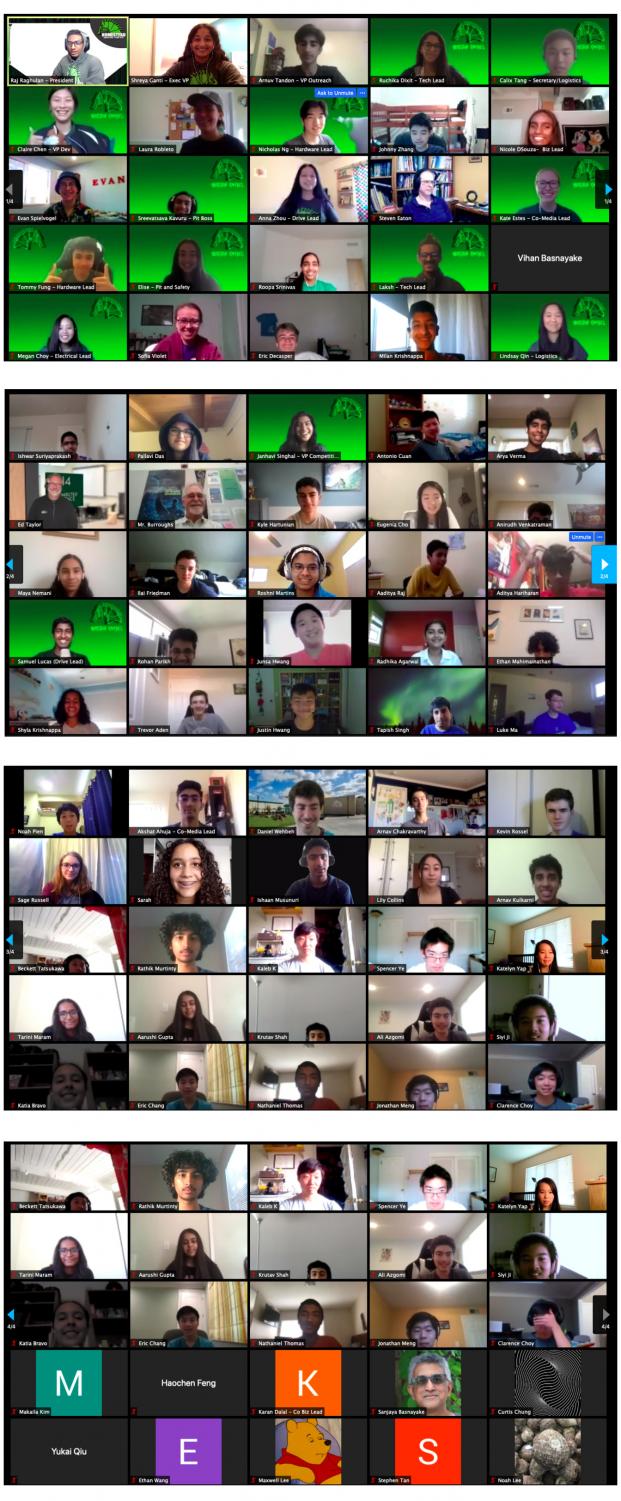 "I [joined and stuck with the robotics team because] things are constantly going on," Vambenepe said in a Zoom interview. "There's always something new to learn, there is always something to do, it was always very engaging. And I really enjoyed that."
The robotics club holds a special significance to some senior members as it has served as a source of community for them and helped form many long lasting friendships, senior Calix Tang, the secretary and logistics co-lead, said.
"All the friendships I've made [are] in this club because I didn't know a lot of people coming into freshman year and coming out of it I definitely had a friend group in robotics," Tang said in a Zoom interview. "And that kept me going. And with that friend group, I learned a lot more and we all grew together."
Apart from the bonding aspect, the robotics team has helped many students develop and further an interest in creating robots, junior Laksh Bhambhani, the software co-lead, said.
"I love making and planning robots," Bhambhani said in a Zoom interview. "Robotics [club] gave me a chance [to create] at a bigger scale. And it also included learning new concepts and skills. That's what made me stay. On top of that, I was a driver for my first year [in] the club, so that's kind of cool."  
However, due to the pandemic, their parent organization, FIRST Robotics Competition, released a statement saying that all in-person competitions would be canceled. Now they are working around the restrictions of holding club events with social distancing, Ganti said. 
"Development obviously has gotten hit the hardest because we can't actually build or program a robot," Ganti said."Getting grants and being able to write proposals that are convincing enough for companies to sponsor us is a little more difficult this year as well."
Apart from the changes to the meetings, the number of students joining has also decreased, Tang said.
"With school announcements, you can't really avoid them," Tang said. "And based on that first general meeting, I think that's where we got most of our members to stay in, attend a bunch of workshops. But this year, you can't really force anyone to listen to anything."
Although remote learning has made all school activities more difficult to carry out, the robotics team is working towards creatively providing members with experiences similar to the ones they had last year, before the school shutdowns, Ganti said.
"We're still developing a lot of diverse activities that will help [members] get a sense [of] what Team 670 Homestead robotics is all about," Ganti said. "We're still pretty happy with the turnout we have so far."