COVID-19 vaccine brings schools one step closer to re-opening
With the new development of a vaccine, many questions arise as to what this means for students.
California is currently in the first tier of vaccine distribution. It is expected by the summer of 2021, there will be enough supplies for the majority of Californians to be vaccinated, the CA government reported.
This has brought hope to many students including sophomore Roopa Srinivas, as vaccine distributions hopefully will allow for fewer restrictions.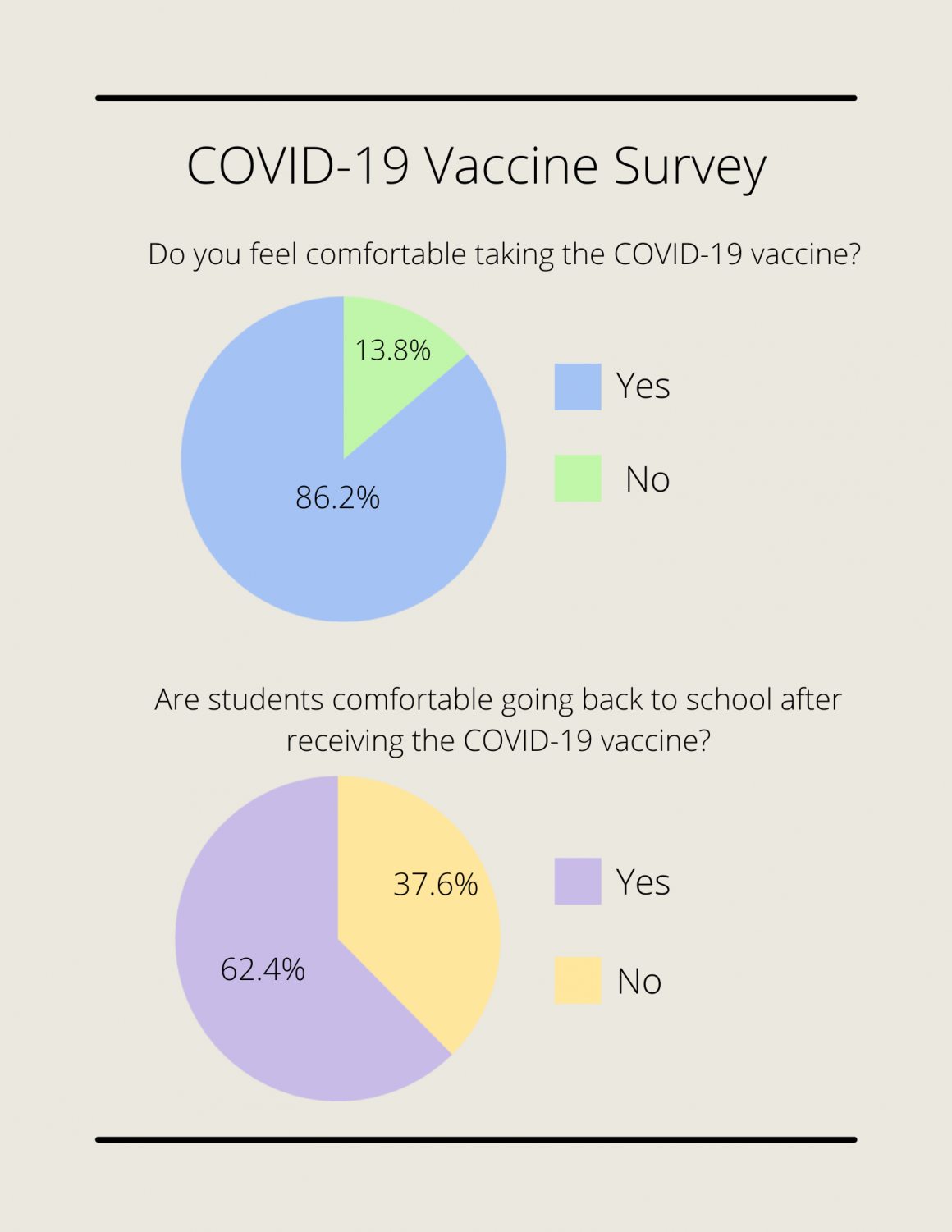 "It's nice that we have a time frame as to when things might go back to normal," Srinivas said in a zoom interview. "Because we have the vaccine and if they are administered, a lot of people will be safer and that is a nice sense of hope and security to have."
According to the CDC, the vaccine is safe and has gone through "rigorous studies to ensure they are as safe as possible." 
However, to some people like sophomore Melody Huang, there is still a lingering feeling of hesitation. 
"I don't think it has been tested enough or is safe enough to take yet," Huang said in a Zoom interview. "I think that people shouldn't take it for a while … they still need to adjust the vaccine before it's safe for everyone."
There are currently two COVID-19 vaccines, Pfizer-BioNTech and Moderna. Both vaccines are administered in two doses 21 to 28 days apart and are completely free, the CDC reported. The Pfizer-BioNTech vaccine is 95% effective and the Moderna vaccine is 94.5% effective, the New York Times reported. Despite some people having worries about how safe the vaccine is, 1.2 million people in California have already received the first dose of the vaccine, according to Bloomberg's vaccine tracker.
Since teachers are considered to be essential workers, they are in the second tier of vaccine distribution. This is a big step for the school's plan of coming back to in person learning, principal Greg Giglio said in a Zoom interview.
"It's a major step towards getting people back, when you think about all the adults on campus needing to get vaccinated because, if we get sick, there really is no school," Giglio said. "I would even think parents would feel safer to have their kids on campus if they know that adults are going to be vaccinated." 
However, this does not mean that everything will be back to normal if we go back to school. There will still be many precautions that everyone will have to follow, Giglio said.
"Once you start hitting [ages] 16, 17 and 18 you're pretty much physically an adult, and the symptoms are different, that is one of the reasons why high schools are particularly harder to get going," Giglio said. "Students are going to have to wear masks, socially distance, wash their hands and walk one way down a hall. We're going to have to come up with different rules to keep people safe so we will be asking [students] to follow them."
Nonetheless, Giglio said he is optimistic that in the future we will not need to take as many precautions.
"Hopefully, at some point, we won't have to [take many precautions] because people are vaccinated, the numbers have gone way down, and we will be in a better place," Giglio said. "But [for the time being] I have to get a little bit more militant. It's not our favorite part of the job but, if it keeps everybody safe, it's an important part of the job."