STEM Night will be held on an interactive online platform
Club officers of science for change will be holding the annual STEM Night on March 30 from 4 p.m. to 6 p.m. through the online platform Gather Town, to uphold this club tradition, despite the virtual medium. In hopes of creating the most realistic experience of this event possible, sophomore and secretary/treasurer Lela Hanson partnered with senior and vice president of member relations Rebecca Ma to create a digital replica of Homestead's campus. 
"[Through this platform], you have your own little world. You can interact with other people, objects, websites and embedded links," senior and president Kiarra Ning said in a Zoom interview. "Being able to move everything online and having people enter that portal and participate in that world [creates] as much of a personal and interactive experience possible."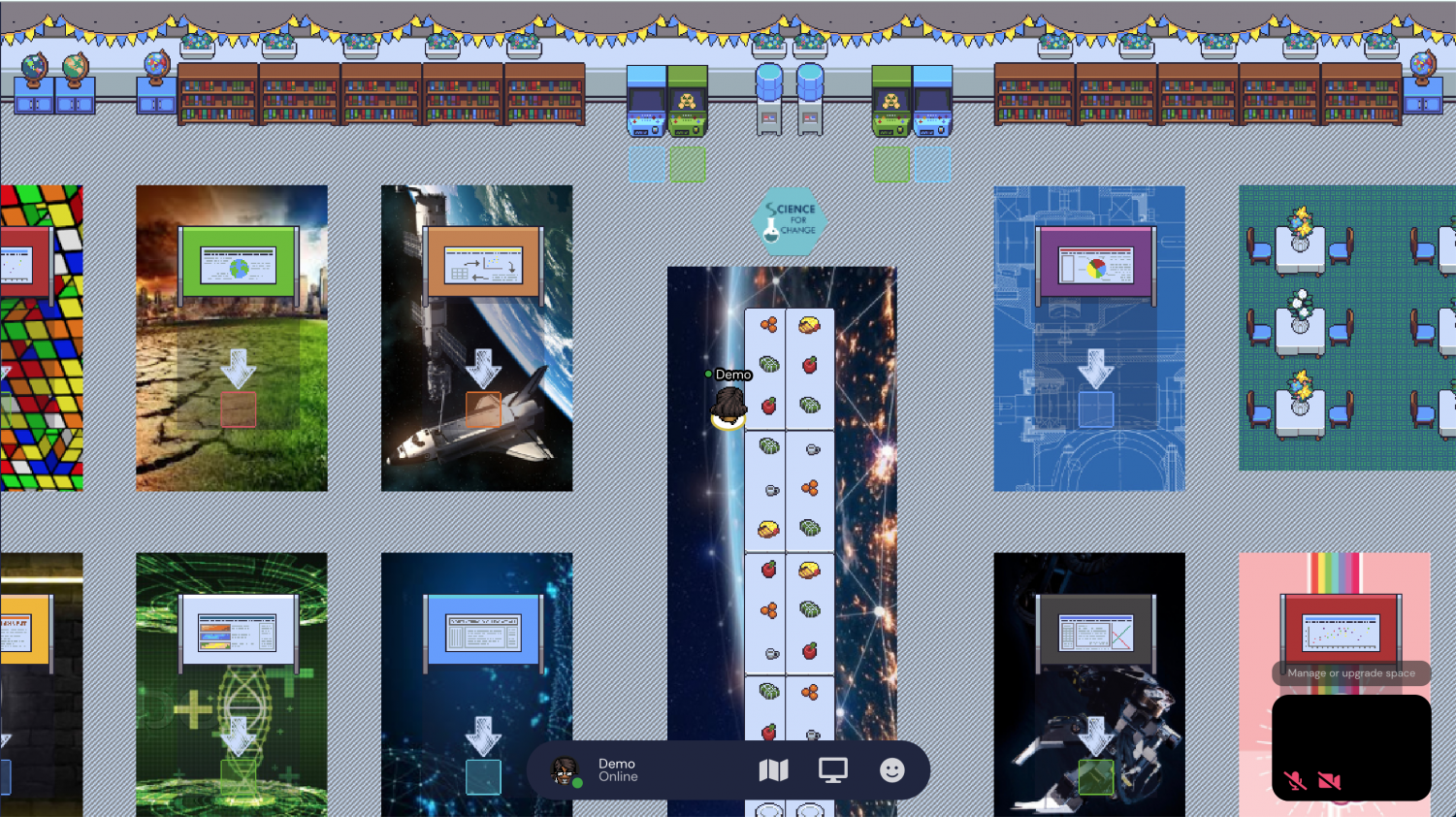 Participants can have natural conversations with other participants, Ning said. The platform allows participants to turn their web cameras on when they approach others. 
Since STEM Night is an event open for people of all ages, the Science for Change officers understand the importance of creating a platform that is accessible and user-friendly. 
"When you log [on], you will have to go through a tutorial first," Ning said. "[Then] you at least know how to [navigate and] how to interact with that world before you get into the room." 
Along with providing a tutorial of the platform before entering the main session, all of the activities available during the event are designed for all age ranges to participate in.
Hanson said creating the world where STEM Night could be made possible this year was challenging, but enjoyable.
"We have to create these maps block by block, but it is completely customizable, which is a really big plus," Hanson said. "We get to create them completely from scratch [and] it's been a very fun experience getting to know the platform."
Hanson also said there are multiple objects for participants to interact with. 
"[There are] posters, embedded videos and games," Hanson said. "Iit really is a lot like creating your own video game map."
Similar to past years, STEM Night will continue to be open to everyone, including family and friends of students. 
This year will include 10 participating clubs, including Climate Change Initiative, Mental Health Awareness, engineering club, science olympiad, Green Ops and robotics. Each club will be set up a "room" where they can conduct their own lessons and activities.
Science for Change will have a variety of demonstrations available for participants to interact with, like an electrolysis experiment. However, other clubs like Aerospace will take a different approach. Hanson said one of the club's demonstrations is a three-dimensional tour of a space craft.
Typically, STEM Night consists of about a dozen clubs, guest speakers and activities brought by outside companies, Ning said. However, because of the remote medium, new issues have arisen with creating a digital version of the STEM Night event.
"Clubs are more afraid of participating because it seems like so much work and it's unknown territory," Hanson said. "Also, coordinating the logistics [is challenging] because it is an online event."
Although this year's STEM Night comes with its own unique obstacles, it has brought some advantages, senior and co-president Steven Lefaive said.
"I think [clubs are] actually able to do more with activities," Lefaive said. "Even within our own club we have six or seven different experiments planned. And during the actual STEM Night in person we typically have two booths … and that would already be really hectic to handle."
At each STEM Night, there is an overall theme to the event. Some themes from past years have included "Yesterday's Tomorrow" and "Lighting the Future." This year's theme is "Our Connected World."
"[We are] focusing on the global effort of cooperation and virtual interaction of COVID-19," Ning said, "and how humanity has collectively achieved some kind of sense of connectedness during this time of isolation."
STEM Night is one of the largest events held on campus, and embodies science for change's goals as well, Ning said. 
"[Our mission] is to expose the community to a variety of STEM topics, in the sense that some of the districts that we volunteer for [are] underprivileged districts," Ning said. "We want to be able to give them the resources and access that we have that they may not have in their area [by] making it a family night and community night that is completely free. We encourage everyone to come."