Girls varsity tennis finishes season 1-13, winning final match
Varsity girls tennis closed out their season at the end of March, clinching their first win in their final match, versus Los Gatos.
Junior Mithi More said in a Zoom interview she thinks there are multiple factors that led to the team losing so many of the matches they played.
"It was a weird season," More said. "Everything was super up in the air. Usually we have our season in the fall and so it doesn't rain, but [with the season moved to spring] there were a lot of matches that we had to cancel because of the rain. We were having three games a week, and sometimes they were on Tuesdays and Fridays during sixth period, [so] a lot of people had to skip [those] matches, so the matches were also up in the air."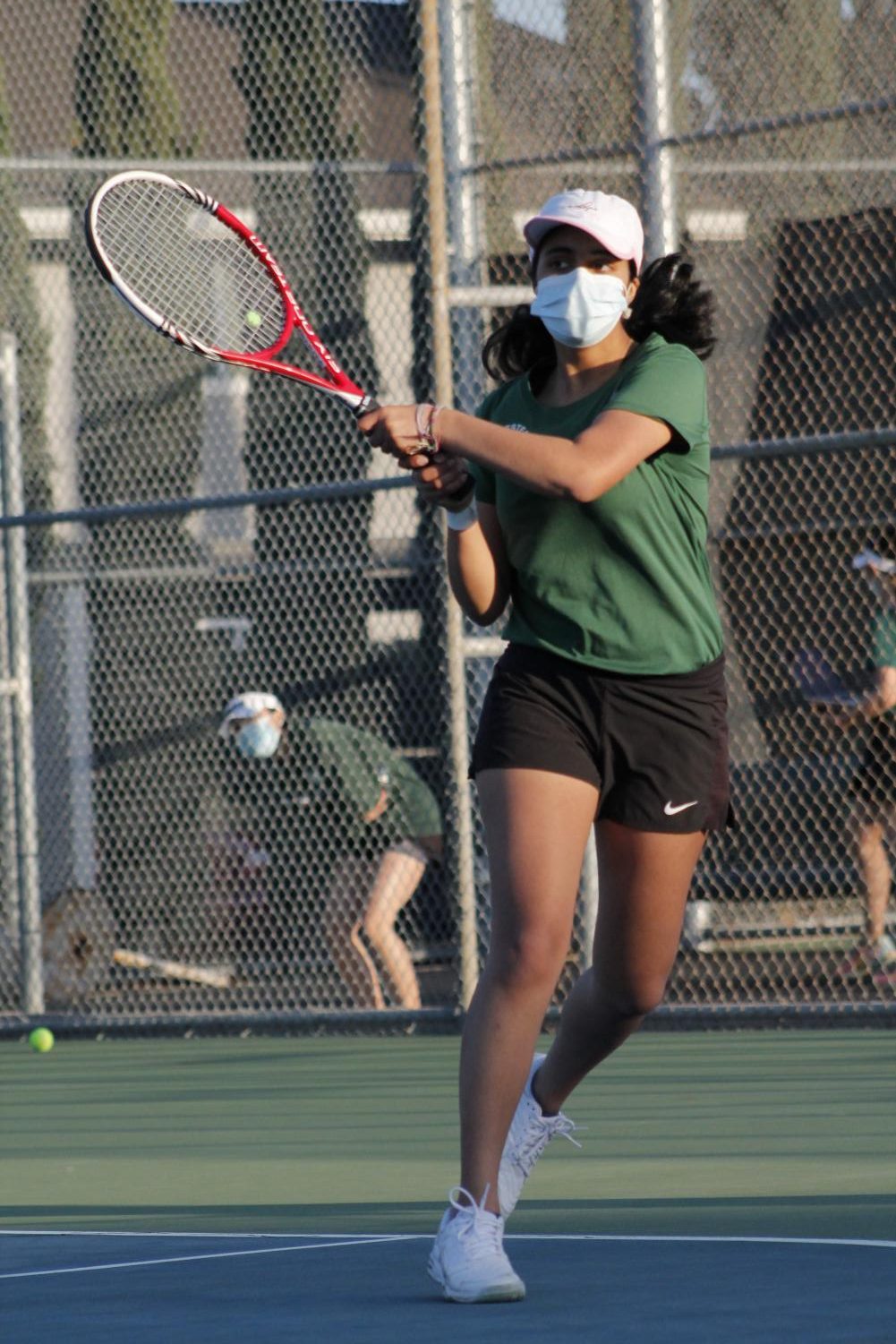 Varsity tennis coach Sundar Parthasarathy said in a phone interview another result of the season being postponed to the spring was that very few people came to tryouts. Because of this, girls tennis only had a varsity team this year. 
This led to a mix of JV-level and varsity-level players on the same team, More said. 
"It's not like JV players are playing with each other and then varsity players are playing with each other, so the skill level is really different throughout the whole participant group," she said. 
To add onto the struggles of playing with a limited team, More said this was the team's first year playing in the upper division.
"So we were playing against really tough schools, and it was just pretty difficult," she said.
Senior Rujuta Swadi said in a Zoom interview that the postponement of the tennis season, as well as lockdown restrictions made it difficult for her to keep her skills sharp during the offseason. 
"Especially in the first few weeks I had to get back into my rhythm, and I lost a lot of my consistency," she said.
Swadi added that COVID-19 restrictions like social distancing made it challenging to learn during practices. 
"Last year, when I needed help with my serves, the coach would sometimes physically adjust my hands [on my racket to] show me how to hold [it]," she said, "[but this season] he hasn't been able to do any of that, so he's been instructing us as much as he can, verbally, and it's up to us to follow his instructions as much as we can."
Despite the team only winning one game the whole season, Parthasarathy said he is incredibly proud of the team's fortitude.
"When I told the girls that they'll be doing four matches in one week and that it'll be very tough … all 14 girls said they wanted to do it," he said. "It shows their willingness; it shows how much they want to improve."
Parthasarathy said everyone on the team has really improved, but they need to keep playing and learning more. 
"It's hard because you can only learn so much in such a short amount of time. Because that's the other thing: [SCVAL] shortened our season. But I think the team has done very well for the skills that they have. It's just that they need time." 
Parthasarathy said he is confident the tennis team will do much better next season. 
"I think you will see a much stronger team in August," he said.