Is it a sport?
HHS debates whether cheer, marching band and color guard should be considered sports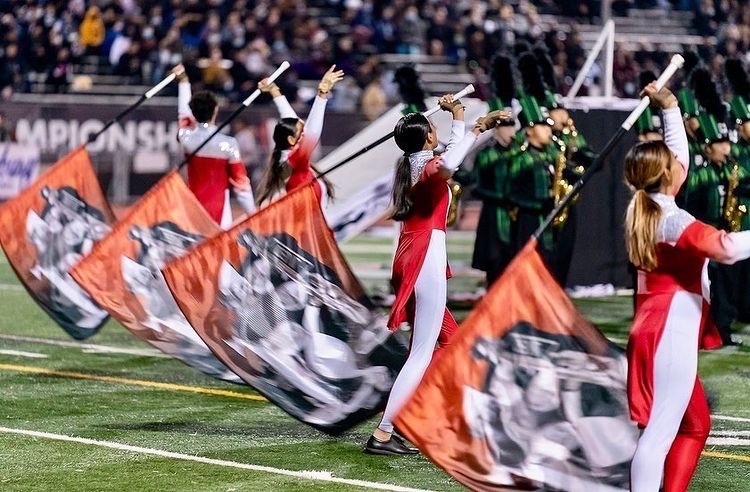 With each coming week, high schoolers look forward to attending one of the most popular sporting events at HHS: football games. While many come to socialize or watch the game, the marching band, color guard and cheer team also contribute to the electrifying atmosphere. Although these activities are undoubtedly physically demanding, not everyone agrees that they should be considered sports.
Poll data collected by The Epitaph showed that of the 229 student responses, 57.6% believe marching band should be considered a sport, showing great difference in opinions. Sophomore Aayan Muzumder, sophomore marching band member, said the strenuous exercise involved in marching band makes it a sport.
"We run two laps at the beginning of every single practice, and we spend hours practicing," Muzumder said. "It's a mix of weightlifting, formal walking and dancing, and it uses your lungs as well." 
Marching band often works in tandem with the color guard at football games, which leads to a well rounded, visually pleasing performance.  Like marching band, sophomore color guard member Amaya Lin said she firmly believes color guard should be considered a sport due to its long and physically draining practices.
"We have practices just like any other sport on Mondays and Thursdays for three hours and on Saturdays for eight hours," Lin said. "We work really hard and perform, so we're just like a dance team. Just because we throw flags doesn't mean that color guard isn't a sport."
Lin said she feels strongly about the debate regarding color guard's status as a sport and hopes to convince those who are skeptical.
"Clearly, they haven't been in color guard," Lin said. "We compete, practice, work as a team and train our bodies. So I would say [people should] try color guard first before saying that it's not a sport, because it's really hard."
According to a poll of 228 students conducted by The Epitaph, 68.0% of students agree with Lin in saying color guard should be considered a sport.
Alongside the performances of marching band and color guard, the HHS cheer team routinely performs at the halftime show and keeps the crowd engaged throughout the entirety of the game. 
"People might say that sideline cheer isn't a sport because we don't really compete, we just cheer on football," senior Ayaka Chapman said. "But it's still physically demanding, since you're throwing people in the air, you're catching them, you're tumbling and you're basically risking getting hurt all the time."
The cheer team also competes in outside competitions, which makes it a sport, Chapman said. Cheer takes practice and skill, which the team hones during its three hours of practice twice a week. 
According to a poll of 229 students conducted by The Epitaph, 76.0% of students believe that cheer is a sport. 
"The International Cheer Union is fully recognized by the IOC [International Olympic Committee] as a sport," Chapman said. "So no matter what anyone says, cheer is a sport now."
Setting the sport debate to the side, it is undeniable that cheer, band, and color guard leave a positive and lasting influence on their members.
"In cheer, you have to present yourself as someone confident," Chapman said. "It might be fake confidence, but eventually you do become more confident. There are a lot of people on the team that came in very quiet and now they're super outgoing."