Annual blacklight rally shifts to outdoor whiteout rally
Students attended the 'whiteout' themed winter rally during tutorial Dec. 10. Taking the place of the annual blackout rally, which required indoor facilities, the winter rally was designed to abide by COVID-19 protocols, rally commissioner Rishi Zamvar said.
Zamvar said this rally would emphasize audience involvement through the cheer-off and dodgeball.
"Now that some of the [COVID-19] restrictions have been lifted, we have a lot more leeway," Zamvar said. "We decided to do a lot more interactive games including dodgeball."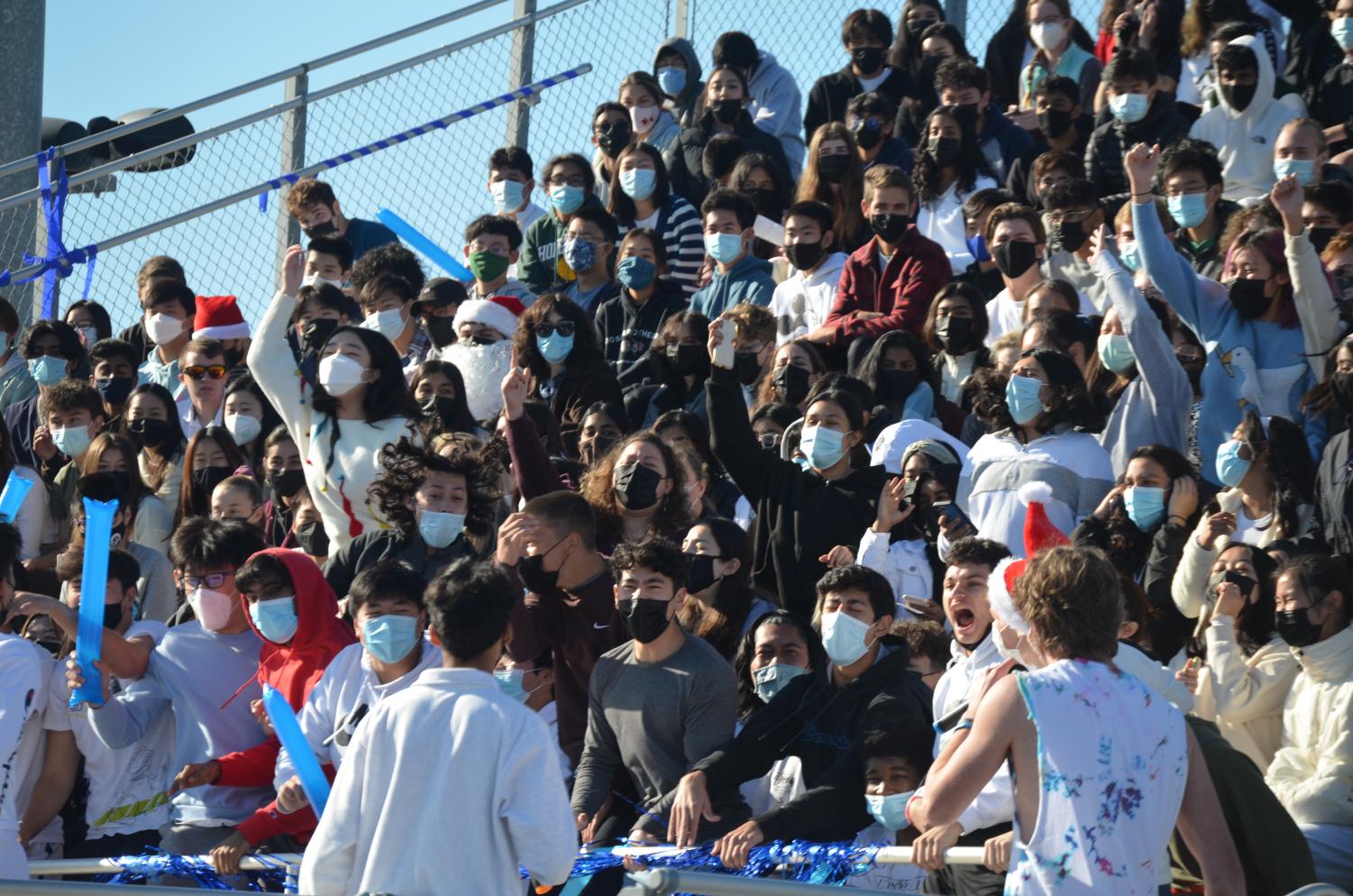 Zamvar, a junior, also said the rally provided an opportunity for the school to use more environmentally sustainable decorations in spirit events. To reduce their carbon footprint, biodegradable balloons and streamers were used to decorate,  Zamvar said.
"We wanted to implement a more environmentally-friendly rally and a lower carbon footprint," said Zamvar. "In previous rallies, the waste produced was immense, and plastic-interlaced products like streamers and balloons were everywhere."
Rally commissioner, sophomore Chloe Lu said the day of the rally was strategically chosen for the Friday before finals week in order to allow students to interact with each other and destress with their classmates.
In addition to cheer offs and games, the rally included performances from IndoPak, the Equestriettes, KREW and cheer.
IndoPak co-captain Pallavi Das said the performers worked tirelessly on the choreography by rehearsing early in the morning and after school. 
"We've had multiple practices these past few months and especially this week to prepare for this moment," Das said. Das also said she felt nervous since this rally marks Indopak's first in-person performance since Multicultural Week in 2020.
Despite the changes, the winter rally was an event that lifted students' spirits, senior Kasturi Sinha said.
"I enjoyed screaming on the bleachers with my friends and watching others perform," Sinha said. "Even if the setting is different, I'm still glad we can have rallies since they were one of the things I missed most."