Coaches to receive first stipend raise in 6 years
FUHSD coaches will receive a long-awaited increase in their stipend salaries for the 2022-2023 school year for the first time in 6 years.
Principal Greg Giglio said that the wait was a result of the district not having adequate resources to pay the coaches 
Even with the raise in coach stipends the district can only pay enough so that our head coaches get paid the same amount as a JV coach at another school.
"Some sports and activities are higher and lower [in pay]," Giglio said," So there are activities that get paid based on the number of kids, the amount of time that kind of the prevalence of it."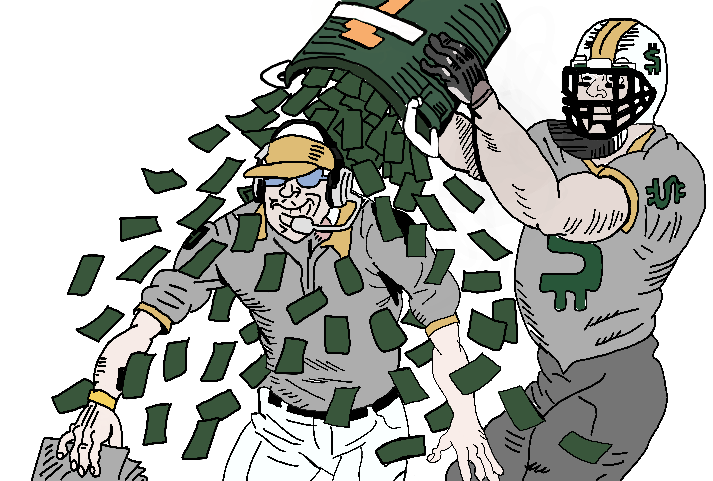 Even with a 2.7 percent increase, athletic director Mallory Lantz said the difference in stipend amounts compared to other districts in the area is miniscule. Lantz said another frustrating aspect of the stipend increase was that it was only granted after the request of many coaches. 
"When our new superintendent Graham Clark took over, I knew some coaches had already contacted him about the increase" Lantz said. "I also spoke to him when he visited and he's been very receptive and open."
Lantz said that although HHS staff coach because of their love for the game and the players, she wishes they were rewarded with pay for hosting open gyms and conditioning sessions before their seasons have commenced. 
Lantz said while the district is taking a step in the right direction, more drastic action needs to be taken to keep up with the schools and districts that FUHSD and more importantly HHS competes with. 
"At HHS a head coach got about $4,000 [a season], and now they get around $4,300," Lantz said. "But we're still $1000 to $2000 behind every district around us that we compete with, because of the lack of resources in the district."
Varsity boys basketball coach Matt Wright shares these sentiments, and said not only do coaches have less of a salary, but a varsity head coach at HHS could be making less than a frosh-soph or JV coach in the MVLA school district. 
When Lantz coached junior varsity softball at a school in the Central Valley, she received 6% of her teacher salary, which increased yearly. She said seeing her coach stipend increase incentivized her to continue coaching passionately.
"We currently don't have that [system] for on-campus coaches in our district, so they get a set amount no matter what. The only time they see a little raise is if the stipends as a whole go up," Lantz said. "It would be nice to see a little bump to encourage teachers and staff members because they're putting in that extra time to coach. It's also always beneficial to have on-campus coaches so kids can go to them."
Although Lantz continues to discuss the issue of inadequate pay with Clark and advocate for this change, she said that she is just one of the voices of many that need to voice their concerns.
"I hope we continue to make listening to coaches a priority because they are the ones that are putting in extra work and giving students' a mental health outlet outside of school," Lantz said. "We should reward them for that."