Former football player Tim Liu combines love of sports with medicine
Injury sparks player's interest in sports medicine
When one door closes, another one opens. After senior Tim Liu became injured during his sophomore football season, he was sent to the school's athletic training room to do physical therapy. It was there that his eyes were opened to the world of sports medicine, and while he wanted to leave the room healed, he found himself desiring to return, this time as an athletic trainer.
"I saw a bunch of random high schoolers helping me recover [in the training room] and I was like 'do you guys even know what you're doing?'" Liu said. "But they did because Dan [the athletic trainer] trained them so well."
After learning about HHS's sports medicine internship program, Liu said he felt he needed to join the program. Less than a full semester later, Liu began working as a student athletic trainer during the second semester of his sophomore year.
"Seeing my recovery and seeing the environment that Dan provided in the training room was something really special and something I really wanted to be a part of," Liu said. "It [the program] gives me the opportunity to help others. Seeing the recovery that has happened with so many athletes inspires me and is something that I really want to do in the future."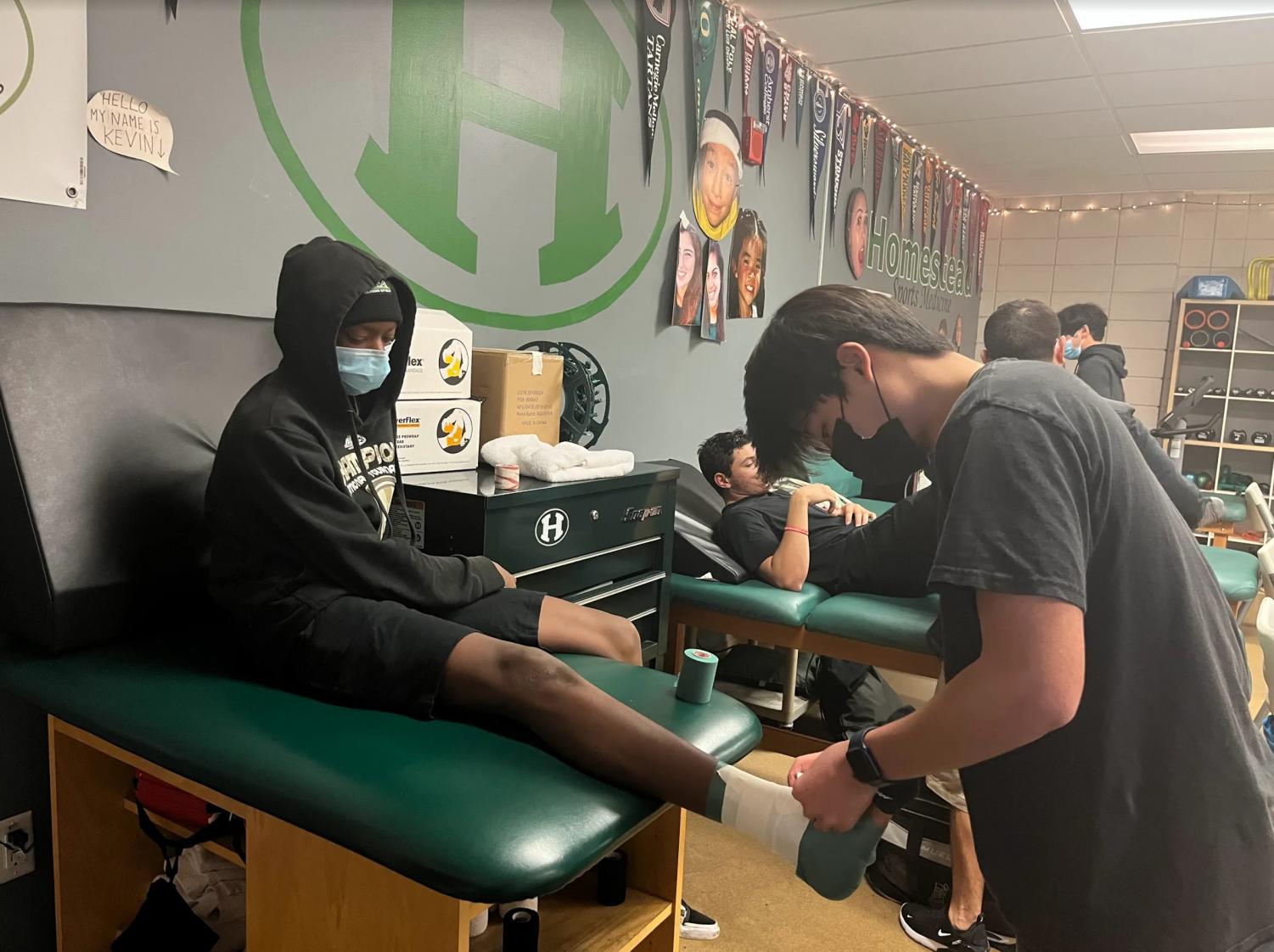 Liu has remained a part of the sports medicine program since his sophomore year. Although Liu achieved a full recovery from his injury and had the ability to participate in football the following year, he said he decided to become as an athletic trainer instead. However, Liu said he is still heavily surrounded by football as a trainer.
"Something really special about the sports medicine program is that we are very integrated with the football program. We go to all their practices and all their games, away and home. We have to build a strong connection with each player to be able to treat them, as football is a very injury prone sport, and it requires a lot of sports medicine treatment," Liu said. "For me, previously being on the team, I had a lot of old teammates that I was already very close with.  But seeing other athletic trainers that never played on the football team create similar bonds that I have with the football team is amazing."
The ability to actively be a part of another athlete's recovery and gaining practical, real-world experience administering therapy has been invaluable, Liu said.
"I have the privilege to have a lot of hands-on experience, especially on the field with football. I have a lot of experience teaching student athletes different rehab exercises and taping them up," Liu said. "Since becoming an athletic trainer I learned a lot about the human body, injury prevention, rehab, a lot of people skills and how to work with a team. We learn how to foster relationships and make this a community that athletes want to be a part of."
One memory of his time on the field as an athletic trainer has stuck with Liu and shaped his view on his future career, he said.
"There was one football game this year where one of the opposing team's players went down and the ambulance needed to be called," Liu said. "That was a very eye opening experience and it really brought me to realize how important an athletic trainer's job is and how much we have to manage with all these student athletes."
Liu's time put into helping injured athletes has expanded to helping educate students with similar interests as him. This year, Liu and senior Claire Flickner, who is also a student athletic trainer, co-founded the sports medicine club.
The purpose of the club, Liu said, is to promote physical and mental wellness and give students more career options into the field of sports medicine and kinesiology.
"We decided that there was a need in the school community for a club that explored more sports medicine, since the sports medicine internship program had a lot of people interested, but a lot of them didn't really know what sports medicine is," Liu said.
While the club is still new, Liu said the student athletic trainers, who help manage the club, are pleased with the turnout so far and are happy to pass on their knowledge and passion for sports medicine to others with the common interest of learning and helping athletes.