The cycle of knowledge
Science Bowl members discuss upcoming competition, passion for science, giving back to community
When senior Michael Ferolito was a sixth-grader looking at clubs to join for the first time at Sunnyvale Middle School, he said he was instantly drawn to Science Bowl's welcoming environment and the way it allowed him to show off his knowledge of a variety of science topics, including biology, chemistry and physics. In the seven years since, he has competed at five regional tournaments, become an officer and has run that same middle school club he joined years ago.
"Science Bowl is fun because you're applying your knowledge in a game, and hitting the buzzer can be really addicting," junior and club officer Roshni Parulekar-Martins said. "I got better at it throughout middle school and in eighth grade, I was the team captain. We came in second at the regional tournament, and that helped motivate me to keep going."
Science Bowl is an annual, nationwide academic competition that tests students' knowledge in all areas of science and mathematics, according to the Department of Energy, which sponsors the competition. The regional competition will be held on Feb. 12 at the SLAC National Accelerator Laboratory near Stanford University, with HHS' two teams of four students each planning to attend.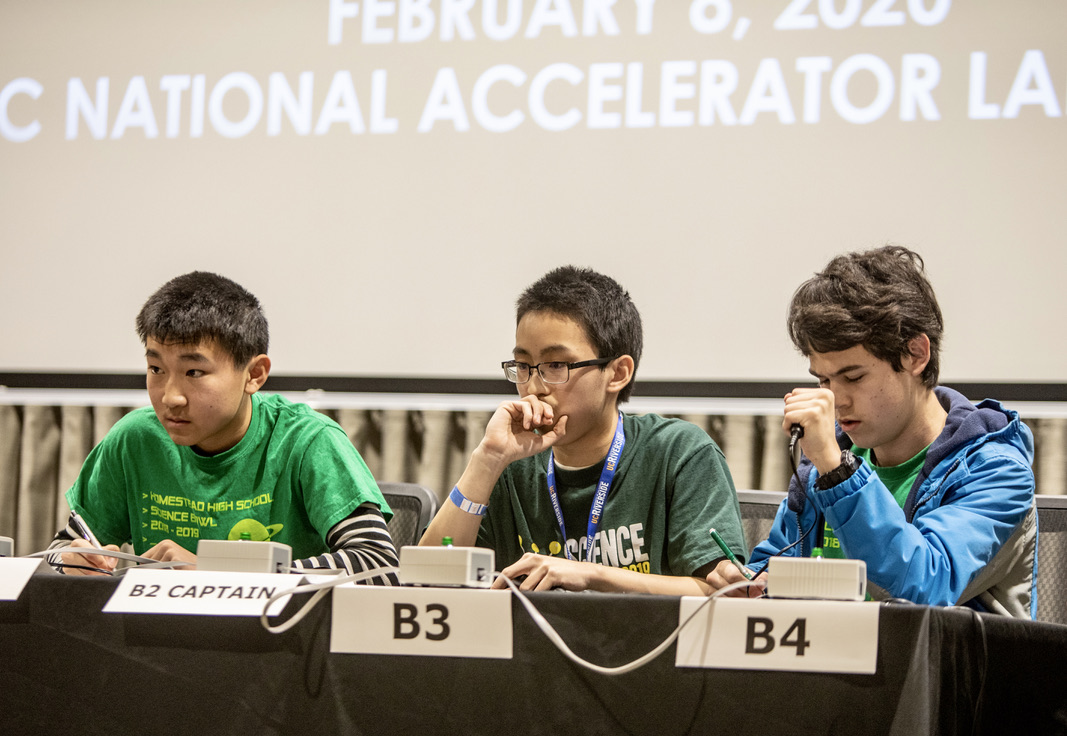 With all the innovation surrounding her at competitions, Parulekar-Martins said she has become interested in treatments for a disease known as ischemic stroke, which causes blood clots that reduce oxygen supply to the brain. The junior said she is intrigued about an emerging treatment known as exosome therapy that has the potential to repair even severe cognitive damage caused by the disorder. This interest was initially sparked by her personal connection to the disease and its effects. 
"When I was nine years old, my grandmother had an ischemic stroke," Parulekar-Martins said. "I saw its effects up close, because she went from being a completely independent individual to being completely dependent. Her experience got me interested in potential treatments for the disease."
A shared passion for science and its real-world applications inspires members to learn from one another about topics they may not have been familiar with, freshman and club member Armaan Gomes said. Preparation becomes more intense as competition dates approach with members studying their specialty topics individually and attending group practices. 
"The most challenging part of Science Bowl is when a fact is right at the edge of your memory, but then it takes too long to recall it and you get frustrated with yourself afterwards," Ferolito said. "The challenge is moving on and remembering it for next time."
Although the team faced a number of obstacles at first, it has become more successful over time from both negative and positive first-hand experiences all adding to the big picture, Parulekar-Martins said. 
"My best memory from Science Bowl was in the final match of the competition when I was in eighth grade," Parulekar-Martins said. "We lost, but we had a breakthrough moment as a team. In the first half of the round, we were losing really badly, but in the second half we started getting a lot of points. Even though it wasn't enough to overcome what we had lost in the first half, it's my favorite moment because we had that breakthrough moment."
Ferolito said that a valuable team tradition involves helping the Sunnyvale Middle School team practice as a way of giving back to the community as well as allowing the club to recruit new talent and get to know future competitors. Ferrolito said he finds it rewarding to witness the middle schoolers improve over the years and see how well they do in competitions.
Gomes said that while some of the best ways to study for Science Bowl are online research and reading, the best way to improve is to learn from other Science Bowl members about topics they are passionate about.
"Science Bowl is where I found some of my closest friends," Gomes said. "It's my favorite club, and I prize it above everything else."