Seniors stick with sports
Throughout the entirety of high school, students are offered a wide variety of sports to play, ranging from swimming and diving to golf and soccer. While some students choose to vary the sports they play, others commit to honing their skills in one particular sport. For varsity pitcher, senior Kailash Menon, this began all the way back in kindergarten with the sport he currently plays: baseball.
"When I was really young, my coach made me play against kids who were a lot older than me," Menon said. "I was still performing really well, and that made me realize I had a talent for the sport, so I stuck with it."
In sophomore year, Menon said he was pulled up to the varsity team as starting pitcher. This is partially the reason he stuck with baseball for four years, he said, as it gave him a chance to impress himself as well as others by showing his improvement throughout his high school career.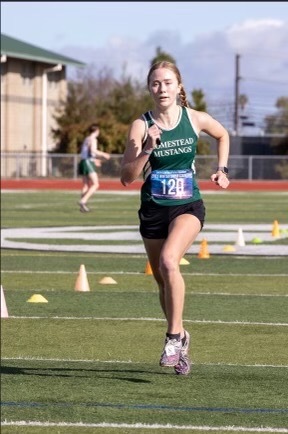 Since the start of his baseball career at 8 years old, Menon has improved with each year he's played. Despite the setbacks of COVID, his current season was the best yet, Menon said.
"Baseball is a game of failure, and it definitely takes a toll on you," Menon said. "But it helps build resilience, and being able to prove to yourself that you can win makes success feel so much more real."
Like Menon, runner, senior Mia Tarkington said she also noticed a massive improvement in her performance in her sport: track & field. Her parents were the ones that first got her into running in middle school and ever since then, she's been tirelessly working to make herself better. Alongside her are best friends, all of which she has met in track and field.
"I've been getting so much better, and I love the people on the team," Tarkington said. "That's why I've continued to run in high school for the past four years."
Similar to Tarkington, varsity tackle and senior Dillon Pan said his friends were also a large factor in him playing the sport, and even joining in the first place.
"My friends and I played football during brunch and lunch all the time," Pan said. "We decided to all join the football team together, and we're still friends today."
Football is not just about making friends, Pan said. It is also about working as a team towards a common goal. Staying with the sport throughout all of high school helped Pan get a much better grasp of the rules of football, as well as find his place on the team. This season, when football made it to CCS championships, Pan said he was the starting right offensive tackle.

"Football has helped me make new friends and even taught me to be disciplined and hardworking," Pan said. "Both inside and outside of the sport, I work hard at anything I do."