Athletes face uncertainty as new bell schedule cuts into practice time
With the new California mandate pushing back high school start times across the state, many student athletes are uncertain about its effects on their games, practice and academics.
HHS tries to work with athletes in making a schedule that ensures they do not have to miss a lot of class, principal Greg Giglio said. In certain circumstances, however, students want classes not offered earlier in the day.
Because of later dismissal times, practices are being pushed back, but game times remain the same, according to the fall sports schedule. Girls volleyball practices, for example, are being moved from 4-6 p.m. to 5-7 p.m. JV girls volleyball libero, sophomore Megan Angelo said staying at school for a longer period of time would be more tiring for her. For outdoor sports, this results in having less daylight to practice in.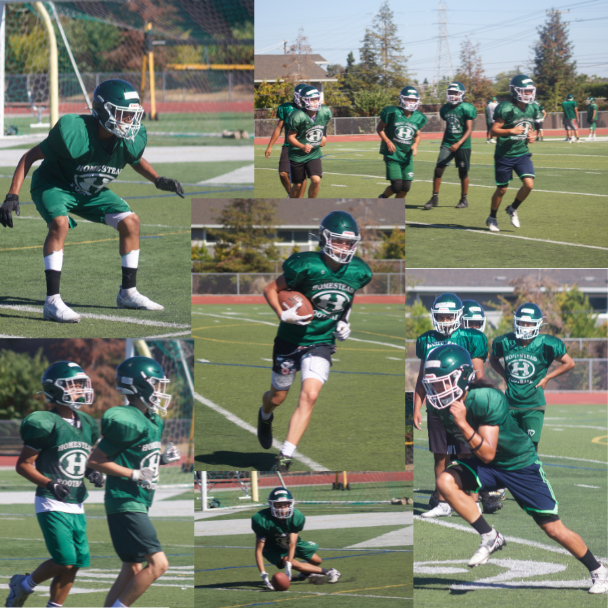 Cross country and track and field coach Kenrick Sealy said that while the schedule changes will take some getting used to, he believes that his athletes will be able to adapt.
Along with the changes in start and end times, lunch has also been adjusted from 1:05 p.m. to 12:45 p.m. on Wednesdays and Fridays, 1:25 p.m. on Mondays and 1:30 p.m. on Tuesdays and Thursdays. Sealy said he prefers his athletes to eat at 12:45 p.m. because if the SCVAL meet times stay the same, the chances of his players throwing up will be high.
"We finish practice later during the day and have limited time," linebacker sophomore Kaleab Tekle said. "I prefer last year's schedule for sports just because you have more time to go home and do whatever you need to do."
Giglio said that the athletic league is looking to move games back, but no changes have been currently made. According to HHS' fall sports schedule, student athletes will be released up to two hours before regular dismissal for games.
"We are a little concerned about the end of day, and how that's going to be hard for those who have jobs and practices," Giglio said."The overall idea is that you all need more sleep and hopefully [starting later] has a positive impact on your mental health and alertness."