Spreading the word about Hinduism
Hindu Association officers have new goals for the club
HHS has an incredibly diverse student base with people from a variety of ethnic backgrounds. Therefore, the Hindu Association is a perfect place for Hindu students and others who too are interested in learning more about the culture to do so in a safe environment, president, senior Mahima Maru said.  
Club meetings typically kick off with a small check-in with each member, followed by a presentation about a part of Hindu culture. For example, the club went over the importance of periods in Hindu culture and how they should not be portrayed in a negative light, as per tradition, Maru said.
As the new school year begins, Hindu Association's officers have new events they hope to host in the coming year to spread awareness about Hindu culture to a wider audience while simultaneously building a stronger community, treasurer, senior Ayaka Fujita said.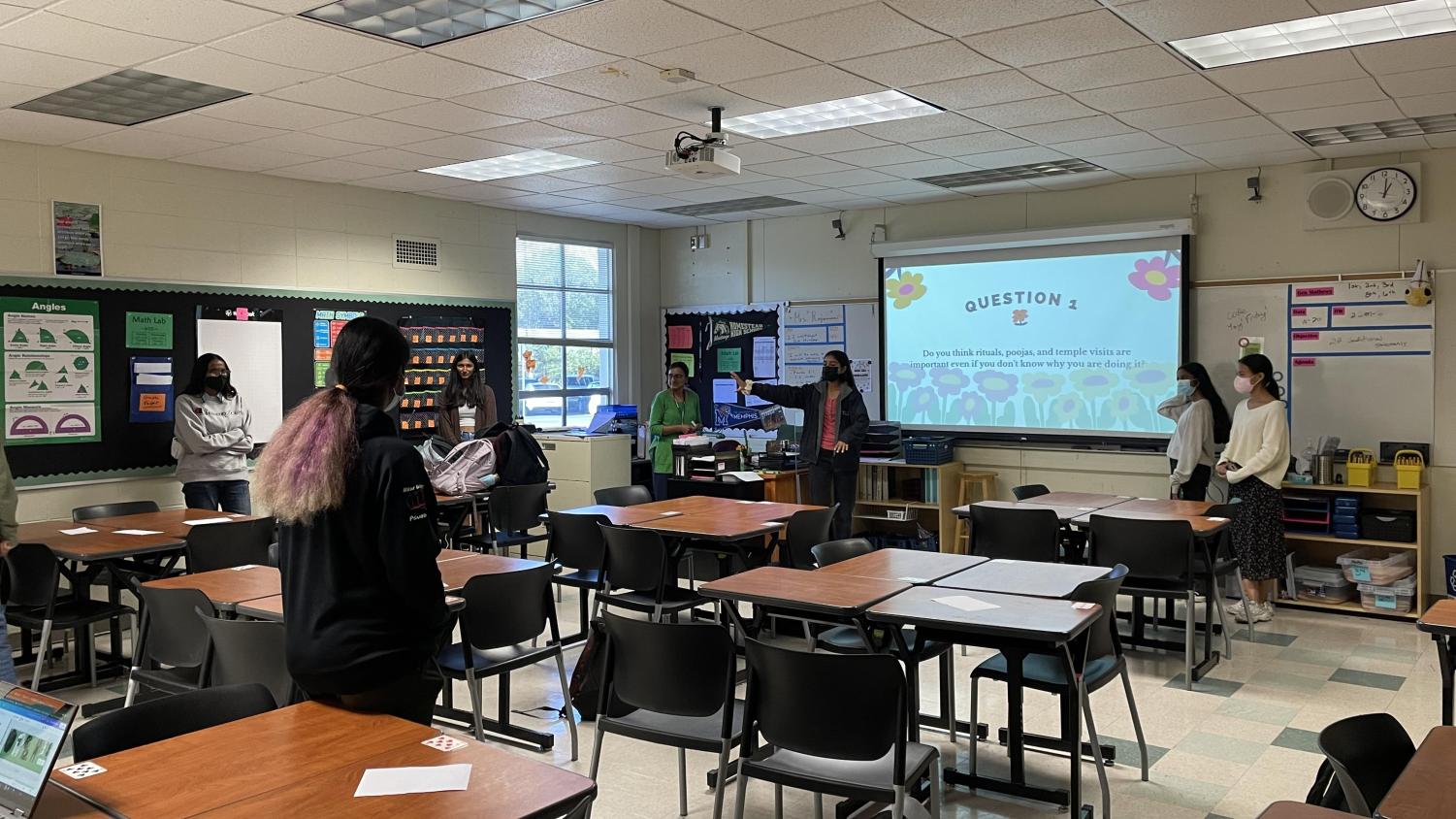 "It would be good to have more people know about it and join and participate in more events and socials," Fujita said.
To further help students connect with the Hindu culture, the officers hope to hold a variety of informative events including ones going over the many aspects of Hindu culture as well as social issues surrounding Hinduism, such as Hindu phobia, Maru said. The club also plans on hosting several small gatherings to celebrate upcoming festivals where they would have engaging activities for participants, Maru said.
"I want to have yoga, but with real Sanskrit names," Maru said. "[I also want members to] watch Indian mythology or other religious shows because those are interesting and teach a little bit about Hinduism" 
Other events that club member, junior Sarmyshta Vaddi said she is looking forward to are hosting more socials and other festive activities.
"I am not too educated on [Hindu culture] but by joining this club, I wanted to diversify myself and learn about the different aspects of Hinduism and whatever it entails," Vaddi said.
As a relatively new club, Fujita said promotion has been important since increasing memberships will make their cultural efforts even more impactful.
"We started pretty late in the school year last year," Fujita said. "So it'd be great to extend the club to more people and have them join."
By the end of the year, the club hopes to raise awareness and knowledge about Hinduism after a lot of misrepresentation in the media, Maru said.  They also hope they can build a stronger community with not only Hindu students who are interested in their culture but also for other students to personally build a stronger bond with the religion and practice it, Maru said. Similarly, Vaddi said she observes Hinduism due to her family values, but does not fully understand many of the meanings behind it.  
"Most people are just practicing it because their parents are," Maru said. "I hope through this club, they learn more and find a way to stay connected with their religion by themselves."
Although the Hindu Association revolves around the Hindu religion, it is still open to everyone who has an interest in the culture, Maru said. 
"It's not like we are trying to convert people or anything," Maru said, "People that are not Hindu can also join because it's just learning more about the religion."