You're (not) on your own, kid
Experienced players support freshmen on girls volleyball team
On the first day of tryouts for the girls volleyball team, freshman, outside hitter Megan Lee said she remembers a senior asking if Lee wanted to be her partner for warm-ups. Once Lee became one of only two freshmen on the varsity team, that support only grew.
Connections between new and experienced players create trust on the team, leading to more enjoyable experiences and a more efficient team. Lee said she wants to continue making friends with both older and younger teammates in the future, and eventually become a mentor on the team, just like the seniors were to her.
"In the beginning, being on the varsity team felt a little awkward and I was nervous," Lee said. "But my older teammates were really welcoming and nice to me. The more experienced players give me advice on how to improve my gameplay, as well as advice on future classes I should take."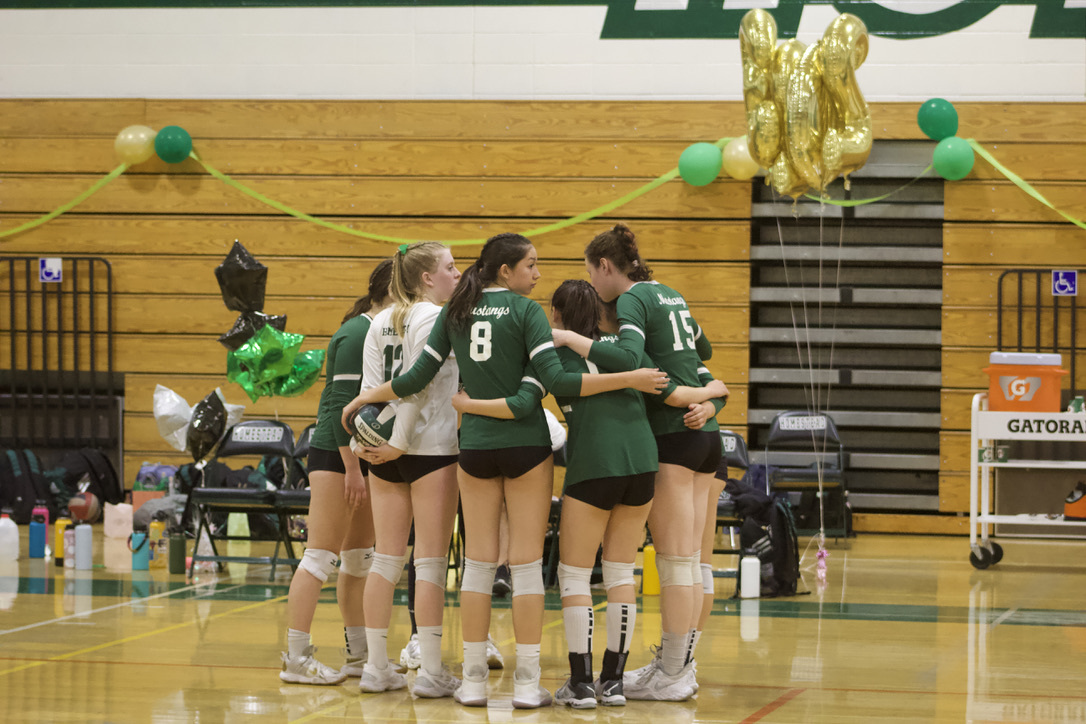 Another freshman on the varsity team, right-side hitter Linnaea Moore, said playing with more skilled teammates allows her to benefit from their knowledge of the sport, especially in terms of communication on the court.
Along with support from her teammates, Moore said her competitive personality is responsible for her success as a freshman on the varsity team.
"I'm pretty aggressive on the court, and that is something I know a lot of coaches look for," Moore said. "Being able to pass the ball or getting your feet to the right place is trainable, but on the other hand, being aggressive enough to go for the ball is not necessarily a skill you can learn, as it has more to do with your mindset."
Senior, co-captain Anya Agrawal said entering the program can be intimidating, especially because it is often the first time freshmen are playing with older girls. When she practiced on the JV court as a younger player, Agrawal said she remembers being nervous when she saw the varsity girls next to her playing much better.
"Now that I'm on varsity, I realize that all the JV girls probably feel the same way," Agrawal said. "I make sure they know it is really not as scary as it seems to be, and I try my best to help them feel more welcome."
One way Agrawal said she tries to support newer players is through pre-game traditions. In one game, called "Zoo," Agrawal said the team sits in a circle and each player displays a unique hand sign that represents an animal. After a beat, the players put up their hand sign and another player's sign. This ritual can get very tense, Agrawal said, but it helps create camaraderie between team members and improve players' mindset during games and practices.
"These four years are what you make of them," Agrawal said. "If you focus and do well, I think you can get a lot out of HHS volleyball. In my time on the team, I've seen that it doesn't matter how good of a player you are. If you focus on your attitude, you will do great."