Sophomore varsity field hockey captain shines in second year
Captain's bubbly personality brings team together
Sehej Shoker made the varsity team last year – her freshman year – a feat not accomplished by many. Then, this year, she became one of the team's captains. 
Shoker said she recalls not expecting to receive the position.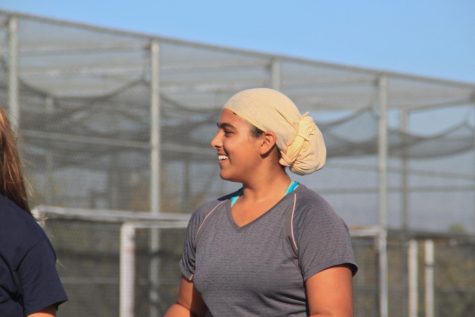 "We were chilling, putting on our gear, and [the coach] said my name," she said. "I was just like, 'huh?' It was exciting."
Shoker said she has played the sport competitively for three years, and remembers her experience from childhood.
"In Punjab, it's a really big sport," she said. "Some of my [dad]'s friends just got all of us together and started playing. Before [playing competitively], I was just a little kid running around." 
Teammates of Shoker said they consider her to be a caring, energetic captain, constantly aiming to improve the team and include everyone. 
"I tried out [for varsity field hockey] with Sehej last year [and] I've always seen her as a really great player and person," sophomore Kari Anderson said. "I didn't know what I was doing, and anytime I was confused about anything, she'd always help me."
"Even in practices today, I'll ask her how to do something and she'll demonstrate and walk me through it. It's really nice to have someone [like her] as a leader," Anderson said. 
Senior Aria Badra, one of the other three varsity captains said Shoker brings spirit to the team with her tender personality. 
"She is a very fun, loving person, and she is just always happy," Badra said. "She takes [the sport] very seriously. All of us love her and look up to her; she's an amazing player."
Senior Sydney Vandenbrand, another varsity captain, said she had doubts about the choice to have a sophomore captain, but realized that it would be beneficial for the team. 
"We usually have the seniors as captains," Vandenbrand said, "… but because Sehej is such a good player and has great sportsmanship, she ended up being one of the more [dominant] captains," Vandenbrand said.
Varsity coach Donna Keith said she trusted Shoker would be a good leader. 
"Everyone really respects her," Keith said. "She comes with a lot of club experience and she integrates well with the team. She's not intimidating [and] she shares her knowledge. She's a natural captain."
With a sophomore as the captain, players said they felt a shift in the team dynamic. The age hierarchy that is present in every sport became almost non-existent with Shoker. Anderson, who was on the team last year, said she noticed the change.
"When you have a [senior captain], sometimes it can be very obvious who has more power and more of a say in the team," Anderson said. "[Having] a sophomore as the captain, it kind of takes that away. Everyone feels a lot more comfortable to ask questions and be more open with the team." 
Vandenbrand said she believes the variety of captains adds to the team's overall power.
"I feel like we've gotten better because of a variety of captains," Vandenbrand said. "I've been on the team for three years, Sehej is a sophomore [and] Aria has been on the team for two years. [We have] differences, and I think it brings [diversity] to the team."
Keith said there are clear differences between last year and this year. 
"This is a younger team," she said. "We pulled up a number of JV players. We have freshmen, sophomores. It's a really coachable team and they actually really enjoy being with each other. They always cheer each other on. [They have] a lot of spirit."