Boba with Berman informs students about Bay Area issues
Assemblymember Marc Berman hosted the first Boba with Berman Youth Town Hall last Wednesday from 5 to 6:30 p.m. in the FHS cafeteria, where high school students had the opportunity to enjoy free boba and provide input on local issues. 
Berman discussed issues relevant to the Bay Area, such as clean energy, gun violence and the recently enacted late-start policy for schools.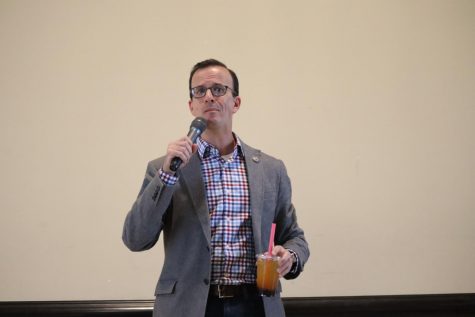 Additionally, one of the subjects he touched upon was teen voting. Berman and his colleagues are currently working on a bill that will lower the voting age to 16 or 17, he said.
"We want to make it easier for youth to be able to vote when they're in a more stable environment," Berman said. "Like when you're in high school, living with your parents and getting mail on a regular basis."
He said that, in college, students may not have the time to consider voting.
"I promise," Berman said, "when you're a freshman in college, [there's] a lot of things you're thinking about, and voting is not one of them." 
Students who attended the event also brought up climate change as a topic of discussion. 
"We're seeing climate change starting to impact our climate and our communities even worse than we have [seen] in the past," Berman said. "This makes it even more important for us to reduce the carbon emissions in our communities and state." 
Additionally, Berman placed an emphasis on the influence of Californians, saying, that, as California has the fifth largest economy in the world, residents have a considerable effect on other communities, as well as the policies pertaining to the country. 
Junior Shachaf Smith said the event allowed them to understand more about local issues. 
"It was very interesting to learn about the different things people care about and to hear the responses," Smith said. "I liked how he gave really thorough answers to all the questions." 
One student initially attended the event to get some extra credit in his class, but left intrigued by the intricacies of state politics.
"I've never been to one of these before, [but my APUSH teacher] offered us extra credit so I went," junior Sid Shah said. "I think I'll definitely come again. It was interesting hearing what was going on about the various issues you care about."