Girls varsity water polo: abysmal record not reflective of team's strength
Throughout season, team experiences gains in communication, cohesiveness
G
irls varsity water polo ended their season on Oct. 31. Despite a subpar record of 2-9, players still saw improvement from the previous year.
"In the beginning we were a little bit rough [in the number of games we lost but] throughout the season, we got better at that," junior Lauren Lederer said. "[By the end], I think we were a lot stronger as a team." 
Lederer said that the team's development stemmed from better communication.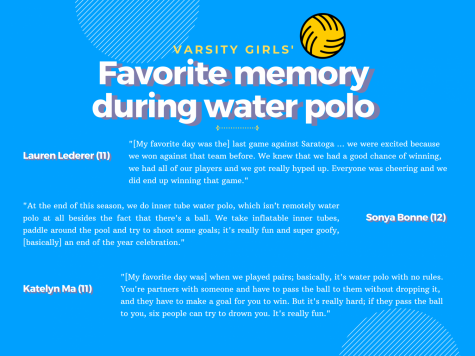 "Once we talked [our issues] out, [we] became more of a team, rather than just a group of people playing water polo together," Lederer said. 
Senior Sonya Bonne said that despite their record, the team played smoothly as a whole. 
"We all love each other, [and the season] was a lot of fun," Bonne said.
Next year, when Lederer is a senior, she said she hopes to maintain intimacy on the team by hosting socials outside of practice.
"I'd really like to facilitate [team bonding] and make sure everyone knows each other on JV and varsity," she said. 
Overall, the team ended the season on a fun note, with numerous team bonding traditions and tension-filled matches.