Adoring 'Fine Line'
Harry Styles' sophomore album is expressive, catchy
The wait is over. Harry Styles' new album has finally arrived, and I'm loving it.
Having been a fan of his music since his debut with One Direction, I was very excited and anxious to see what this album would bring, especially because he hasn't released any music for the past two years.
'Fine Line' was released on December 13, and I immediately rushed to hear the songs, wondering how they would sound in relation to his previous music.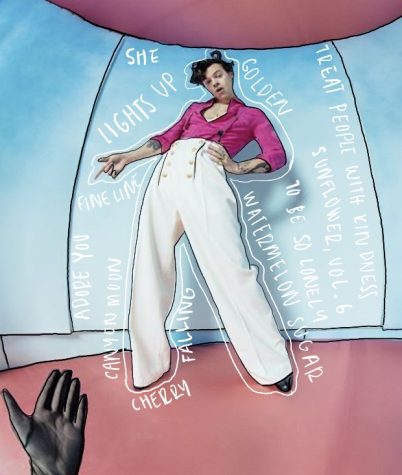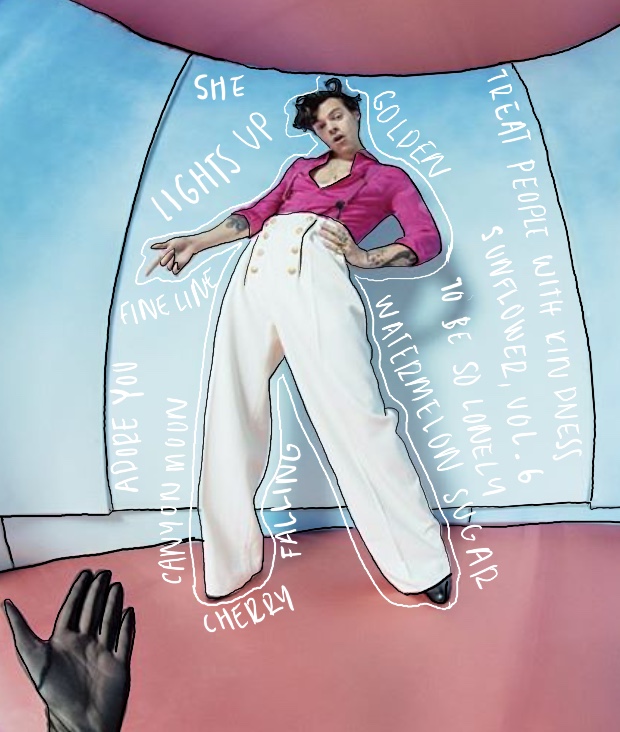 The album is comprised of 12 songs and features rock and pop music.
Starting off, 'Lights Up' is an indie pop song with an upbeat rhythm, factors I love about the song.
I noticed many other critics commenting on the almost psychedelic parts of the songs, such as when Styles asks, "Do you know who you are?"
I found it interesting and loved the blend of musical components in the song, as it creates a unique feeling that I haven't felt while listening to any other music.
Furthermore, 'Lights Up' has been hailed as a bisexual anthem, as it was released on national coming out day and featured Styles dancing among a plethora of both men and women.
'Watermelon Sugar' is more of a summer song, and I was quite surprised to hear it in August, just as the seasons were changing. Nonetheless, I couldn't stop humming the tune after hearing it for the first time on SNL.
The song features delicate instrumentals and Styles' voice can be heard very clearly.
'Adore You' also has that summer vibe going, with a beautiful melody. Just like the other two songs, it's catchy. In fact, my parents (who are huge 80s-90s music fans) also loved it quite a lot, and yet again, his music truly impresses me.
What really caught my attention is his marketing for this song, including the creation of a fantasy island, Eroda, as I had never seen anyone else do that before.
The music video is absolutely adorable, featuring Styles' relationship with an enormous golden fish.
Yes. A fish.
To be more clear, a happy child (Styles) is born in Eroda, a gloomy island, and is rejected by his peers, and one day walks toward the beach where he finds a small golden fish.
He comes to know that the fish is just like him, and they go about their lives until the fish has grown enormous and is cast into the sea, subsequently freeing the island from its gloom.
One last song I would like to mention is 'Cherry.'
Written after his breakup with ex-girlfriend Camille Rowe, the song was expected to have some kind of a sadness to it. But more interestingly, the song features a voicemail message from Camille toward the end.
In the voicemail, Camille can be heard lovingly speaking French and giggling. The softness and intimacy in the message had me bawling before it even ended.
I experienced a myriad of emotions while listening to the songs on this album.
Songs like 'Sunflower, Vol. 6,' for example, make you want to start dancing, while songs like 'Falling' make you want to grab a box of tissues from all the crying.
I noticed several people commenting on the album, saying the songs are the kind one would listen to on a road trip while reminiscing, and I'm bound to agree, because that is exactly how I feel.
I highly recommend this album, both as a fan and as a critic. It has a proper blend of songs, both music-wise and emotions-wise, and is very expressive of who he is.
The album has an amazing vintage vibe that makes me feel like I time travelled back to the 80s. As always, he impresses me with his overall content, and I can't wait to see what else this HS2 era is going to bring.