Wrestling hits top, will not back down
Team does phenomenally this season, placing at CCS, moving into upper leagues
The wrestling team broke barriers this year, earning the El Camino league title for the first time in 48 years. In addition, six players and two alternates qualified for CCS, a record number since 2012. 
Junior Brandon Reed, who placed fifth at CCS, is not surprised by the outcome. 
"I was expecting the team to do great, and that's exactly what we did," Reed said. "I'm super proud of the team, especially because we got the league title. Everyone is ecstatic."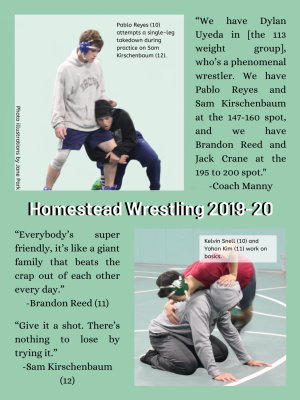 Coach Manny Regidor is impressed with the season's outcome, but his expectations for the team were not as high as the players, he said. 
"I didn't think we were going to place as well at CCS at the beginning of the season, but we ended up pulling that off," Regidor said. "I thought [that] a few of them would go really far, but I didn't expect eight [team members] to go to CCS." 
The team started the season with 20 students, but their numbers dropped to 17 due to injuries. Despite the loss of team members, they placed 23rd out of 74 schools, with a score of 36.0. In duals, the team had five wins and one loss, Regidor said. 
For senior team captain Sam Kirschenbaum, the success is especially great, as this marks his last season wrestling for HHS. 
"[The best part of the season was] when we had people make it to the second day of CCS," Kirschenbaum said. "I was kind of expecting it but it was still cool to have happened." 
Regidor attributes the team's success to the hard work of the coaches and the players. With coaches El-Haj Malik and Monica Villa by his side, Regidor felt less worn out than previous years, and was able to focus on improving the team as a whole, he said. 
"I was so used to coaching by myself that I would get burnt out through the season," Regidor said, "but having Coach Malik and Monica in the room helping not [only] motivating the team but myself to keep going through the season was a huge help." 
The even distribution of talented wrestlers helped Regidor spread out the work, thus providing more support for the team.  
"They're able to spread their knowledge and their skill to the weight classes around them, which was a huge contribution for the dual meets and winning our league title," he said. "[I want to give a] huge thanks to all those guys." 
Reed said he encourages more students to join wrestling, and advises not to be put off by the stereotypes of the sport. 
"Usually people say, 'oh, [wrestling is] gay, I don't want to touch other guys,'" Reed said. "Then there's some people who joined just for the P.E. credits because they thought wrestling was easy, [but] those people are immediately cut from the team, because [our] coach wants people who actually [want to] wrestle." 
Because they qualified for CCS, players were able to travel for tournaments and spend considerable time with one another, which fostered a tight-knit community within the team. 
"My favorite part of the season was definitely the tournaments, [because] we spent a lot of time with our team and created friendships," sophomore team captain Dylan Uyeda said. "Next season, I'm really excited how our team does because we're moving up into the upper League, which definitely will be a challenge, but I feel like we will do well."