News in a Minute: COVID-19 Updates
LOCAL
Santa Clara COVID-19 cases surging 
COVID-19 (coronavirus) has increased up to 90 percent in Santa Clara County in the last seven days*, according to the Mercury News. 9,910 people have been tested and there are 1,094 confirmed cases, according to Santa Clara County. Hospitals have prepared for a possible increase in the number of patients in the coming weeks. 
Santa Clara County provides temporary housing 
Santa Clara County has housing available for those without homes and who have tested positive for COVID-19. The county is additionally providing shelter for those who are considered vulnerable. People who are unhoused and who have three or more health conditions that would place them at risk of contracting the virus are being considered priority for receiving shelter and housing. Shelters will include halls that have been repurposed and trailers in addition to other locations, according to a briefing by the Santa Clara County emergency operations center.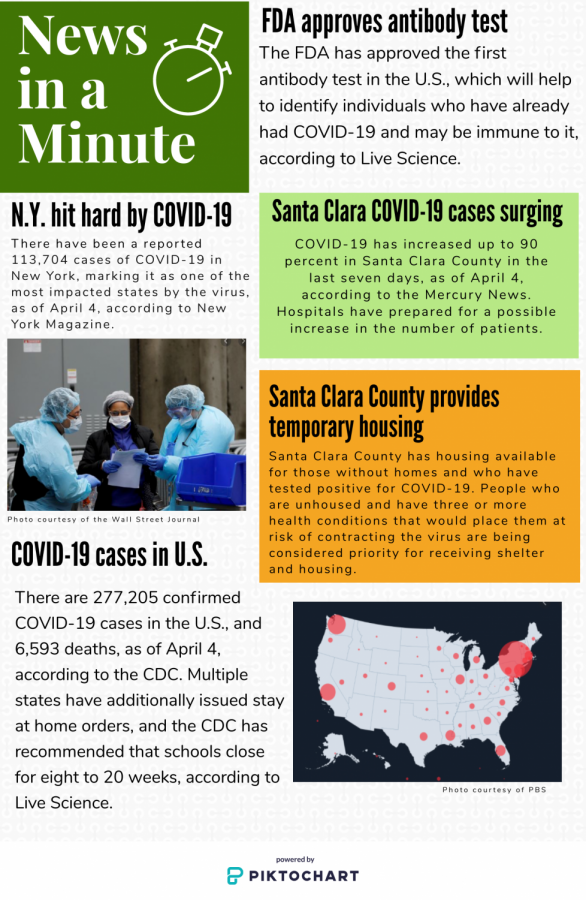 NATIONAL
N.Y. hit hard by COVID-19
There have been a reported 113,704 cases of COVID-19 in New York, marking it as one of the most impacted states by the virus. Of those diagnosed with COVID-19, 15,905 have been hospitalized. Over 1,000 ventilators are being sent to New York from China and Oregon to help with the effort to battle the pandemic. Amidst the increasing number of cases, there have been a rise in burglaries of businesses across the state, according to New York Magazine.
COVID-19 cases in the U.S.
There are 277,205 confirmed COVID-19 cases in the U.S., and 6,593 deaths, according to the CDC. As a result, a $2 trillion rescue plan has been passed by Congress to provide relief for individuals and businesses. Multiple states have additionally issued stay at home orders, and the CDC has recommended that schools close for eight to 20 weeks, to slow the spread of the virus, according to Live Science.
FDA approves antibody test
The FDA has approved the first antibody test in the U.S., which will help to identify individuals who have already had COVID-19 and may be immune to it. The test will require a blood sample, which will be analyzed in labs, according to Live Science.
*All reported numbers current as of April 4, 2o20.