Teachers look for alternatives to traditional finals
Communication is key to developing new standards for content mastery
With classes moved online for the remainder of the academic year due to COVID-19 and letter grades changed to credit/no credit, teachers are figuring out how to restructure their classes to adequately measure students' proficiency in the course material. 
Typically, teachers use tests and finals to gauge content mastery, but traditional tests are difficult to administer through distance learning, since it is essentially impossible to monitor students and account for their varying test-taking environments. 
Principal Greg Giglio said in an email that due to the switch to the credit/no credit system, traditional finals will not be held, but teachers and district office personnel are looking for alternative ways to assess students for the end of the year. 
"There will most likely be some sort of culminating activity or project," Giglio said, "but traditional tests are not really feasible in a remote learning environment."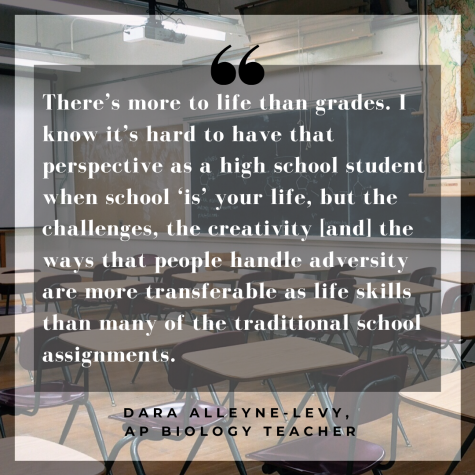 Now more than ever, teachers must rely heavily on communication within their departments to collaborate and work out the details of alternatives for tests, Giglio said.
Teachers will decide what work to assign to students within their course alike teams.
Physics honors teacher Kathleen Shreve said she is currently working with other physics teachers to figure out the details of an assignment that will act in place of a final.
"We are still going to do a summative activity, but it's still in the works," Shreve said in an email. "It won't look like our traditional exam, but I still want students to reflect on their year in physics."
A challenge teachers face is ensuring academic integrity, which is why traditional tests are difficult to implement, Giglio said. 
"If a teacher can't control the environment, then it is impossible to determine if the student is really doing the work or is getting outside help," Giglio said. 
AP Biology teacher Dara Alleyne-Levy said in an email she will not be administering any tests, for this reason. 
"I have no way of ensuring test security," Alleyne-Levy said. "[Instead] I will be assigning a final project in AP Biology as I usually do after the AP exam.  It will involve reading current research journal articles and giving a short presentation." 
Without in-person instruction, it is also difficult for teachers to do activities they would typically do in the classroom. Shreve said the science teachers have lost the hands on aspect of classes.
"There's no good way to send science materials to students, and I don't feel comfortable in all cases to ask them to find the things around the house, so that's what we've lost the most," Shreve said.
Additionally, the materials teachers planned to cover will now need to be condensed to fit the new distance learning schedule and accommodate for the limitations of online classes.  
"We have asked teachers to stick to the bare essentials that students need to move to the next level," Giglio said. "This may include review or practice of previously learned materials and concepts or it may include the introduction of new topics."
Alleyne-Levy said she has adapted to distance learning by giving fewer assignments.
"The content is still there, but there's less practice," Alleyne-Levy said. "Since it's an AP class, students are responsible for independent learning for some of the material, anyway."
Regarding concerns students will not be prepared for classes next year, Giglio said teachers will be tasked with teaching the most important topics while also communicating with next level teachers to help the transition. 
"The course-alike teams of teachers will be talking even more than in previous years so that the next level teachers will know what areas need more instruction if any holes exist," Giglio said.
Shreve said her goal for the rest of the semester is to have her students do fun, light activities.
"I want to do activities about the content that we have left that connect physics in a fun way to their lives and experiences," Shreve said. "For example, a few activities are going to be about stars because students find them really interesting."
To test mastery of the course content where tests normally would, Shreve and the other physics teacher write rubrics for each activity based on the remaining learning goals for the year and evaluate the activities based on those rubrics.
Throughout this process, Shreve said she has learned about the importance of effective communication.
"It's tough to handle three distinct schedules in my house, so we have to work with each other to make this time as comfortable as possible," Shreve said. "Sometimes that means you have to be very clear in what you need.  Everyone is on edge, so we need to be kind and clear." 
Alleyne-Levy also said she has learned about flexibility and the priorities in life during this time.
"There's more to life than grades," she said. "I know it's hard to have that perspective as a high school student when school 'is' your life, but the challenges, the creativity [and] the ways that people handle adversity are more transferable as life skills than many of the traditional school assignments."