Construction continues amid distance learning
Construction on campus has become the norm for students and staff over the last several years, but even through the pandemic, the work has continued. 
The new Guidance Student Services (GSS) building and library renovations are the most recent addition to the campus but there is a lot more to come, Principal Greg Giglio said.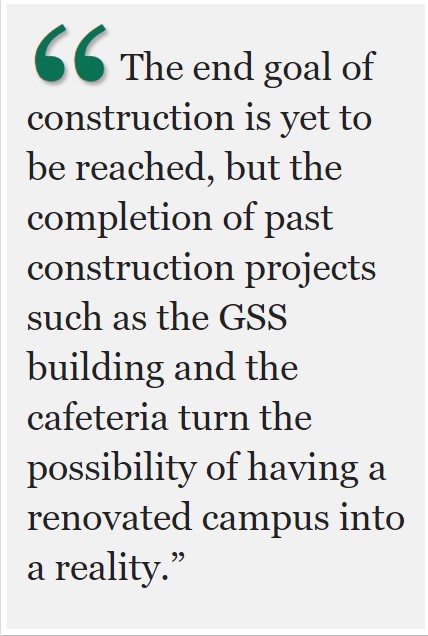 After the completion of the GSS building, the administration is now looking into renovating the A and B buildings. 
"Both the A and B buildings needed some testing to determine how strong or supportive the buildings are," Giglio said in an email. "Right now, our custodians are cleaning out the A building and repairing the B building so that work can begin on modernizing classrooms."
Aside from the A and B buildings, there are also future construction plans –– including the complete reconstruction of the A, B, C and L buildings –– in the works, Giglio said. 
"The buildings will be taken down to the cinder block walls and completely re-done with new flooring, windows, walls, technology, electricity and plumbing," Giglio said. "The Smoothie Shop is also being redone so when we come back, that will be a cool new place for our students." 
Because of distance learning, students are currently unable to utilize the new buildings,  but the improvements will benefit students and teachers once the district returns to in-person learning. 
During the renovation of the A, B, C and L buildings, teachers will need to relocate and share classrooms with other teachers in order to accommodate the construction schedule, English teacher Surna Barton said. Returning to a teacher's true campus will give classrooms a "home base" feel.
"When students have a home base where they recognize that this is their teacher's room, and the teacher has their resources and students' sample work on the wall, I think that has a different feel compared to two or three teachers sharing a room," English teacher Surna Barton said. 
While construction will continue for several years into the future, the completion of past construction projects such as the GSS building and the cafeteria turn the possibility of having a renovated campus into a reality.
"We have been adding new buildings such as the field house, cafeteria, I-hub, and new Guidance student services building where we were lacking something," Giglio said. "And now we are focusing on updating the existing parts of campus so that our school is virtually new."