Sunnyvale Youth Public Policy Institute raises awareness about mental health
Group's new podcast, Uncertain Tips, discusses maintaining mental health during a pandemic
Despite setbacks due to COVID-19, the Sunnyvale youth group, Youth Public Policy Institution (YPPI), an advocate for more mental health resources in schools, continues to spread awareness about mental health through their new podcast series, Uncertain Tips, mental health lead Aditya Manikonda said in a Zoom interview. 
The podcast is geared to help teenagers navigate the world during the pandemic, with each episode featuring a different mental health expert. 
"We hope to help [people understand] that, [despite] any problems or uncertainty they may be facing, they're not alone," junior Aditya Hariharan, a member of the team, said in a Zoom interview. "Whatever is happening, no one's experienced it before. This [pandemic] is a once-in-a-lifetime [experience]."
The team is working to expand their podcast, Hariharan said. They are brainstorming further ideas, such as working with schools and hospitals to provide more resources for students. 
Prior to COVID-19, the mental health group has been working on implementing the Happiness, (self) Awareness and Emotional Resilience Training (HAERT) program at local high schools, to teach social-emotional skills, Hariharan said.  
"Social emotional skills are on how to control your emotions and what to do when you're feeling stressed," Hariharan said. "These are the skills that they don't necessarily teach you in schools, but they should. The HAERT program [is] structured to really give students insights on [how] to automatically control their emotional well being and be the best versions of themselves."
With the help of the YPPI, the HAERT program was first implemented at Lynbrook High School at the beginning of the 2019-2020 school year, Manikonda said.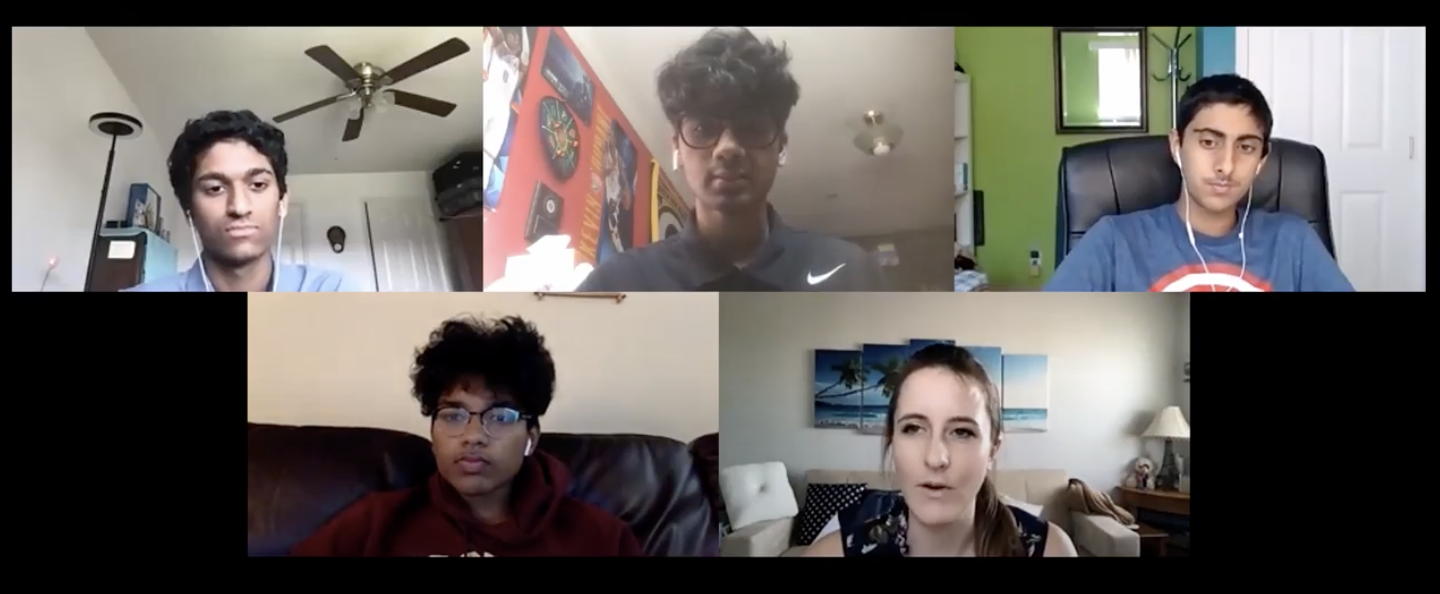 "Lynbrook is known to be one of the more competitive schools in our [area]. That means a lot of students are very stressed, whether it be with their academic performance or keeping up with the competition," Manikonda said. "We chose to implement the HAERT program there first because we wanted to help address [the] stress that is so prevalent at Lynbrook." 
The group saw success at Lynbrook with mental health gaining spotlight in the community, Manikonda said. They also learned lessons on how to cater the HAERT program lessons to help students better. 
With the gained knowledge, the group has expanded the HAERT program to a few other high schools in the Bay Area, including Los Altos High School, Manikonda said. They hope to further expand, implementing the HAERT program at other FUHSD schools. 
HHS already has many resources for students struggling with mental health, school based therapist Sarah Loyd said. In addition to psychologists and therapists at school, students have access to the mindfulness center and various crisis support lines. 
"[In the] past we've worked closely with El Camino Hospital and they have done presentations [about] recognizing signs of suicide [in] your friends," Loyd said in a Zoom interview.  
Loyd said she hopes HHS continues advisory as a way for students to learn about various mental health issues. It would also be beneficial for teachers to start incorporating these lessons into their curriculum, she said. 
The pandemic has both helped and hurt people's mental health, Hariharan said. 
"I'm very privileged that the pandemic hasn't hit my family as hard as it has other families," Hariharan said. "The pandemic [has] been really positive for my own mental health. It [has given] me time to reflect and try to do things that I could have never imagined myself doing. It's just the way you look at [the pandemic], you [could really] use this time to your advantage."
For more information about the YPPI, visit their website. 
For information about HHS mental health resources, click here.