So you think you can ride?
Addison Heidemann knows she can, with years of horseback riding experience under her belt
Electrifying. That's how sophomore Addison Heidemann said she would describe horseback riding, while feeling those familiar butterflies in her stomach and the wind in her face.
"It's always been a big passion for me to one day become an equestrian and compete in shows," Heidemann said in a Zoom interview. "I got into it by growing up around riding and then just the past few years I've really put time and effort into it."
Heidemann said she loves horseback riding because the sport makes her feel like she is a part of something bigger.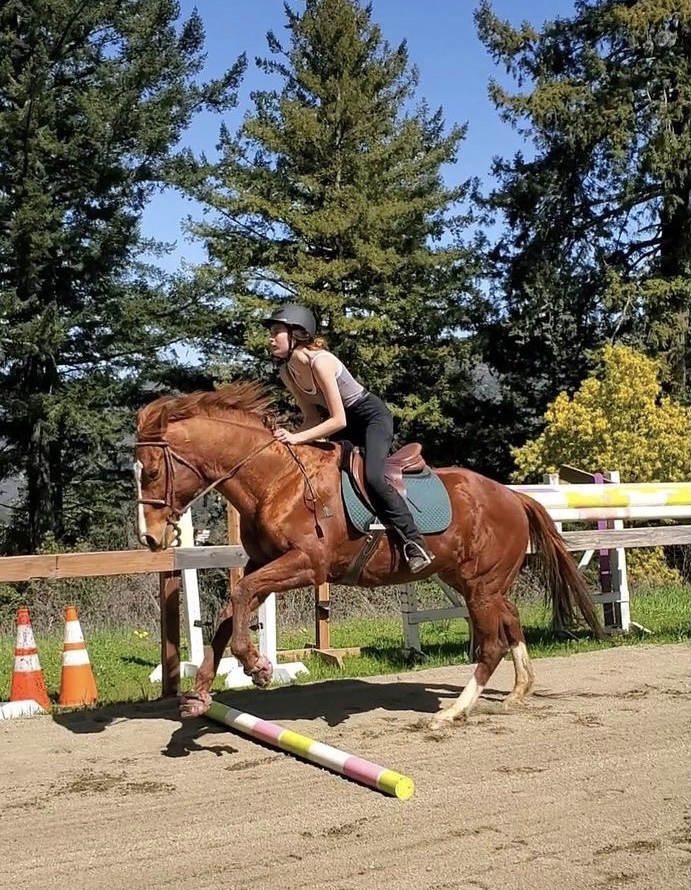 "It just feels really cool to be a part of my equestrian family and to have something special that I can take with me one day," she said. "It could even take me to college one day, if I really wanted to. I enjoy it a lot."
Through horseback riding, Heidemann said she hopes she can get a scholarship and continue riding in the future, as a member of an equestrian college team, for example. 
Heidermann has also won numerous badges and ribbons from workshops and outreach programs, she said. Soon, she plans to start showing, which is a competition in which riders show the different things they can do with their horses.
"There's jumping, prodding, and a walk and trot," Heidemann said. "Pretty much all you do is walk around the arena, and judges will judge you based on how good your horses are and how well you are doing with it. There are many different types [of showing] but those are the main ones that I've been in."
Aside from competing, Heidemann said her favorite memory of horseback riding is from last summer. 
"I had started working on a new barn and I just met some wonderful people [who] were so fun to hang out with," Heidemann said. "There's a lake by the ranch, and on a really hot day, we all got our horses, went down the trail to the lake, we all just sat there and let our horses go in the water."
However, horseback riding is not always easy, she said. Heidemann said she thought about giving up many times, but is glad she did not, and she hopes other people getting into the sport will not quit, either.  
"As much as you want to give up because horseback riding is really intense, don't give up and just push through it because it's worth it," Heidemann said. "It can be both exhilarating and nerve-racking. If I'm learning something that's new, I definitely get nervous when I ride because I never know what's going to happen. You're trusting an animal to not hurt you. So I'm nervous, anxious, but really just happy to be riding."