Varsity girls tennis strives for their win in upper leagues
Working hard during their practices and ensuring they watch each other carefully in order to improve their mistakes, the varsity girls tennis team is eager to make this season a victorious one. 
Varsity athlete, junior Ivy Zhan said she has high expectations for the team and is excited for their upcoming matches. 
"We've been trying to pick up the intensity during practice and focus more on our footwork," Zhan said. "The girls have been focusing on fine tuning and playing with partners."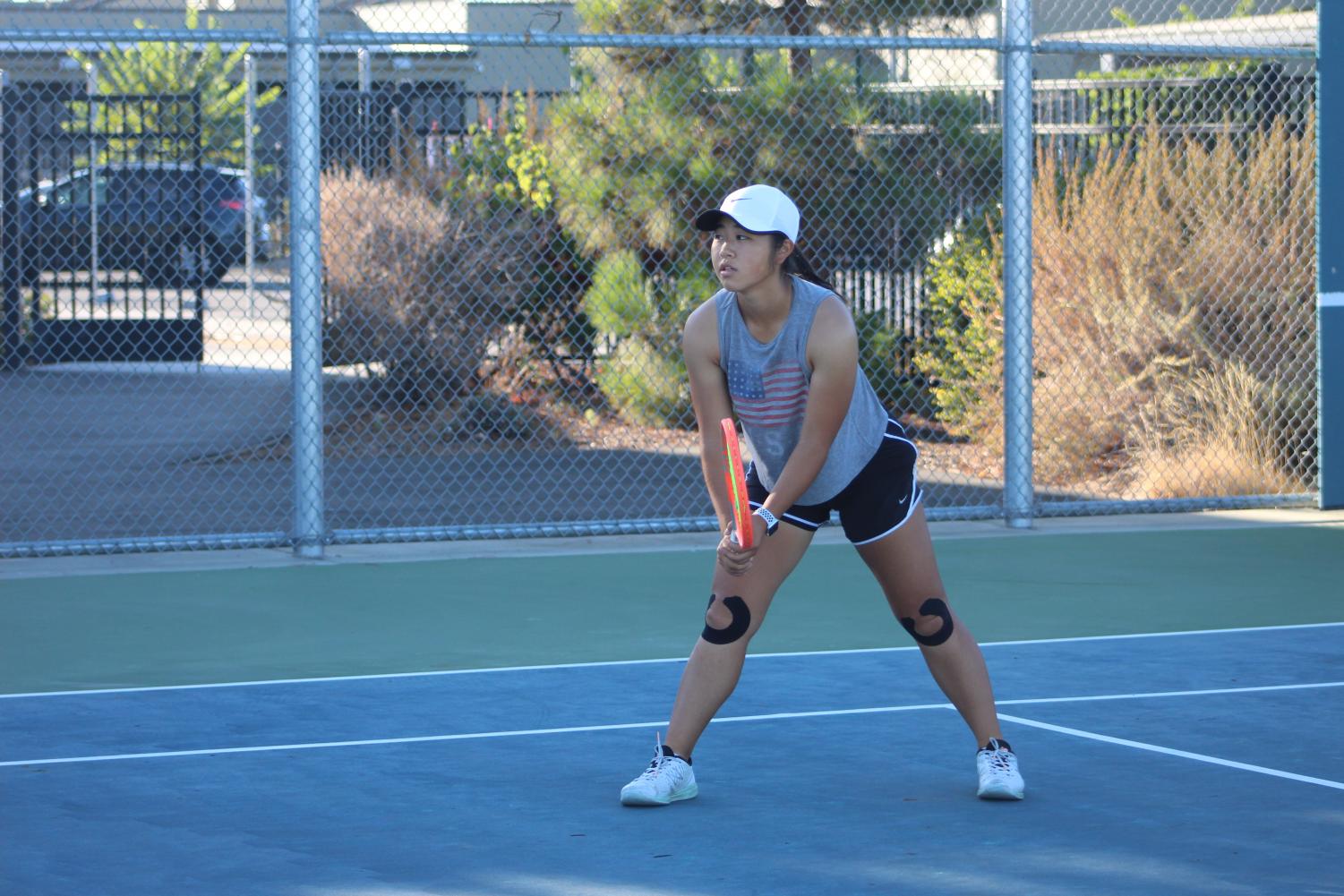 In addition, Zhan said her goal for the team is to make it to the playoffs in the Central Coast Section. Given setbacks such as COVID-19 and rainy spring weather last season, the team didn't do so well. However, this season, they strive to improve their record, Zhan said.  
This season, the team's largest issue is funding. Team captain, senior Rino Suigyama, said since the team started off this year's season before the boys team, they have had to share equipment which is taken from the girls teams' funding.
"The boys don't have to go buy new equipment. They have money saved up in their account. In that sense it's unfair," Suigyama said. "One of our wishes is that if we just have one big account then we can have more money and opportunities."
Assessing and critiquing their previous games to look for areas of improvement is a large part of what the team does to prepare and properly train for their upcoming matches, junior Eda Ozen said.
"I could work on my mindset because I put myself down easily when I lose a point and that doesn't motivate me to want to win the next point. Before every game I try to tell myself that I will win this and I will play as hard as I can to get my mindset in a positive state of mind before I start the game," Ozen said.
One of the most important aspects of teamwork and leading a team is to ensure they are comfortable working together, Suigyama said. Every player has to feel included in order to do their best while playing.
"We get along with each other quite well. It's a lot of fun," Suigyama said. "It's almost like hanging out with friends. We're just a whole big family."
There will always be areas for improvement to be adequately prepared for any match, Ozen said. All it takes is a dedicated team willing to work harder than the competition and get better every day, which is exactly the mindset of the team, Suigyama said. 
"It's a matter of wanting to prove ourselves. It's about working and going for the win," Suigyama said. "The best part about playing with our team is the determination and the adrenaline we all get. It makes us more competitive. We want the wins for our team and school."