Behind the athletes
Athletic trainers support athletes during their playing season
While students attending sports games come to see the team compete, many do not see the operation which is the athletic training program keeping them healthy and prepared to play. The trainers at HHS assist athletes and make sure they perform to their highest potential, junior athletic trainer Xochitl Neely said.
Similar to the other athletic trainers, Neely applied to the athletic training program at hhs which is ran by trainer Dan Yusim, she said. 
"At first [the program was] a little overwhelming and scary since I work with sports, this is something you may not have experience with," Neely said.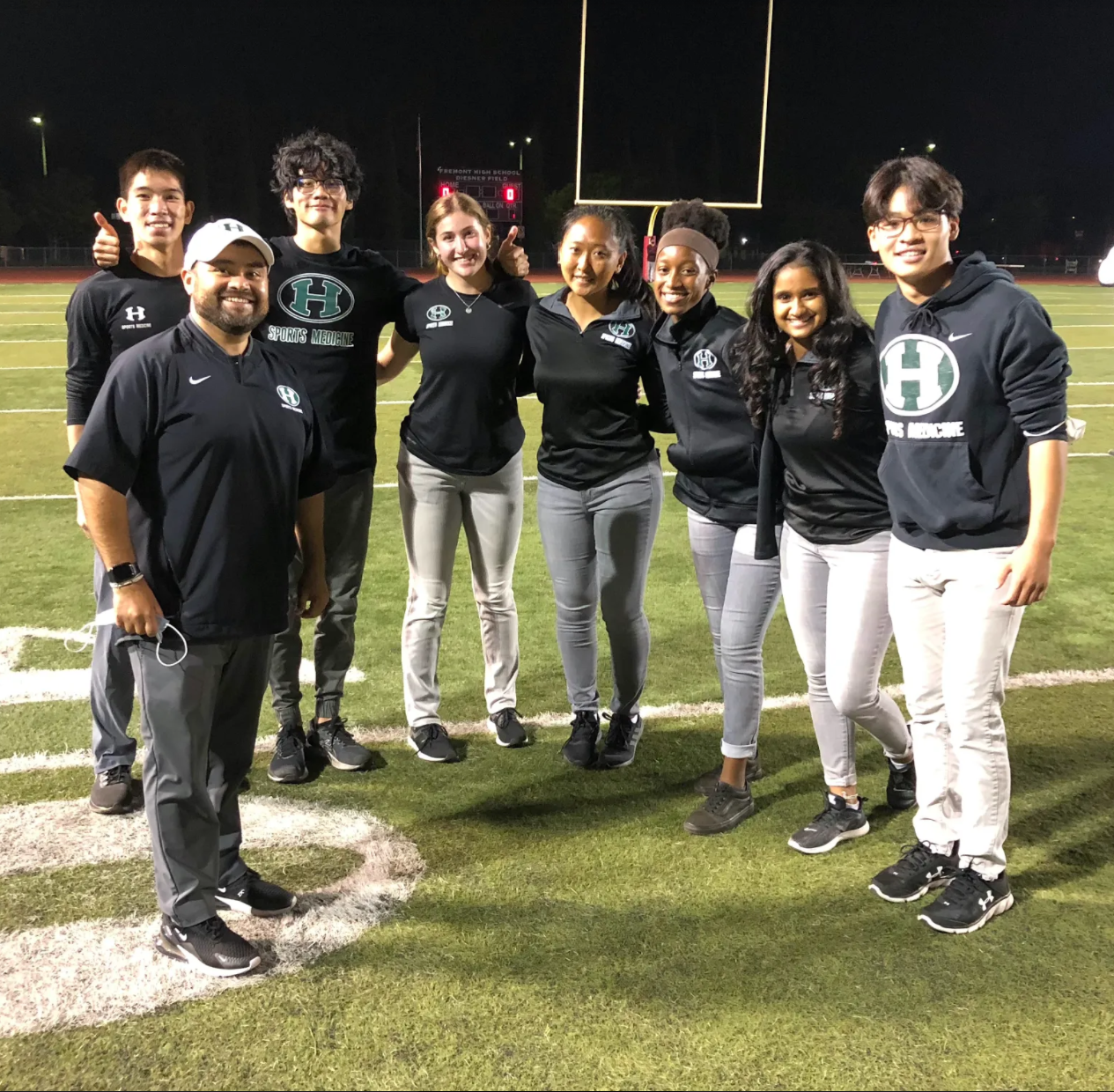 After each school day, Neely and the other trainers organize and prepare the athletic training room for incoming athletes. 
"It keeps the flow and lets us help the injured players," Neely said. "It's not a huge room and keeping it organized makes things go faster" 
After quickly adjusting from the busy schedule of an athletic trainer, Neely was able to meet new friends and balance the time commitment, she said. According to Neely, the trainers stay four hours after school ends on football practice days, and eight hours on game days for the fall season.
So far Neely has learned several things in her experience working as an athletic trainer, such as paying close attention to detail and making sure her strategies are effective in treating injured athletes, she said. 
"If we do anything wrong, that can actually injure the player even more," Neely said. "This Really bad since we want them playing to their best ability," Neely said. 
Neely has also learned that teamwork goes beyond the playing field. She built bonds and trust with the crew of athletic trainers.
"If you try to do everything yourself it's going to overwhelm you. That's why you have a team of people to help you, so I learned how to use my team" Neely said. 
Junior, Jason Singh Delgado on the football team, thinks that the most important thing an athletic trainer does is keep communication with the athlete.  "I went into the Athletic Training room and I had to do ice treatment for my sprained ankle, after I was helped with some stretches." Singh said. "A really important thing that they did was communicating with me and telling me what was going on with my ankle so I knew everything"
Athletic training and sports medicine is something Neely is deeply passionate about and plans to continue it in the future. She plans to use her new found knowledge to heal herself, teammates and other athletes outside of school. 
"I do not plan on playing sports in college or beyond, but I do love sports and I love helping people," Neely said. "It also makes me really happy to be able to make bonds with people, this is something I want to pursue after highschool." 
Derek Devera, kicker for the HHS football team, said he greatly appreciates all Trainer Dan Yusim, the head of athletic training, and student trainers do for him, especially since his knee is injured this season.
"I've seen Dan [athletic trainer] go home pretty late, so I don't know if people realize how long he's here [at HHS] and how he helps so many kids in one day," Devera said.