Leadership on, off the court
Senior Faith Yin shares her experience being first-year varsity basketball captain and 'team mom'
Leadership is a trait that comes with experience, and senior Faith Yin has had a lot of experience on and off the basketball court.
Yin said she has played basketball for 10 years now, starting in elementary school. As she got older, Yin said she started playing more competitively with the Amateur Athletic Union, other club teams, and at HHS. She has played with HHS since freshman year and is now the co-captain of the girl's varsity team.
As a first-year captain, Yin said her team has shown her a lot of support, which has given her more confidence in her role.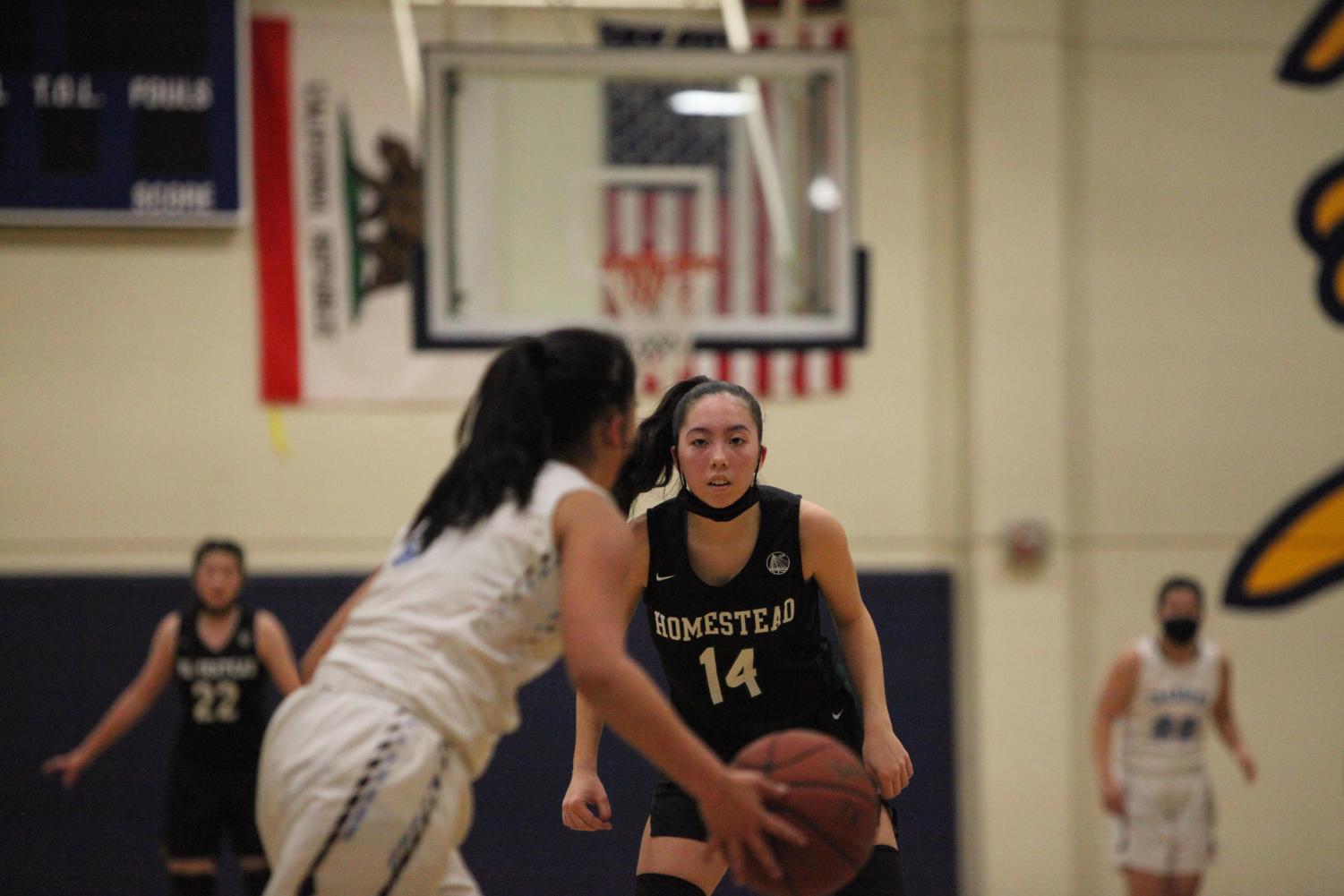 "I don't feel additional pressure as a captain because I feel supported by my teammates," Yin said. "I know that as long as I have their backs, they have mine."
Teammate sophomore Elaine Cao said she has learned many important leadership values under the tutelage of Yin and her co-captains.
"Faith is an exceptional captain in the way she encourages the team on and off the court. She makes sure that we are playing well as individuals and as a team," Cao said. "[Faith] has made an incredible impact on the team and how [the team] will continue to play in the future."
Aside from being a captain and a player on the team, Yin said she plays another vital role as the team's mom. She believes that in order to have a great team, she must be involved in her players' lives as much as possible.
"We have a very strong family dynamic," Yin said. "Within the family, I am the team mom and I make sure that everyone is doing well and feel supported in all aspects of their lives."
Yin's display of leadership does not just end once basketball season ends, sophomore Grace Yin said. As Faith's sister, Grace said her sister's past expertise, specifically in sports, has improved her own leadership skills.
"At home, she gives me advice and passes her knowledge onto me. She does the same to her teammates on the court," Grace said. "Her dedication to the team [is strong]. Often at [home], she talks about how games could have gone better and how the team can improve."
As this is Yin's final year playing for HHS, she said she wishes for the team to continue flourishing after she graduates. She hopes that throughout her participation in the sport, she has shown the team the necessary skills like communication and cooperation in order to be good leaders and teammates on and off the court, Yin said.
"I hope I have demonstrated the importance of effort and encouragement and that my teammates continue to emphasize these leadership elements," Yin said. "I hope they stay close and spend time together because it is really nice to have a group of friends who you are always around and who know you on and off the court."