Community for a cause
Pride club hosts fundraiser for the Trevor Project
Gathering in the quad on a chilly Wednesday afternoon, groups of students arrived to support Pride club's annual baked goods fundraiser for the Trevor Project. After planning the logistics of the event, such as getting the fundraiser approved and enlisting members to bring baked goods, the sale was held afterschool on Dec. 7. Pride club advisor, history teacher Nicholas Neese said he felt good about the turnout of the event.
"Last time we made at least $150, so we're hoping to either match or be somewhere around that," Neese said. "[The money] is going to the Trevor Project, a long standing organization that supports queer youth."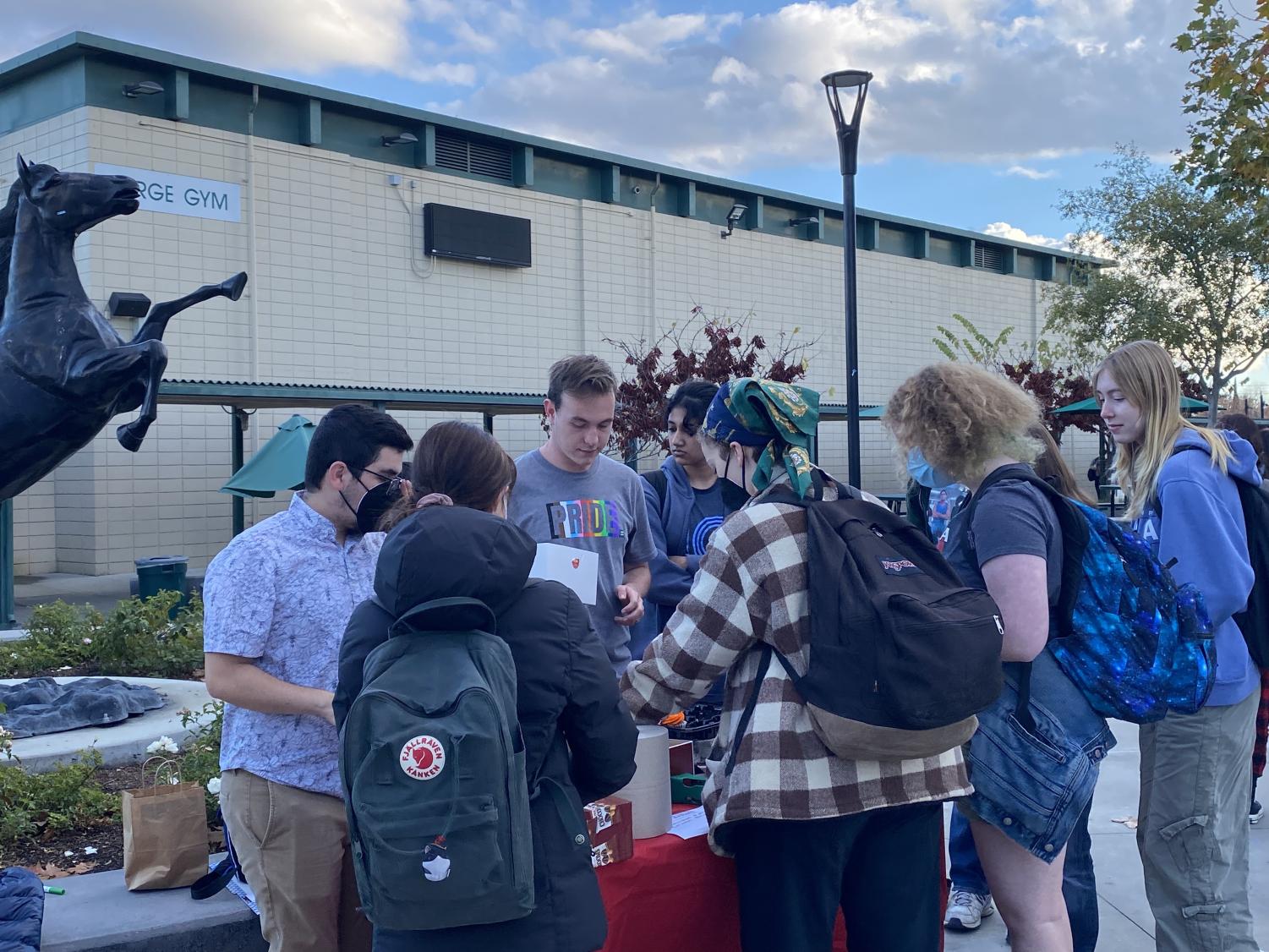 Neese said the Trevor Project is a long standing organization that offers services such as mental health hotlines, and supports queer teachers and students. For the club advisor, donating to the club is a full circle moment. 
"They've been around since I was in high school, when I worried about being queer," Neese said. "It's nice to be able to support [the Trevor Project] again after seeing all the stuff they've done. Hearing about it in the past and now as a teacher leading a Pride club, [it's nice] to be able to donate to that organization."
Club officer, sophomore Robin Ruan said any funding is good as long as it is going to a good cause. In addition to providing hotlines and support to queer youth, Ruan said the Trevor Project does research on suicide rates and provides guides on how to maintin mental health and how to come out. 
"The Trevor Project is a pretty big organization," Ruan said. "We just want to help them out and raise awareness about resources you can access if you need it."
After purchasing Chocorooms and a Capri Sun, freshman Vivian Graham, a new member of Pride club, said they enjoy the social aspect of the organization. 
"It's a very good way to meet people and be like, 'Oh my God, you too,'" Graham said. "Especially because I came from a school that was not a feeder school, all of my friends either came from Colorguard or Pride Club."
Junior Madara Linde said she came to the fundraiser to help the Trevor Project and to eat delicious food, but also appreciated the sense of community the event fostered. 
"People are really excited to number one: get great food, and number two: support such a great cause and support queer people and queer youth," Linde said.
As a whole, Ruan said events like the fundraiser are important because they provide a feeling of community. Seeing others come together to fundraise for a cause made them feel happy and supported.
"Even people who don't have money were coming up and asking, 'Oh what does this organization do?' and it was just a big place for the community to gather," Ruan said. "It's important to raise awareness. The fact that we can have this on campus tells people regardless of their situation, if they're in or out of the closet, that they're not alone and there's other people out there like them."