"Happy-sounding sad music," the way indie-pop artist mxmtoon introduced her performance, initially felt like just a side comment. However, it perfectly encapsulates the bright, poppy sound and sad lyrics of the artists at "Bittersweet Daze."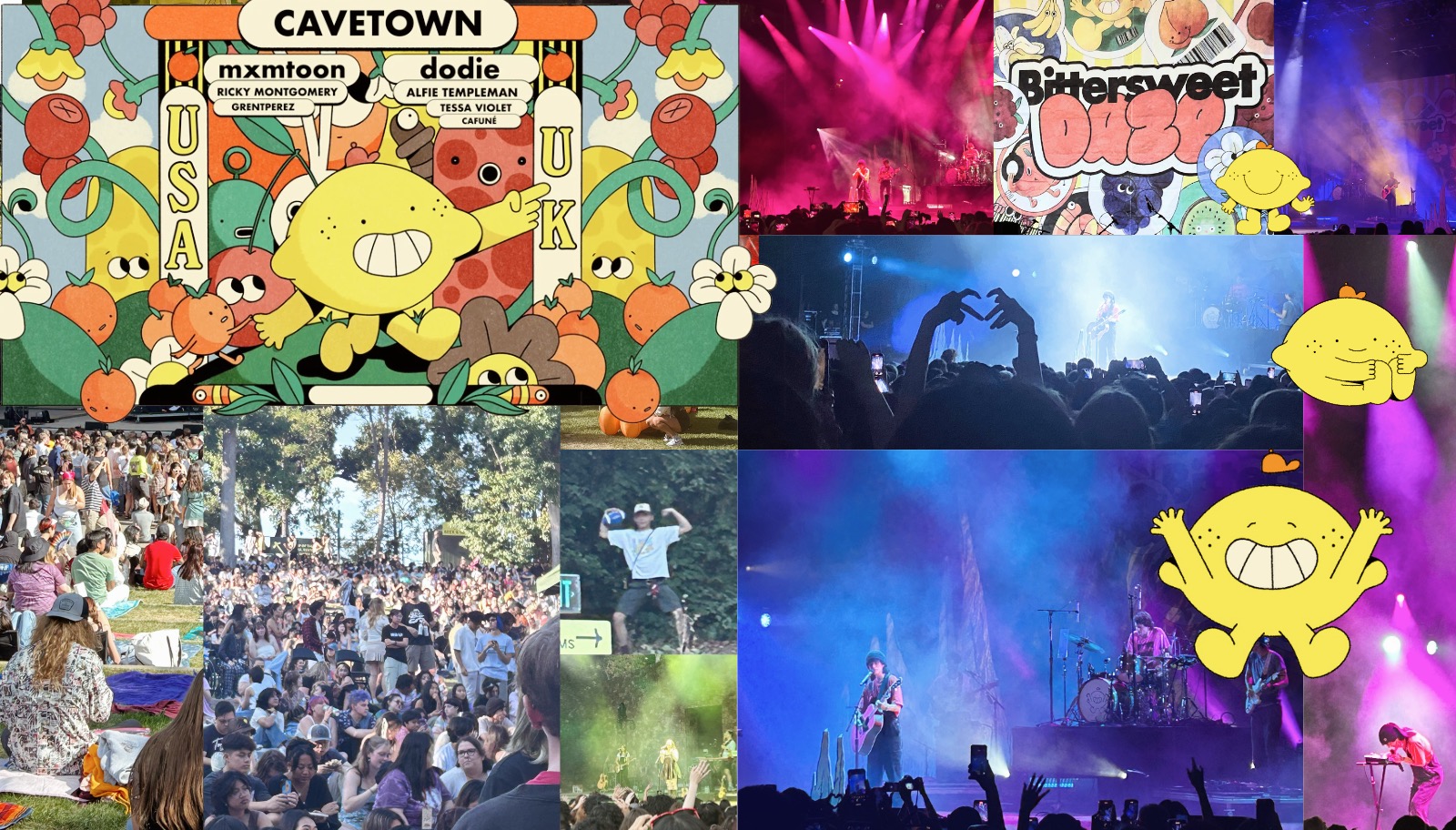 The concert tour, which came to Stanford's Frost Amphitheater on July 23, opened with grentperez followed by Ricky Montgomery, mxmtoon and headliner Cavetown.
As a new listener to many of these artists, I was hoping to be pleasantly surprised — and I was. Each artist not only showcased their voice but displayed their personality, cultivating a truly memorable evening. 
grentperez
If it was not obvious from the many posters of his face in the audience, grentperez had an extremely passionate fan base. People were screaming and jumping aggressively, and grentperez matched this energy perfectly. 
Throughout the set, grentperez connected with the audience and even taught us how to say "I love you" in Tagalog — a tribute to his Filipino roots. It was evident that he returned his fans' love when he came back to wave from the side of the amphitheater and take photos with a few lucky concertgoers.
While he opened his set with high-energy songs, it was his more somber song, "Clementine," that stood out. His voice was flawless, well controlled and effectively relayed the emotion of the song, sounding exactly like the recorded version. 
Despite being the shortest set, grentperez was able to convey his essence as a performer and leave the audience wanting more. On the drive home, I could not help but play some of his songs. 
Ricky Montgomery
It was immediately clear that Ricky Montgomery was going to have a strong stage presence and personality. His movements and singing during "Line Without a Hook" activated the audience, with many screaming the lyrics so loud that I could feel my own throat hurt. 
Montgomery quickly went from loud and energetic to quiet and somber, performing "Black Fins," a heart-wrenching song about discovering his father's body. I felt the emotion in his voice with every word. Performances like these remind me of the importance of music, and that storytelling can lead to healing. 
In yet another mood swing, Montgomery went from a depressing song to the best merchandise plug I have ever seen, truly highlighting his humor. He told the audience that he had something personal to say, only to start screaming about his new merchandise and that music was "a side job."
Like the other performers, Montgomery showed appreciation for his bandmates, allowing them to shine and to be more than background players. When he, his drummer and guitarist finished with "Mr. Loverman," all of their energies matched, providing an immaculate end to the set. 
mxmtoon
As she ran on the stage and greeted her fans, I was left with the feeling that I wanted to be mxmtoon's friend. Maybe it is the fact that she is a Bay Area native or that she herself is not that much older than me, but her music felt very relatable.
I was dancing right from the start of the set with "fever dream." Even though I had listened to the song many times before, the live drums, guitar and keys made me feel like I was listening to it for the first time. If I could, I would play this live performance on repeat. 
Being from Oakland, this was mxmtoon's hometown show, so she did not shy away from Bay Area references. During "sad disco," she sings, "Mom and dad are at Half Moon Bay," and while introducing "seasonal depression" she warned us that some "SoCal slander" was coming. These moments felt personal and like this audience was getting special treatment. 
The mood of the concert changed as mxmtoon pulled out her ukulele and sang a few acoustic songs. This diversified her set and gave me further appreciation for her voice and storytelling ability. 
Even though mxmtoon is best known for her TikTok famous song "prom dress," this concert proved to me that she is so much more than a hit song and that her talents will give her a long music career.
Cavetown
By the time Cavetown arrived on stage, the sun had completely set, allowing colorful lighting to shine. Fans predicted the next track based on the color, which only heightened excitement in the crowd. 
During "Hug All Ur Friends," Cavetown played his ukulele and sang solo while his three bandmates sat together in the background. In the end, they all hugged each other, which seemed to inspire audience members to hug their friends as well. 
I was initially confused by the number of stuffed frogs in the crowd, but it made sense when Cavetown played "frog" and fans threw theirs on the stage. He picked one up, hugged and held it throughout the song, another cute moment of the concert.
Before playing "This Is Home," Cavetown said he wrote the song from a headspace he is no longer in, but now that he has overcome it, he can dedicate it to his fans. This performance was yet another beautiful moment, as Cavetown waved pride flags and the crowd sang along to this emotional song. 
After leaving the stage, he came back with the band for "Devil Town" with high spirits and strong vocals. The crowd was extremely loud for this song, and experiencing this live performance was truly amazing. Through it all, he maintained flawless vocals and a wholesome stage presence by constantly checking up on the crowd. 
One constant in each act made this concert memorable: the bands. They were high energy, extremely skilled and reminded me why I love live music. No matter how many times you stream a song, nothing compares to a live performance.