Girls volleyball battle against Palo Alto
Team comes up short in hard-played game against PAHS
HHS varsity girls volleyball hosted league opponent PAHS for their second meeting of the year last Thursday. 
In their first match at PAHS, the Vikings were able to come back and defeat the Mustangs in a decisive fifth set after HHS won the first two.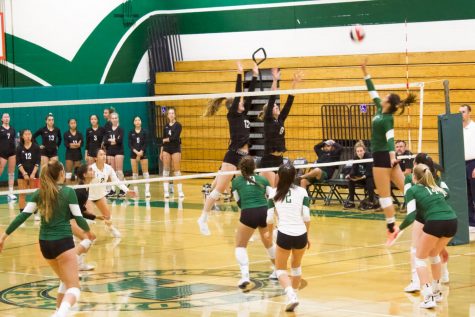 Since then, PAHS has maintained an 7-0 record in league play while HHS looks to turn things around with a league record of 2-5. 
With PAHS winning every game in league, junior Stella Waldow said she
knew it was going to be a challenging affair. 
"Obviously they are a good team and their record shows it," Waldow said. "We played them pretty well last time so we had confidence coming into this game." 
Unfortunately, sheer confidence was not enough for HHS to come out on top. PAHS won the match in straight sets, 3-0. 
This game dropped HHS's record to 11-14 overall and 2-6 in league, which is a disappointment coming off last year's season where they won CCS in division 1. However, the step down in play is not unexpected, with the loss of multiple graduating seniors and the addition of new players. The team's core has changed a lot. 
"The team is a lot different this year obviously," Waldow said. "At the end of the day, we are still confident that we can be successful." 
HHS will look to overturn the current outcome with five more league games to play, and then playoffs.